10 Years Later: Ranking The 10 Best Of 2009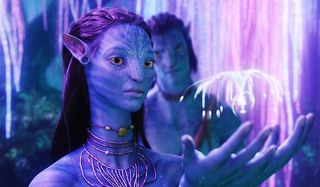 We've now left 2018 behind us and have 2019 in full view. There are a lot of movies to look forward to over the next 12 months, but as with the start of any new year, one doesn't need to simply look to the future. It's also fun to reminisce about the past; 10 years ago specifically. Just like where we find ourselves now, 2009 was the final bow to a decade, and thankfully, there were a lot of interesting movies released to help bid the 2000s goodbye. With that in mind, here are the ten most memorable theatrical entries of 2009, taking into account critical and commercial reception, as well as just narrative and/or technological uniqueness.
10. Watchmen
Having already proven his comic book adaptation mettle with 300, director Zack Snyder went for Round 2 with Watchmen, based off the critically-acclaimed DC Comics miniseries that changed the superhero comics landscape. Rather than take a lot of creative liberties, Snyder's Watchmen adaptation closely resembled the source material (though there were still a few key changes), and the end result was a polarizing feature that is still being discussed a decade later. However you feel about Watchmen, compared to the superhero movies from that era, this one definitely set itself apart from the pack with its darker, more mature narrative that deconstructed the superhero story tropes.
9. The Hangover
Raunchy comedies have been around for decades, but it's not often that these types of movies become pop culture phenomenons. The Hangover managed to do just that, as the tale of three guys trying to figure out what they'd done on their blacked-out night of debauchery and then falling into another round of Las Vegas shenanigans was one of 2009's most talked-about movies. Along with earning a lot of positive reviews, The Hangover made over $467 million worldwide, making it both the 10th highest-grossing movie of 2009 and the sixth highest-grossing R-rated movie of all time. It's just a shame that the two Hangover sequels didn't come close to measuring up to this hilarious first installment.
8. Fantastic Mr. Fox
Director Wes Anderson had already shown off his weird, symmetrical filmmaking in live action several times, but this time, we got to see how he fared in animation. Based off the Roal Dahl book of the same name, Fantastic Mr. Fox followed the eponymous character and his family outwitting a group of farmers who were sick of Mr. Fox stealing from them. Simultaneously honoring the original source material and displaying Anderson's creative sensibilities, Fantastic Mr. Fox was nominated for the Academy Award for Best Animated Feature. It's definitely an odd movie (as we expect from Anderson), but one that can be enjoyed by the whole family.
7. Zombieland
Several years before The Walking Dead TV series premiered and the zombie genre experience a full-on resurgence, Zombieland had Woody Harrelson, Jesse Eisenberg, Emma Stone and Abigail Breslin on a journey to find a new place to live free from the undead. We'd seen zombie-oriented comedies before, but Zombieland nonetheless stood out as an enjoyable feature that blended gore with laughs seamlessly, with one of the biggest examples of the latter being its Bill Murray cameo. Zombieland was so popular that it was the highest-grossing zombie movie until World War Z, and while it stood just fine as a standalone movie for a decade, this October we'll finally get the long-awaited sequel, Zombieland Too.
6. Harry Potter And The Half-Blood Prince
Harry Potter And The Half-Blood Prince isn't necessarily the best of the eight Harry Potter movies, but it definitely one of the franchise's highlights. Arriving four years after the same-named book was released, The Half-Blood Prince stayed true its literary predecessor and delved deeper into the more mature themes of Harry and the gang's fight against Voldemort and the Death Eaters. Not only was The Half-Blood Prince received better critically than its predecessor, The Order of the Phoenix, it also made a lot more money. Over $934 million, to be precise, making it the eight highest-grossing movie of all time for a period. At the time of its release, J.K. Rowling even called The Half-Blood Prince her favorite of the Harry Potter movies, so that gives it an extra boost on the popularity scale.
5. Star Trek
The Star Trek franchise was in a weird place in 2009, with the last movie, 2002's Nemesis, largely failing to impress, and the TV series Enterprise wrapping in 2005 on an underwhelming note. It was decided to rewind the clock and revisit James T. Kirk, Spock and the rest of the main characters from The Original Series, only this time we would see how they all met. And thus, Star Trek was born, and because it was set in an alternate timeline, that freed J.J. Abrams and the rest of the creative minds involved from continuity restrictions. Make no mistake, this reboot and its two sequels were met with mixed reception from the hardcore Star Trek fans, but overall, the 2009 Star Trek movie accomplished its goal of revitalizing the franchise, as it was met with a lot of positive reviews from critics and collected $385 million worldwide.
4. Avatar
What do you do when you've made the highest-grossing movie of all time? You break your own record, and that's just what James Cameron did with Avatar, which knocked Titanic off its 12-year perch. Cameron waited to make Avatar until the technology necessary to achieve his vision was available, and it's a good thing he didn't rush things. Avatar's motion capture was unlike anything that had been seen before, resulting in the Na'vi people and the Avatar bodies modeled after them looking incredibly realistic. Avatar's derivative, Dances With Wolves-like story prevents it from ranking any higher on this list, but it's unquestionably 2009's most visually striking movie, and at the end of 2020, we'll finally return to Pandora in Avatar 2, the first of four sequels.
3. Inglourious Basterds
If there's one thing you can count on for a Quentin Tarantino movie, it's a lot of violence. Inglorious Basterds was no exception, but this time, we got to see Tarantino's exaggerated gore in World War II, as the story followed a group of Jewish-American soldiers who take great joy in killing Nazis and an SS colonel tasked with finding and eliminating this military group. Among Inglorious Basterds' accomplishments was Christoph Waltz winning a Golden Globe and Academy Award for his performance as Hans Landa. As one would expect from a movie with this kind of subject matter, Inglorious Basterds didn't escape controversy, but it's certainly one of the more memorable cinematic offerings from Tarantino.
2. District 9
While science fiction continues to be a popular genre, it becomes more difficult each year to tell a story in this realm that feels truly fresh and different. District 9 had no problems pulling this off, because rather than go with a standard alien invasion story, director Neil Blomkamp's project showed us a tale of aliens of sick aliens arriving on Earth and meaning humans no harm being forced to live in internment camps in South Africa. With its exploration of xenophobia and segregation, District 9 earned numerous accolades, including four Academy Award nominations and a Golden Globe nomination, not to mention made over $210 million worldwide off a $30 million budget. It's looking increasingly unlikely a sequel will ever be made, but District 9 can stand perfectly well on its own as an innovative sci-fi movie.
1. Up
Pixar isn't quite the infallible studio it once was, but it still has more hits than misses on its filmography. One of the biggest hits is Up, which arrived at the tail end of Pixar's uninterrupted streak of making all original movies from 2000 onwards (Toy Story 3 would come out in 2010). Up's opening sequence, i.e. seeing Carl and Ellie's life together, is brilliant filmmaking on its own, but thankfully the rest of the movie kept up the high quality through Carl's relationship with Russell, its humorous moments (we can Dug the dog for a lot of those) and, as we can count on from a Pixar movie, its stunning animation. Up walked away with two Golden Globe wins, two Academy Award wins and three other Oscar nominations. Not only did Up cinematically reign supreme in 2009, it remains one of Pixar's most cherished stories a decade later.
This poll is no longer available.
Connoisseur of Marvel, DC, Star Wars, John Wick, MonsterVerse and Doctor Who lore. He's aware he looks like Harry Potter and Clark Kent.
Your Daily Blend of Entertainment News
Thank you for signing up to CinemaBlend. You will receive a verification email shortly.
There was a problem. Please refresh the page and try again.