Star Wars: Galaxy's Edge Will Have Animatronic Shopkeepers And That's Just The Beginning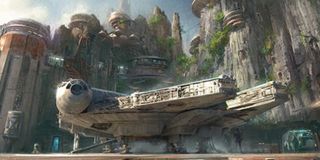 With every new piece of information that gets revealed about Star Wars: Galaxy's Edge, it seems the new land coming to Disneyland and Walt Disney World later this year is becoming all the more amazing. With two new E-ticket attractions and an entirely new Star Wars planet being created to be the land itself, it seems like Disney Parks have thought of everything. However, a handful of new details about the park have been revealed, and it seems that Disney has thought of even more than we realized. In order to create a truly immersive feel within the new land, it seems that Disney is building animatronic shopkeepers that will oversee gift shops selling merchandise that's even more unique than we expected, and might even sell you a full-size R2-D2 droid, if you've got the cash.
One of the more interesting revelations revolves around one of the retail shops in the new land will be run by an alien named Dok-Ondar. Interestingly, the character was referenced, though not seen, in Solo: A Star Wars Story, as Qi'ra wanted to be sure he was being well attended to while he was on board Drayden Vos' yacht. Dok-Ondar will be seen on Batuu, the planet where Star Wars: Galaxy's Edge will exist. He will actually be an animatronic character and apparently cast members will be able to interact with him and even haggle on your behalf to see what price is acceptable for the items you want to purchase.
I somehow doubt, Dok-Ondar will be letting things go for different prices if you drive a hard bargain, but who knows? Maybe random customers will get a deal if they bother to ask.
Another cool element of the retail shops is that guests will be able to design and purchase their own droids. It appears that these droids will be fully functional and can interact within the park as well. A droid made to be afraid of Stormtroopers, if it comes across one in the park, will show its fear. If a group of friends build droids together, then the droids might recognize each other.
It's also mentioned that the shop might sell a full-sized R2-D2, it sounds like many Galaxy's Edge decisions like this have yet to be made. No pricing was revealed, but it sounds like the full-sized R2 will absolutely be a premium priced item if it exists.
A lot of what the new report from Barron's lays out fills in a few interesting details in some of the information that we'd already had. It's been said previously that a guest's experience on the Millennium Falcon: Smuggler's Run attraction would be different based on how those on the ride performed, and that said performance would have an impact on how others respond to the guest throughout the land. One specific example is given that after the attraction, while getting a drink in the cantina, somebody might say, "The boss isn't happy about how you brought the ship back." to you if the Falcon is brought back in less than stellar condition.
There are still a couple things that aren't clear about how this interaction works. The first is who will be communicating with you. Will there be animatronic characters in the bar as there will be in at least one shop or will there be live castmembers tasked with these roles? The other question is how this interaction is generated. At Disney's Hollywood Studios, this will likely be handled via Magic Bands, RFID tags that guests keep with them that work as tickets, room keys, and also manage the photos that get taken throughout the day. The band could certainly record your ride progress and relay that information to the right place in the cantina.
However, Disneyland has yet to introduce the Magic Bands to the park, so either that's about to change or some other method will need to be used. It could potentially be done via a smartphone and the Disneyland app, but that would likely require exceptionally reliable Wi-Fi in a park crowded with people.
If you are interested in grabbing a drink at Oga's Cantina, get ready for what will certainly be a unique experience. For aesthetic reasons, the cantina, which will be the first public location at Disneyland to serve alcohol, apparently won't be very big. To keep capacity from being too small, it will be mostly a standing room only location. There will apparently be a few booths along the edge of the cantina, though their scarcity might mean they require reservations or at least that reserving them could be possible.
While the menu for the cantina hasn't been set, one beverage we know will be available somewhere in the park is the famous blue milk that Luke and his family drink in the original Star Wars: A New Hope. While it's still unclear what the drink will actually be, apparently it won't actually be milk of any kind.
The most interesting thing that Disney is doing to enhance the feeling that you're actually standing on an alien world is the way the park is handling one of the most important things in the Disney portfolio, merchandise. We've already heard about how you won't be able to buy a t-shirt that says Star Wars on it anywhere in Galaxy's Edge, because such a thing would not be for sale on Batuu. We've even seen some images of the sorts of things that will be available, like this AT-AT toy that looks like it was patched together by hand.
One other idea that's apparently being considered is items based on familiar characters might look different from what you'd expect. As a theoretical example, a doll of Luke Skywalker might not look like Mark Hamill, with the idea being that the person making the doll has never seen Luke, and thus doesn't know exactly what he looks like.
All of this feels so much closer to reality now that we're inside 2019. Star Wars: Galaxy's Edge doesn't have an official opening date in either park yet but will make its debut at Disneyland sometime this summer, followed by a fall opening at Disney's Hollywood Studios at Walt Disney World.
Your Daily Blend of Entertainment News
Content Producer/Theme Park Beat
CinemaBlend's resident theme park junkie and amateur Disney historian. Armchair Imagineer. Epcot Stan. Future Club 33 Member.