Why Disney Will Be Impossible To Beat At The Box Office In 2019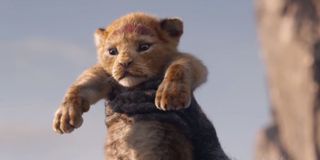 Disney has been the studio to beat at the box office for the last three years running. Since 2016, the House of Mouse has been the top grossing Hollywood studio and has accounted for as much as 26% of the total box office. In 2018, it set a box office record for domestic success, but that record may not last long, because it's likely to be beaten in 2019... by Disney itself.
Looking at Disney's upcoming slate, one thing becomes clear: the studio is poised to blow last year's totals out of the water. With a couple of films that are virtually guaranteed to set records and several others that are sure to put up big numbers, there just isn't another studio that has 12 months of films that can stand up to this. Let's go over the 2019 Disney lineup.
Captain Marvel
Marvel's next entry in its cinematic universe might not be the highly anticipated sequel to Avengers: Infinity War, but it's no less important a film. Captain Marvel was teased in the post-credits sequence of Infinity War, meaning that everything that happens here will be important and those who are following the larger story won't want to miss it.
Also, it's Marvel's first time letting a female hero shine in the spotlight all by herself. While it's unlikely Captain Marvel will have a Wonder Woman-level box office performance, it will still be more than sizable, and there's always the possibility this one could shock us and blow up like Black Panther did.
Dumbo
Just how well Dumbo will do at the box office is hard to tell. While it's probably not going to do Beauty and the Beast level numbers since the fan base just isn't there for an adaptation of one of Disney's earliest features, all of the live-action adaptations from Disney have done well, and so Dumbo will be no exception.
Unless this one reviews incredibly well, or badly, in order to send ticket sales soaring in one direction or plummeting in the other, Dumbo should be a solid follow up to Captain Marvel. Somewhere in the neighborhood of Christopher Robin which fairly quietly made $200 million around the world.
Penguins
Without even trying, we can easily guess what the lowest-grossing Disney release of 2019 will be. The latest from Disneynature, the documentary arm of the studio, isn't going to break the bank. It will have a much smaller release than anything else. If you actually want to find it on the big screen, you'll have to seek it out.
However, nature documentaries are almost as old at Disney as animated feature films and they're almost always worth checking out. This movie's box office will be the cherry on top of whatever other business Disney does in 2019.
Avengers: Endgame
At the end of April, we meet one of the big players that is going to make 2019 Disney's biggest year ever. Avengers: Infinity War grossed over $2 billion worldwide, and if the follow up doesn't do just as well or better, people are going to wonder what happened. Everybody who bought a ticket to Infinity War will almost certainly be back, along with anybody else who can't wait to see how this major MCU event comes to an end.
The only real question about Avengers: Endgame is, just how big can it actually get? Star Wars: The Force Awakens and Titanic's global box office totals are certainly within reach. Can it make a play for Avatar's top spot?
Aladdin
Aladdin would seem like another slam dunk from the studio that has found even more success by making their popular animated features over again. Aladdin is an incredibly popular part of Disney's history, and with a major star like Will Smith on board, there's a good chance this one will do very well with a wide audience.
Of course, we haven't actually seen much of the new Aladdin as of this writing, and the first look at Will Smith in costume left some people wondering just how different this version of the story will be. Still, the title alone will bring in a lot of people. This one is almost guaranteed to be a moderate success, with the possibility of making much more.
Toy Story 4
From the point at which Pixar announced that Toy Story 4 was coming, a lot of people wondered why such a movie would need to be made, considering how well the third film ended the story. Those people may continue to argue that this movie doesn't need to exist the entire time they're standing in line to buy tickets.
Toy Story 3 made $1 billion, which is going to look like small potatoes compared to some of the movies coming out this year. Still, there's no reason to believe that Toy Story 4 will make a penny less. With some interesting new characters joining our established favorites, there's plenty of opportunity for the film to find that magic once again.
The Lion King
The Lion King, by comparison to other sequels or remakes on this list, came up just short of the billion-dollar mark when it was released back in 1994. Of course, back then there were no billion dollar movies. The Lion King was the most successful animated film ever made in its day and few films have been able to outdo it since.
With all the generations that have now seen the original Lion King, and the fact that pretty much everybody loves it, it seems like a foregone conclusion that the remake is going to be massive. This could end up being the third billion-dollar movie of the year for Disney. Even if, like its predecessor, it doesn't quite hit that mark, it will almost certainly be close.
Artemis Fowl
The biggest X-factor in the Disney lineup in 2019 has to be Artemis Fowl. While the movie is based on a popular series of books, this is the first one to be adapted into a film, so there's no way to know just how the adaptation will be accepted by moviegoers.
We have an expectation of what's going to happen with a Disney remake or the latest entry in the MCU, but this one is a bit more curious. Artemis Fowl may end up being the lowest grossing wide release movie from Disney in 2019, though considering the company, it could still end up being incredibly successful in its own right, and still look weak by comparison to everything else on this list.
Frozen 2
Frozen is yet another billion dollar property seeing a sequel in 2019. We've seen exactly nothing from this film so far, so we have no idea what we're going to get. Still, it's safe to assume that this one is going to make theaters busy. People have wanted Frozen 2 since the moment the first film ended, and that anticipation finally ends later this year.
Frozen 2 can make $200 million less than the original and still break the $1 billion mark. Anna and Elsa are really no less popular today than they were when the first movie hit it big. Get ready to have at least one big song from the sequel that you'll be stuck with until sometime in 2020.
Star Wars Episode IX
Finally, we have this little indie flick. Star Wars: The Force Awakens broke the $2 billion mark. Star Wars: The Last Jedi only did $1.3 billion, basically pocket change. Expect Star Wars: Episode IX to do numbers closer to that of the first entry of this trilogy. This is where the Skywalker Saga ends, so people who might have been ok skipping the middle movie in theaters won't want to wait around this time.
Whether Episode IX or Avengers: Endgame ends up being the bigger film remains to be seen, but at the end of the day, it's all going to end up being money in Disney's pocket. All of it. All the money. Just give them all your money now.
Content Producer/Theme Park Beat
CinemaBlend's resident theme park junkie and amateur Disney historian. Armchair Imagineer. Epcot Stan. Future Club 33 Member.
Your Daily Blend of Entertainment News
Thank you for signing up to CinemaBlend. You will receive a verification email shortly.
There was a problem. Please refresh the page and try again.