Why The Avatar Sequels Will Not Fail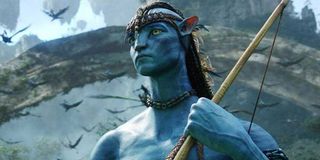 There were times it seemed like it was never going to happen, but with principal photography now finished, in about two years we will finally get to see the long-delayed sequel to James Cameron's 2009 mega-hit Avatar. In the years since the first film, as Avatar 2 kept getting kicked further down the road, a belief emerged which now seems to be the prevailing one regarding the Avatar sequels: that they will fail. Despite the fact that neither the return of Star Wars nor Marvel's Avengers could dethrone Avatar as the all-time worldwide box office champ, the reasons people think the Avatar sequels will fail are not hard to figure out. It'll be over a decade since the first film by the time Avatar 2 arrives, striking well after the iron was hot.
More than that, anecdotally, Avatar doesn't seem to have maintained a prominent place in the cultural zeitgeist in the way that other successful genre properties have in the years since their releases. The original and the prospective sequels appear to be viewed more with apathy than excitement. Add to all that the hugely ambitious nature of the five-film plan and the wildly expensive price tag these films will carry, and you have a recipe for failure. Yet, in acknowledgement of all those potential pitfalls for the Avatar sequels, I do not think they will fail. Far from it, I believe that they will succeed and there are several reasons to believe that the return to Pandora will be a prosperous one.
The International Box Office
Despite being surpassed domestically by Star Wars: The Force Awakens, the reason that Avatar remains number one at the all-time worldwide box office is its international take. The film made 73% of its $2.78 billion in foreign markets, and those markets have only grown since 2009.
For example, China, which is now on pace to surpass North America as the world's biggest market for movies, contributed $204 million to Avatar's bottom line. Just this year, Jurassic World: Fallen Kingdom, Venom and Ready Player One have all made more than that in the Middle Kingdom, and none of those films are even in the worldwide top 10 all time.
That bodes very well for the Avatar sequels. Even if they are met with apathy in North America, it doesn't seem likely that will be the case overseas. As the international markets have grown, we've learned more about the tastes of our foreign moviegoing friends. In many of these markets, audiences crave spectacle and escapism that translates across cultural and linguistic barriers, and thus we've increasingly seen blockbusters make the bulk of their money outside of North America.
Avatar offers blockbuster escapism on a massive scale, and with the growth of foreign markets and China in particular, I see the Avatar sequels doing gangbusters overseas, bringing in plenty of that sweet, sweet unobtanium.
James Cameron
To doubt James Cameron is to order a plate of crow on which to feast when he proves you wrong. This is the guy who directed the top two highest-grossing movies of all time; one, a romantic drama in Titanic, and the other, a sci-fi adventure in Avatar. I don't think that accomplishment gets nearly the recognition it deserves. Both times he was doubted and both times he laughed all the way to the bank.
The director has proven an incredible ability to make films that astound and amaze, delighting the senses and broadening our imaginations, while having stories that connect with us on a very human and universal level. He knows audiences and has proven as much.
There is also the fact that these are sequels, James Cameron's specialty. The director is responsible for two of the greatest sequels of all time: Aliens, a sequel to someone else's property, and Terminator 2: Judgment Day, a sequel to his own film, The Terminator. He saw what worked in the first film and took things in a new and exciting direction for the sequel. Avatar 2 gives him another chance to work his sequel magic.
To quote South Park's James Cameron, "James Cameron does what James Cameron does because James Cameron is James Cameron." What James Cameron does is make wildly successful blockbusters that defy expectations, and I imagine that's exactly what he'll do with the Avatar sequels.
A New Story And New Technology
Personally, I love Ferngully: The Last Rainforest and was all for a $237 million version of it, but Avatar deserved criticism for being derivative. And despite the fact that seemingly the entire cast of the first film, including the villain, is returning for the sequels, I don't think that the next Avatar films will be retelling that same story.
We still don't know the exact plot of the Avatar sequels, but we do know that it will be a family saga about Jake Sully, Neytiri and their children, and each chapter will be part of the much larger five-film arc. We also know that James Cameron didn't work on the story for the sequels alone. He brought in a talented team of writers to help him this time around, and getting a diversity of opinion should help the sequels to tell an original story that is still unified under James Cameron's vision.
Also, part of what made the first Avatar such a phenomenon was that we had never seen anything like it. James Cameron waited a decade plus for the technology to make the first Avatar, and the result was a grand spectacle that transported audiences to a world some were actually depressed to leave when the credits rolled.
For the sequels, James Cameron will again be breaking new ground. He shot underwater, and with the advances in technology since the first film, the sequels should again raise the bar for what is possible. Domestic audience enthusiasm for 3D may have peaked with Avatar, but whether the sequels are 3D or high frame rate, there is little doubt that they will demand to be seen on the big screen, and I believe audiences will do just that to visit Pandora again.
Disney Wants Them To Succeed
It must be said that the Disney-Fox deal is not yet finalized, so things could change, but at the moment, all signs point to the purchase completing sometime next year, at which point Disney will own the rights to Avatar. So needless to say Disney wants Avatar 2 and Avatar 3 to succeed so it can make the fourth and fifth films and merchandise the hell out of this property.
Even prior to the Disney-Fox deal, the Mouse had a vested interest in Avatar due to the Pandora-The World of Avatar land at Walt Disney World's Animal Kingdom. The success of the Avatar sequels will drive people to the park and the existence of the park will in turn help with awareness of the property heading in to the movies.
Disney already has a four-pronged box office strategy with Pixar, Lucasfilm, Marvel and its live-action remakes, and Avatar could be another pillar in that portfolio. Avatar 2 arrives in December 2020, a year after Star Wars: Episode IX. If a Star Wars slowdown is really happening, Avatar could take some of the pressure of the galaxy far, far away and allow Disney to alternate holiday releases between that and Pandora.
Not everything Disney wants to succeed works. Just this year, A Wrinkle in Time and The Nutcracker and the Four Realms are evidence of that. But with Avatar, Disney, the most powerful studio in Hollywood, is taking the biggest movie of all time and running with it. I wouldn't bet against Mickey on this one.
Avatar 2 is scheduled to hit theaters on December 18, 2020. For movies hitting a little bit sooner, check out our 2019 Release Schedule.
This poll is no longer available.
Your Daily Blend of Entertainment News
Nick grew up in Maryland has degrees in Film Studies and Communications. His life goal is to walk the earth, meet people and get into adventures. He's also still looking for The Adventures of Pete and Pete season 3 on DVD if anyone has a lead.