Why Alfonso Cuarón Should Direct The Final Fantastic Beasts Movies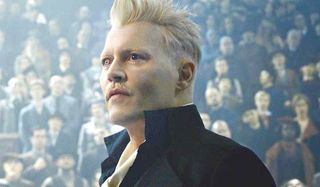 The Harry Potter franchise needs to accio director Alfonso Cuarón back into the fold. I don't think he's "too good" for this now. I also don't think he's too artsy for such a mainstream franchise. Since he already has a history in this world, the final Fantastic Beasts movies would be the perfect time for his return. Here's why.
Alfonso Cuarón just won the Best Director Golden Globe for Roma. He already has a Best Director Oscar for Gravity. He's the director behind the striking adaptation of P.D. James' Children of Men. And he directed the best Harry Potter film, in my opinion, Prisoner of Azkaban.
David Yates has directed the first two Fantastic Beasts movies, and it seems like he's down to direct at least the third film, but there are meant to be five films in this series. Yates previously directed Harry Potter and the Order of the Phoenix, Harry Potter and the Half-Blood Prince, and both parts of Harry Potter and the Deathly Hallows.
Producer David Heyman has said they'd love to have David Yates direct all five planned Fantastic Beasts movies, but it isn't confirmed that he'll do so. Yates has served this franchise well, but what the franchise needs right now is the same shock to the system that Alfonso Cuarón brought with Azkaban.
Harry Potter and the Prisoner of Azkaban was Alfonso Cuarón's one-and-only Harry Potter film, and it's a polarizing one. Everything about the third Harry Potter film was a jolt after Chris Columbus' childlike and exceedingly faithful Harry Potter and the Sorcerer's Stone and Harry Potter and the Chamber of Secrets. The third book was more mature, and they found the perfect director to take the story, actors, and visuals to the next level.
That's what the later Fantastic Beasts films need. The first two films have already spent enough time being faithful to J.K. Rowling's detailed exposition. Hopefully by the time we get to Fantastic Beasts 4 and 5 we can stop getting new backstory speeches and spend more time focusing on individual characters. That is where Alfonso Cuarón as a director would be such an asset.
The final Fantastic Beasts films will be bringing us to the ultimate duel between Gellert Grindelwald (Johnny Depp) and Albus Dumbledore (Jude Law). Cuarón's gift for getting raw, standout performances -- from veterans like Sandra Bullock and Clive Owen to newcomers like young Daniel Radcliffe and Roma's Yalitza Aparicio -- would be put to perfect use in the later films. He might also know how to solve the Newt Scamander problem. But that's a tall order.
Daniel Radcliffe has often praised Alfonso Cuarón, and the choice to hire him for Prisoner of Azkaban. Here's more of what he told HuffPost:
Alfonso Cuarón has never shut the door on making a Fantastic Beasts movie. He did, however, say back in 2014 that while he had "a very beautiful experience" making Azkaban, and he loves and admires J.K. Rowling, he didn't want to take on the first Fantastic Beasts movie because he wasn't interested in projects based around a lot of visual effects at that point. He was fresh off Gravity and wanted to clean his palate of that.
Well, he just did. With Roma. That gorgeous very personal black-and-white film set in his native Mexico was the ultimate palate cleanser. It's not clear what Alfonso Cuarón has planned after Roma. He doesn't have a long filmography, and he seems to choose his projects very carefully. On the surface, you wouldn't imagine the same director making Gravity and Roma, never mind that director also making the third Harry Potter movie. I love that I don't already know what he'd do if he did return for a Fantastic Beasts movie. That's part of the excitement.
J.K. Rowling's strength is as an author, not a screenwriter. But it may take someone like Alfonso Cuarón to really sell that point. He has co-written most of his films. He seems like he'd be confident enough, and have enough insider-yet-outsider status, to be critical with Rowling's scripts and focus on the show rather than the tell. After all, if you've read The Children of Men, you know it's very different from the subsequent film, which was as fantastic and bold as any Alfonso Cuarón movie. It was its own thing.
The Fantastic Beasts scripts aren't based on books, but they are based on the canon J.K. Rowling has been building. If there really are five films worth of story there, then use the medium to make those stories more visual -- not with more effects, but with Alfonso Cuarón's creative visual storytelling. Let his artistry loose. And get this man more epic tracking shots!
Fantastic Beasts: The Crimes of Grindelwald did not move the franchise forward for fans. It did worse at the box office, and with moviegoer reactions, than Fantastic Beasts and Where to Find Them. It looks like David Yates is going to continue for the third film, which already has a title and is fairly well along toward its 2020 release date. But give Alfonso Cuarón the endgame.
Not enough people are going to see Roma, I fear, but he could bring his talent for storytelling, visuals, and strong individual performances to a popular (but possibly fading) franchise that could use new direction.
Fellow Oscar-winning director Guillermo del Toro is the one who convinced Alfonso Cuarón to direct a Harry Potter movie to begin with, so we made need del Toro to come back and play coach again on this one.
Fantastic Beasts 2 is still playing in some theaters, as the many new films of 2019 start to take over multiplexes. Fantastic Beasts 3 is scheduled for 2020, with Fantastic Beasts 4 expected in 2022 and Fantastic Beasts 5 in 2024. There's plenty of time to lock Alfonso Cuarón in for that final movie, so ... consider it, J.K. Rowling and Warner Bros.?
Your Daily Blend of Entertainment News
Gina grew up in Massachusetts and California in her own version of The Parent Trap. She went to three different middle schools, four high schools, and three universities -- including half a year in Perth, Western Australia. She currently lives in a small town in Maine, the kind Stephen King regularly sets terrible things in, so this may be the last you hear from her.