Bohemian Rhapsody Is The Lowest Rated Golden Globes Winner Since Out Of Africa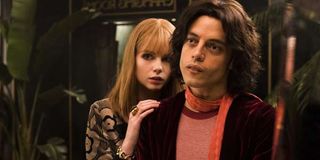 Bohemian Rhapsody has been a huge win for Twentieth Century Fox this winter. The movie, about Queen and in particular the band's frontman Freddie Mercury, has won legions of fans worldwide. It's been a box office behemoth, too, but critically it hasn't fared as well as some of its fellow awards nominees. While it won The Golden Globe for Best Drama this weekend, its critical scores are lower than most other Golden Globes winners.
According to compilation stats over at Rotten Tomatoes, Bohemian Rhapsody is only running at 62% fresh when tallying up critical reviews. Per the outlet, that's the lowest score for a Golden Globe for Best Picture winner since 1985 when Out Of Africa won the illustrious award. (That movie also went on to win big at the Academy Awards that year.)
Of all of the Best Picture Winners reviewed, Bohemian Rhapsody lands at 128 of 149 total winners, with The Robe earning the lowest Rotten Tomatoes score. It should be noted, though that the aggregator hasn't really been around all that long, so a movie like The Robe only has 18 compiled reviews, whereas newer movies like the Queen biopic have hundreds of reviews. For another comparison, the aforementioned Out of Africa only has 47 filed reviews.
I think it's still important to note that a score of 62% is a fresh rating, there's no doubt about that, it just means that a lot of critics think Bohemian Rhapsody is a nice little movie and not a groundbreaking one. It's a criticism that has also been lobbed at winner Green Book, although that movie is running at 81% on the critical aggregator site.
Over at Metacritic, aggregated reviews for Bohemian Rhapsody are running even lower, at 49.
Having said all of this, Bohemian Rhapsody is very well-liked by people outside of the critical sphere. The movie has made over $743 million worldwide so far in theaters. In addition, if you look at audience reviews of the movie on Rotten Tomatoes, people love Bohemian Rhapsody.
Looking through thousands who have responded, 90% of people who have put in a rating on the social aggregator think the movie is fresh--a much higher number than the critics.
If you've seen Bohemian Rhapsody, Rami Malek is clearly a standout in the role, but your mileage may vary, depending on how "serious" you hoped the movie would be and how much you care about factual accuracy. I personally find it to be a whole lot of fun, if a little one-note in moments.
Still, there's no doubt that Bohemian Rhapsody landing the big prize was a bit of a coup. The movie beat out heavy contenders like A Star is Born, BlackKklansman and Black Panther, not to mention the quiet indie darling If Beale Street Could Talk.
We'll have to wait and see if Bohemian Rhapsody can keep up the pace as the awards season heats up and Oscar nominations are announced. With a singer like Freddie Mercury as your frontman, anything is possible...
This poll is no longer available.
Your Daily Blend of Entertainment News
Reality TV fan with a pinch of Disney fairy dust thrown in. Theme park junkie. If you've created a rom-com I've probably watched it.