3 Reasons To Watch Bad Times At The El Royale If You Missed It In Theaters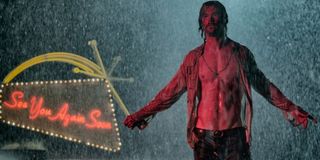 It's not often that I get a weekend where I'm relaxing at home, doing nothing. Yet that's exactly what I did this past Saturday, and having a free rental credit with my cable provider, I wanted to play catch up with a movie I'd missed from last year. Seeing as Bad Times At The El Royale was one of those titles I sadly did not get to see during in its original theatrical run, and seeing it had recently gone to home video, it felt like a great time to check in and catch the movie. As it turns out, this was a great life decision.
After spending a good amount of time with writer/director Drew Goddard's under-the-radar pot-boiler, it's safe to say that I, as well as the rest of us who didn't support the film in its initial release, made a large but rectifiable mistake. Had I seen this film in time, it would have made my Top 10, and after seeing it more than once, I know it's going to be one of those films I revisit. It's in the spirit of this revelation that I present to you all three reasons you should watch Bad Times At The El Royale, and correct the wrong most of us made in its first go-around.
It's Not The Movie You Think It Is
From the offset, Bad Times At The El Royale looked like something along the lines of Identity mixed with a Quentin Tarantino movie. Just a bunch of bad people, being trapped in the same setting, waiting to do bad things to one another. If Goddard's film was just that, then it'd still have been a fun ride, if not extremely derivative. However, upon closer inspection, that's not the case.
By time we're done seeing the Bad Times At The El Royale cast at work, and have been exposed to all of their backstories, we learn that there's a lot more going on than any of the trailers have let us believe. Which, to be fair, is kind of the purpose of a trailer. We're supposed to be sold a basic concept as to what the movie we're about to watch will feel like, and the version shown in the trailer for El Royale looked very decidedly Tarantino-esque.
If anything, the final product feels like a cross between the aesthetic of Quentin Tarantino, with the morality and snappy dialogue of the Coen Bros. In fact, Bad Times At The El Royale is firmly set at the crossroads of those two sensibilities, sewn together with Drew Goddard's eye for direction and storytelling. Trust me when I tell you that if you think you've got this film pegged, you don't. This movie is something altogether different from what you think it is, and it's all the better for it.
It Has Some Of The Best Character Work Of 2018
As if writing one hell of a narrative wasn't enough, Drew Goddard gave us some of the best characters to hang around with in 2018 in Bad Times At The El Royale. There's actually no character who falls flat, or simply becomes a stock background figure, with all involved having their moment in the sun.
It also helps that Goddard wrote these characters, he also chose one hell of a cast to play them. There is no false note in the casting of this film, as everyone from Jon Hamm's fast talking salesman to Dakota Johnson's hellion with a past. Every performance is in line with what Bad Times At The El Royale is looking for, and nobody misses their target. You might even be asking yourself if Chris Hemsworth's charismatic cult leader is the wild card of the bunch, but he's just as laser focused as everyone else is; making him all the more threatening.
But if I were to highlight cast members of particular distinction, I'd have to say the trio of Jeff Bridges, Lewis Pullman, and Cynthia Erivo are the MVPs of Bad Times At The El Royale. Without going too far into the particulars, there's a bond that forms between their characters, and what looked like it'd be a more freeform ensemble narrative becomes quite fixated on just a few people. Yet the story never loses focus, and instead uses these characters as an embodiment of its overall message, with all other players helping its central moral unfold. With every single character around them drawn like a living, breathing being with dimension, there are quite a few reasons to watch.
It Deserves To Become A Cult Classic
If audiences had given Bad Times At The El Royale the chance it deserved at the box office, we might have seen the film succeed more modestly. Still, it was likely never going to be a big budget win, and given the the slick and somewhat misleading trailer the film put out into the world, it's almost no surprise the movie only made $31 million--not quite enough to make its budget back. However, having actually seen the film and knowing its history, I can't help but feel this is destined to become a sneaky classic.
There's an insane level of replay value with Bad Times At The El Royale, with various clues and hints hidden in plain sight throughout the film. Seeing it twice myself, over the course of two days, I noticed a lot of stuff that pointed straight to where the film was headed right from the start. Not to mention, while the film doesn't flat out tell you when it takes place, there are some big pieces of information that narrow the window of time to a very limited time frame, which only enriches the events of the film's story.
Everything about Bad Times At The El Royale works so perfectly that it's the sort of film that often gets picked up by film fans after the fact, and could become a rabid favorite that's defended for years after its release. Drew Goddard and company created a slick mousetrap that manages to run a gauntlet's worth of influences, and shine as its own thing under those spotlights of inspiration.
With the film market being as crowded as it is today, it's films like these that find their real appreciation in this phase life. The audience could have made a small hit out of Bad Times At The El Royale, but left with what happened in its theatrical release, now is the time for action. Ultimately, the most important reason you, or anyone else you know who is interested in seeing Bad Times At The El Royale should do so immediately is because contrary to its title, it's one hell of a good time.
So there you have it. Three big reasons why Bad Times At The El Royale should be on your watch list in the near future. Reading those reasons is one thing, but actually seeing them in action for yourself is another. As such, the film is available on Digital HD and all home video formats as we speak, so go track down a copy and settle in for an experience too good to let pass you by.
Your Daily Blend of Entertainment News
Senior Movies Contributor
CinemaBlend's James Bond (expert). Also versed in Large Scale Aggressors, time travel, and Guillermo del Toro. He fights for The User.