Who The New Gods Movie's Villains Might Be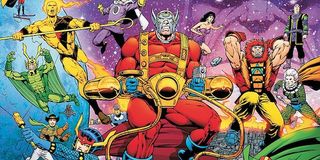 Justice League only scratched the surface of Jack Kirby's Fourth World mythology with its inclusion of Steppenwolf, Parademons and Mother Boxes, but soon we'll have the opportunity to learn a lot more about this corner of the DC Comics universe. Among the many movies currently in development for the DC Extended Universe is New Gods, which Ava DuVernay will direct. While it remains to be seen just when New Gods will officially get off the ground, a new rumor claims that the movie will feature Granny Goodness and her Female Furies as the main villains.
Take this information with a grain of salt for now, but according to The GWW, New Gods will see Mister Miracle and Big Barda, reportedly the main protagonists, clashing with Granny Goodness and her team of formidable warriors. Considering that these women have been part of the Fourth World mythology since its earliest years, it's plausible that we could see them in action. Darkseid may be the biggest of baddies where Apokolips is concerned, but there are plenty of other sinister individuals on that hellscape of a world. That said, since New Gods is still being written, so it's possible Granny Goodness and the Female Furies could be replaced as the antagonists.
Granny Goodness first appeared in 1971's Mister Miracle #2, and the Female Furies followed in Mister Miracle #6 the following year. Originally one of the "Lowlies" on Apokolips (the planet's peasant class), Granny was raised to be one of Darkseid's Hounds. Eventually proving herself particularly worthy to Darkseid, she was tasked with running his "orphanage," the training facility where she brainwashes and tortures innocent individuals into soldiers completely loyal and willing to carrying out Darkseid's will. Granny has also set up orphanages on Earth, and at every facility, she manipulates those under her care to think she's a motherly figure when she's anything but.
The Female Furies count themselves among those trained by Granny Goodness. They are traditionally compared of Bernadeth, Gilotina, Lashina, Mad Harriet and Stompa. Big Barda previously led the Furies until she defected so she could live with the love of her life, Mister Miracle, who was the first person to escape one of Granny Goodness' orphanages. Outside of the comics, Granny and the Furies have appeared in Superman: The Animated Series, Batman: The Brave and the Bold, Smallville and Superman/Batman: Apocalypse, to name a few projects.
While DC and Warner Bros no longer seem to be as concerned with making the DCEU entries be closely connected to one another, this franchise is still operating as a shared universe. So New Gods will be set in the same continuity as Justice League, where Steppenwolf failed to terraform Earth and was dragged back to Apokolips by his remaining Parademons. While the wait continues to learn specific New Gods plot details, at the very least, it would likely explore the cultural differences and conflict between the denizens of Apokolips and those who inhabit New Genesis. Ideally this will also be when Darkseid's finally shown, as he was originally supposed to appear in Justice League.
Stay tuned to CinemaBlend for more updates about New Gods, but in the meantime, look through our DC movies guide to learn what other projects are in development for the DCEU.
Your Daily Blend of Entertainment News
Connoisseur of Marvel, DC, Star Wars, John Wick, MonsterVerse and Doctor Who lore. He's aware he looks like Harry Potter and Clark Kent.