Ava DuVernay Is Making A New Gods Movie For DC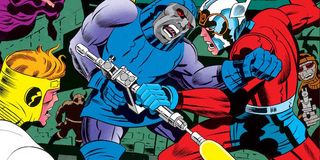 Over the last few years, Ava DuVernay has become a powerhouse director in Hollywood. After delivering Selma in 2015, she followed up with the visually-stimulating A Wrinkle in Time, which opened in theaters last week. DuVernay is also keeping busy with the Queen Sugar TV series, but it's just been announced what her next cinematic project will be: a New Gods movie for Warner Bros and DC.
According to Deadline, Ava DuVernay has signed a deal to helm The New Gods, based off the mythos created by Jack Kirby. A search is now underway to find a screenwriter to pen the movie, and like A Wrinkle in Time, DuVernay will be working with a budget that exceeds $100 million. Last December, DuVernay revealed that her favorite superhero was Big Barda, a longtime member of the New Gods lineup. This makes DuVernay the second woman to direct a DC movie, following behind Patty Jenkins, who helmed Wonder Woman and is returning for Wonder Woman 2. While Deadline claims that The New Gods has "no connection to the other DC worlds being exploited for film right now by Warner Bros," Variety's article states that the movie will be part of the DC Extended Universe.
Some of you may know Jack Kirby for his work over at Marvel Comics, but the man also made great contributions at DC Comics, the New Gods (a.k.a. the Fourth World) chief among them. First appearing in 1971, the New Gods stories primarily follow the conflict between the inhabitants of the idyllic New Genesis, led by Highfather, and the hellish Apokolips, led by Darkseid. The heroic characters in this corner of the DC universe include Mister Miracle, Big Barda, Orion and Lightly, while Darkseid's minions include Steppenwolf, Desaad, Kalibak, Granny Goodness and the Female Furies. While many of their early stories were self-contained, the New Gods have gone on to be major players in the wider DC universe, with Darkseid becoming one of DC's greatest overarching antagonists. Outside of the comics, the New Gods have appeared in the DC animated universe, Batman: The Brave and the Bold, Smallville and Young Justice.
Batman v Superman: Dawn of Justice laid the groundwork for the New Gods mythos when it showed Parademons and a giant Omega symbol in Bruce Wayne's Knightmare, and Justice League cracked that door open a little more by having Steppenwolf lead a Parademon army to invade Earth to collect the three Mother Boxes. If The New Gods movie is connected to the DCEU, then I suspect it will either follow up on the aftermath of Justice League or be a prequel set long before the current age of heroes. The latter approach would also work just fine if this movie truly unconnected from the DCEU, like Todd Phillips' Joker movie. In any case, this is another big score for Ava DuVernay, and will definitely help strengthen her blockbuster resume if/when it gets off the ground.
Stay tuned to CinemaBlend for more news about The New Gods, and look through our DC movies guide to see what other projects are coming up.
Your Daily Blend of Entertainment News
Connoisseur of Marvel, DC, Star Wars, John Wick, MonsterVerse and Doctor Who lore. He's aware he looks like Harry Potter and Clark Kent.