The Suicide Squad: Who Should And Shouldn't Return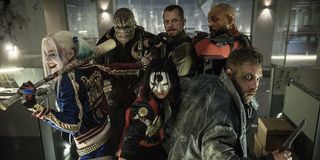 Guardians of the Galaxy writer/director James Gunn may have been kicked to the curb by Marvel for the insensitive tweets of his past, but he landed right onto DC's doorstep and picked up the next Suicide Squad film. As announced last week, it will be titled The Suicide Squad (yes, "the" apparently makes all the difference) and is set to be released on August 6, 2021, almost exactly five years after the first film directed by David Ayer. The Suicide Squad will be a "relaunch" of the franchise that is to feature a "mostly all-new cast."
Although the 2016 film scored $746.8 million worldwide for the DCEU, the film itself wasn't without its problems, and its decision to juggle 10 leads, especially with some infinitely more interesting than others, undoubtedly contributed to that. The decision to then mix in the original cast with some fresh faces is a great idea to put the franchise back on track. James Gunn has already successfully pulled off the balancing act of introducing another unlikely team of comic book characters to screen without sacrificing the storyline in Guardians of the Galaxy, so he's got this!
Which 2016 Suicide Squad characters should stay and who should go? Keeping in mind that Adam Beach's Slipknot and Jay Hernandez' Diablo are presumably off the table as they did not make it out of the film alive, let's break it down:
Amanda Waller
The director of the A.R.G.U.S operation that began the Suicide Squad (officially known as Task Force X), Amanda Waller, played by the insanely talented Viola Davis, should definitely return to the franchise. In Suicide Squad, she set the events of the film in motion and pulled all the strings in the background as the DC villains banded together to save the world. She's kind of like DC's Nick Fury equivalent and she played this role really well, primarily staying on the sidelines, but showing her power and tough-as-nails personality every time she graced the screen. Bringing in Amanda Waller could insure a seamless set up between her "Suicide Squad" cause and the new team, and the sequel would not be the same without her on board.
Captain Boomerang
When Jai Courtney was cast as Captain Boomerang, director David Ayer told him to "find your inner shitbag," and that he did. In Suicide Squad, Digger Harkness threw boomerangs and had some snarky lines… that's it. He's not even a lovable shitbag or an interesting shitbag, he's as two-dimensional as they get. Captain Boomerang may be a regular member of the team in the comics, but when adapted for the big screen, the writers didn't seem to know what to do with him, and that's okay! The lesson's been learned, and it'll be easy for the franchise to move on without the character.
Deadshot
Oh, how we missed Will Smith lead an action film! After about a three-year drought since the actor took on a blockbuster, it was refreshing to see the actor take on Deadshot in Suicide Squad. Smith's character was also treated with some care, as Deadshot had an interesting story arc centered on his motivation to be with his young daughter counterbalanced by grappling with his entanglement with the other villains. While it was one of Smith's most memorable performances in some time, there did feel like there was more potential for Deadshot. The character should stay for these reasons and because he's the best candidate to lead the team going forward.
Enchantress
Okay, so Cara Delevingne's Enchantress technically was defeated at the end of the first film, but her vessel, June Moone, was freed, leaving the door open for the character to return somehow. Moone/Enchantress should not return for The Suicide Squad because I feel like her character was explored as much as she could be in the 2016 movie as the Squad's main threat. The natural next step for this character is to leave the world of villains and live a normal life with her man, Rick Flag, after her personal trauma in Suicide Squad.
Harley Quinn
There are characters who should return and then there is Harley Quinn… who has to return. If there was one defining element about 2016's Suicide Squad, it was how effortlessly Margot Robbie stuck the landing on portraying the iconic character and how Harley understood the heart of the film more than any other. She was playfully vile, while also being tragically human and flawed, all while attempting to build camaraderie between the rest of the Squad. The DCEU gets this, hence her starring role in the upcoming Birds of Prey (And the Fantabulous Emancipation of One Harley Quinn) movie. The character's own spinoff can better establish Harley Quinn, so when it comes time for the Suicide Squad to reassemble, she could be an even stronger and interesting lead to the franchise.
Joker
The Joker has had a ton of memorable moments on screen. However, in my opinion, Jared Leto's time as the character in Suicide Squad wasn't one of them. While the character wasn't given much screen time to begin with, his version just felt uninspired and seemed to only be working in service of introducing Harley Quinn's backstory. Since Harley Quinn will reportedly be breaking up with Joker in Birds of Prey, there's no reason for the character to appear in The Suicide Squad – unless they cook up some crazy, hilarious revenge plot between the couple. Additionally, a Joker movie starring Joaquin Phoenix is set to come out later this year. Although Joker is meant to stand alone and not fit into the DCEU continuity, do we really need two different Jokers at the same time?
Katana
Karen Fukuhara's Katana had potential to become a Suicide Squad fan favorite. The comic book hero has an intriguing backstory, as her late husband's soul is trapped in her blade, the Soultaker. However, like much of the Squad, Katana is given a brief two-dimensional role in the movie and is easily forgettable, so her absence in The Suicide Squad would be of small consequence. Katana is also more of a hero then a villain, so trading her out for a baddie would be a smarter move anyway. Too bad she doesn't seem to be in Birds of Prey, because it would have been a great place for her character. Let's hope the DCEU includes the character again in the future – maybe through a standalone movie?
Killer Croc
Lost alum Adewale Akinnuoye-Agbaje is quite the talented actor, and it's great that David Ayer thought of him to join the blockbuster as Killer Croc. However, this version of Waylon Jones translated into a scaly brick wall of a character that made Michael Chiklis' The Thing more memorable. It's not his fault. Once again, Akinnuoye-Agbaje wasn't given much to work with, his backstory was barely introduced and he wasn't given that many lines. Since his character didn't give the audience much to love, you might as well swap him out for a new character to be introduced in James Gunn's relaunch.
Rick Flag
Joel Kinnaman's Rick Flag may have lead the Suicide Squad in the first film, but I don't think he needs to return for the upcoming sequel. In the 2016 movie, his motivations were directly connected with watching over his girlfriend, June Moone, who became the villain, was later defeated and then eventually freed from Enchantress' control. This entangles Rick Flag into the old storyline of the original, which doesn't need to be and probably won't be revisited in the 2021 release. Additionally, setting it up for either Deadshot and/or Harley to lead the pack under Amanda Waller's instructions would flow much better than keeping the middle man in.
So it looks like just four of nine members of 2016's Suicide Squad should return for James Gunn's film, per my analysis! What do you think? Who would you like to see stay on and who wouldn't you mind never seeing again in the DCEU? Feel free to sound off in the comments below.
This poll is no longer available.
Your Daily Blend of Entertainment News
YA genre tribute. Horror May Queen. Word webslinger. All her writing should be read in Sarah Connor's Terminator 2 voice over.
Your Daily Blend of Entertainment News
Thank you for signing up to CinemaBlend. You will receive a verification email shortly.
There was a problem. Please refresh the page and try again.