Queen's Brian May Thinks Bohemian Rhapsody Was Treated Poorly During Awards Season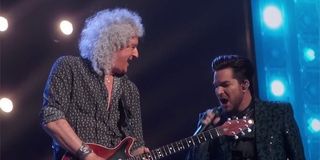 Bohemian Rhapsody has mostly had a charmed awards season after its release in November of 2018, likely propelled along by the fact that Queen band members Brian May and Roger Taylor were actively involved in the press leading up to the release of the flick and the awards season that came after. While Brian May was actively engaged in Bohemian Rhapsody and its success, he recently revealed that the negativity from the media took a toll on him.
The actor was very blunt in his concerns about the way the awards season race is run, although he was also quick to point out that he is grateful Bohemian Rhapsody was in the conversation at all this awards season. In a lengthy post, May revealed how he felt about the long ride to the Oscars, noting:
Bohemian Rhapsody, despite being the lowest rated Golden Globes winner since Out Of Africa, stood up well against the naysayers during the latest awards season. The movie went on to win numerous accolades – most notably for Rami Malek's performance—and even took home four statues at the recent 2019 Oscars event.
The Full List Of Oscar Winners 2019, See The Complete List.
During the Oscars, a performance from Queen + Adam Lambert really got the event off to a rocking start, and both Brian May and Roger Taylor seemed into being at the event. Apparently, that joy at performing was tempered a bit for Brian May, who revealed on Instagram that the politics and news noise surrounding awards season took a great toll.
What Happened Leading Up To The Oscars
Both Green Book and Bohemian Rhapsody had to suffer through months of people complaining about how the movies didn't fully stick to factual details concerning the real-life individuals the movie followed. For Green Book, this meant Dr. Donald Shirley was not portrayed accurately. For Bohemian Rhapsody, the focus was less on Freddie Mercury's personal life than some would have preferred. In addition, some people were unhappy with timeline changes.
Of course, the differing takes surrounding Brian Singer's exit from Bohemian Rhapsody, although he retained a director credit, took up some time as well.
On the bright side, Brian May did reveal after he performed at the Oscars that there was a bright spot that came from one of the people putting together the event. He mentioned of the Oscars,
Shortly before the Oscars aired, Brian May and Roger Taylor reacted to performing, with May noting he was ready to "make [Oscars people] proud."
What Brian May Has Said When He Has Spoken On The Topic Before
This isn't the first time that Brian May has spoken out regarding a lot of the criticism that Bohemian Rhapsody faced after its release. He previously said of the criticism that it has been steeped in "similar jealous righteousness" to what Queen faced when the band was producing new music. Ending on a positive note, he also said:
Bohemian Rhapsody may not have endeared itself to every critic out there, but at the end of the day, it certainly endeared itself to a wide swath of fans. The movie made a boatload of money worldwide, becoming the highest-grossing musical biopic at the box office ever. It's also already available on home entertainment (opens in new tab), and was the #1 debut in those sales during its first week of release in February.
It's one of several movies this awards season that were more populist winners and went on to do quite well at the box office, including Black Panther and A Star Is Born, as well. We'll have to wait and see if this ends up being a pattern during awards season or if indie darlings will end up being the main contenders once more.
Reality TV fan with a pinch of Disney fairy dust thrown in. Theme park junkie. If you've created a rom-com I've probably watched it.
Your Daily Blend of Entertainment News
Thank you for signing up to CinemaBlend. You will receive a verification email shortly.
There was a problem. Please refresh the page and try again.