I Wasn't A Horror Fan But These Movies Have Won Me Over To The Genre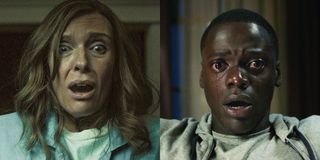 Being uninterested in horror was never about being scared of the dark. It was because bloody gore, unnecessarily grotesque creatures and one-dimensional scream queens seemed to rule the genre. It was the jump scares, me yelling at the television screen, asking them to (PLEASE) "find the damn light switch! It's literally right behind you!" before shaking my head, burying it out of the view of the screen. It happens every time! They literally never learn. It's stressful y'all. Don't get me wrong, this is fun every once in a while but I've never been an opening-night-ticket-buying horror fan or one that really followed or cared about what was going on with the genre. (Like I would never have guessed there was anywhere close to 11 Halloween movies if my life depended on it.) Cut to today, in which I find myself absolutely geeking out about what the genre has to offer.
I don't think this is about my own personal growth as a movie fan. I probably could have gone my whole life without seeing bugs infest a decapitated child (if you know, you know). There have been some really amazing entries in the horror genre that have successfully banded together and surrendered me into loving the genre. This horror newbie now has a lot of ground to cover and missed gems, franchises and remakes to start paying attention to, but let's start with the movies that were my "gateway drugs" in a sense into the genre.
First up is 2017's Get Out – yes, cliché maybe. The thing about Jordan Peele's debut into horror is it wasn't just a must see for the genre, it was a phenomenon that dominated a lot of different conversations about politics, race, Hollywood industry & diversity and was so many things in of itself; a comedy and "social thriller" so I ended up getting around to it. The movie showed me that horror wasn't just about shock value, it could actually say something profound about the world we live in and in an incredibly smart way that has enticed discussion and theories were still talking about two years later.
Peele is all about intentional filmmaking: which we movie fans absolutely love to pick apart. I love the kind of movies that you can notice something new about with each viewing and you want to jump right back in again and watch immediately after the credits roll. Get Out filled a bit of a hole we forgot was possible to dig up in the movie-watching experience. There's something beautiful about not having it all spelled out to you on-screen. Something that unravels a conversation much deeper than "Oh, it was pretty good! What did you think?" out of us.
So Get Out felt like a bit of a once-in-a-lifetime kind of horror spectacle but then I found myself intrigued by the idea of checking out A Quiet Place one weekend with a friend. To be honest, some of this was based on my interest in seeing Hollywood's power couple John Krasinski and Emily Blunt finally share the screen. I'm still thanking myself for experiencing this movie in the theater because what a crazy experience. Krasinski (who was also the film's director) did something special when he played around with silence. I found myself carefully chewing my popcorn and holding off on blurting expletives in service of the environment created so masterfully in A Quiet Place.
There are a ton of reasons why I love A Quiet Place such as the way it disguises itself as an incredibly loving family drama. Without having the genre on its side, it would not have played as well. It taught me a bit about why horror filmmaking can be such a cool and interesting type of movie. It's all about manipulating the senses and being able to take hold of the audience so well that they are actually able to feel the fear the characters are experiencing. It doesn't have to be about grossing me out or having a "gotcha moment" with a jump scare. Thus, my horror movie geek out continued.
There were a couple of other recent movies that cemented my interest into giving the genre a real shot. While I'm still confused to this day about what exactly went on in last year's Annihilation, I loved how weird it was, and the "girl gang" cast featuring Natalie Portman and Tessa Thompson. As a sci-fi fan the title spoke to me and the twists that leaned into the "horror" elements added to it and complemented the other, along with delivering a really intriguing message to contemplate.
While I initially ran into the other direction of the Happy Death Day franchise because there was an antagonist with a knife and mask and seemingly some more "2D" teens to unpack (the perfect recipe for typical lazy horror), it delighted me with its subversion of this cliche. Unlike most "horror" with its general description, the movies are made to portray teens as a college-set lighthearted movie would, it gave the main characters their own agency in the situation instead of simply surviving the masked killer. I certainly wouldn't call the sequel of the "horror" genre but it's definitely worth checking out!
Then came my "big girl" reintroduction into horror: Hereditary. While all my other picks so far genre-bend in their own rights, Ari Aster's debut film is straight-up horror and wow was I blown away by what this film had to offer. A couple years ago, I wouldn't have even given this title the time of day, but after these other movies paved the way into opening my mind to the genre, me, the ex-horror-hater was able to enjoy this very scary, gory, disturbing horror flick thanks to some newfound intrigue into the genre. I already need to see this again. Who am I? What have I become?!
I think horror is having a big-time resurgence and golden age right now as Jordan Peele's Us unmistakably strikes a chord with audiences (as shown by its huge opening weekend box office record), and remakes for Pet Sematary, Child's Play and It soon making their way into theaters. In addition, the Hereditary filmmaker continues with Midsommar, while James Gunn mixes superheroes and horror for his executive-produced Brightburn. I'm ready for them all.
YA genre tribute. Horror May Queen. Word webslinger. All her writing should be read in Sarah Connor's Terminator 2 voice over.
Your Daily Blend of Entertainment News
Thank you for signing up to CinemaBlend. You will receive a verification email shortly.
There was a problem. Please refresh the page and try again.