All The Marvel Movies That Have Made $1 Billion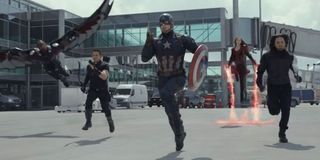 The Marvel Cinematic Universe is, without question, the biggest movie franchise of all time. The 21-film series has brought in nearly $20 billion in total box office since it began in 2008. Of course, a large part of that success is due to the fact that so many movies have been produced. Only the James Bond franchise has made as many individual films, and nobody has done it quite as quickly as Marvel Studios.
However, what might be more amazing than the total business these films have done is that about half of the total revenue that's been generated actually comes from only a third of the movies produced. Less than 40 movies in the history of cinema have made $1 billion or more at the global box office, and Marvel has made seven of them. Here, in release order, are Marvel's members of the billion dollar club.
Marvel's The Avengers
Global Box Office: $1.518 Billion
When the MCU began, nobody was quite sure just how well it would work. A series of solo movies were released. Some did well at the box office (Iron Man), some didn't do as hot (The Incredible Hulk). However, the real test of the concept was when the heroes would first be brought together in The Avengers. Needless to say it worked. The massive team-up was the first Marvel movie to break $1 billion and it's still the second highest grossing Marvel movie ever. Domestically, it's actually number one if you adjust for inflation.
Iron Man 3
Global Box Office: $1.214 Billion
Once Avengers opened the floodgates, Marvel Studios wouldn't have to wait too long to for its second billion dollar hit. Iron Man 3 followed on the heels of Avengers as the first movie of the MCU's Phase Two and clearly, even 12 months later, interest was still incredibly high. Both previous Iron Man films performed solidly when they were released, though both have been dwarfed by more recent films, but Iron Man 3 absolutely soared. It was the highest grossing solo Marvel movie until quite recently.
Avengers: Age Of Ultron
Global Box Office: $1.405 Billion
After Iron Man 3, things began to calm down for the MCU a little bit. The rest of Phase Two put up solid numbers thanks to well regarded films like Captain America: The Winter Soldier and the first Guardians of the Galaxy movie, which basically proved Marvel could do anything, but we all still knew the next time the Avengers got together, the audience would come. Avengers: Age of Ultron didn't quite match the total business done by the first Avengers, but it came awfully close. It would be three years before we got another Avengers movie, but other parts of the franchise would pick up the slack.
Captain America: Civil War
Global Box Office: $1.153 Billion
Captain America: Civil War isn't a full Avengers movie, but considering the cast that shows up for it, it might as well be. Thor and Hulk might be missing, but we throw in Black Panther and Spider-Man for good measure. Every other superpowered hero that we've met in the franchise is here. If there were people who only watched Captain America movies at this point, they were probably very confused. The story has significant repercussions for the rest of the MCU, making in a must watch for anybody who wants to keep up with the larger plot. Civil War was the Marvel movie at the bottom of the billion dollar club. We'll have to wait and see if it stays there.
Black Panther
Global Box Office: $1.346 Billion
In the weeks leading up to the release of Black Panther, the box office estimates for the film just kept increasing. Then the movie actually arrived and everything just exploded. While the final tally puts Black Panther just behind Age of Ultron, Panther actually had a bigger opening weekend than Ultron and it came within just a few million of outdoing The Avengers itself. It's currently the highest grossing non-Avengers movie in the MCU. The power of a diverse cast clearly helped this one, but nobody who loves superhero movies stayed away.
Avengers: Infinity War
Global Box Office: $2.048 Billion
Including Avengers: Infinity War in a list of movies that have done more than $1 billion feels like selling it short, as the movie actually doubled that number when it was released last year. Infinity War is the fourth highest grossing movie ever made, behind Avatar, Titanic and Star Wars: The Force Awakens. Those four movies have each grossed over $2 billion and number five on the list isn't even close. Infinity War was an event like few other films could ever hope to be. It certainly makes one wonder what the future has in store considering there's more of that story to be told.
Captain Marvel
Global Box Office: $1.003 Billion (and growing)
It looked for a long time like Captain Marvel, the newest entry in the MCU, was going to reach that billion dollar mark, and while it took a slow and steady route, as of now, it has done it, marking the seventh Marvel movie, and the 38th film of all-time, to achieve the milestone. It will likely add a bit more to its box office total before it's all said and done. We'll have to see if the next couple weekend are enough to get to surpass Captain America: Civil War, but with another big Marvel movie on the way, attention will soon be shifting away to other things.
Of course, while Marvel has seven movies on this list, the eighth is practically a foregone conclusion. Avengers: Endgame is selling tickets ahead of release even faster than Avengers: Infinity War did, which implies it will have a bigger opening weekend and very likely a bigger final total. Then Marvel will have two movies that have made $2 billion. We may not know what's to come in Phase Four, but movies making giant piles of cash is probably a pretty safe bet.
Your Daily Blend of Entertainment News
Content Producer/Theme Park Beat
CinemaBlend's resident theme park junkie and amateur Disney historian. Armchair Imagineer. Epcot Stan. Future Club 33 Member.