Director Jon M. Chu Credits Movie Theaters For Crazy Rich Asians' Success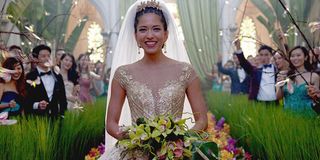 We've been busy celebrating all things movies but also all things related to movie theaters at CinemaCon this week, and Crazy Rich Asians director Jon M. Chu went onstage in Las Vegas and talked about the history of making his movie Crazy Rich Asians and the choice to bring it to the big screen, crediting movie theaters for the film's success.
The general story behind Crazy Rich Asians' big release is one that was told by the author of the book the film is based on, Kevin Kwan, previously. Kwan said before that multiple companies were bidding on the movie while it was coming together.
Both Netflix and Warner Bros. really wanted the movie to be theirs; at the time the author even noted Netflix was offering a lot of money for the project. But money wasn't necessarily the end goal. Both companies have very different release policies. Warner Bros. releases titles theatrically and there's a distribution window before titles go out onto other platforms. Netflix typically releases movies on Netflix and Netflix only. Per Chu:
While there are pros and cons and filmmakers are choosing both streaming and theatrical distribution these days, John M. Chu notes his entire team was in agreement with Warner Bros. being the right fit, and there was a big reason why they felt theatrical was the only way to go:
Ultimately, when watching a movie on streaming, a lot of us will also have our phone out or be watching while doing some other task, whether that be cooking, doing a crossword puzzle, knitting or myriad other activities. The theater is one of the only places that asks us to turn our phones off and sit in rapt attention while a piece of art is presented in front of us.
Crazy Rich Asians went on to be a global phenomenon. It made $238.5 million at the worldwide box office on a reported $30 million budget. It has also made movie stars out of its two leads, particularly Henry Golding, who was a travel show host prior to Crazy Rich Asians and went on to appear in A Simple Favor and now the upcoming Last Christmas opposite Emilia Clarke and Emma Thompson and The Gentlemen opposite Charlie Hunnam. Constance Wu will also be in Jennifer Lopez's new stripper movie, Hustlers.
Before that, when opening weekend happened, Jon M. Chu says he went to the theater to watch people watch his movie. He noted that something happened at the theater that was unexpected and touching -- people actually stayed in the lobby to talk about the movie for a long time after it let out.
It's not often that full asian ensemble casts have been brought together on the big screen for a U.S. audience. In particular, during his comments at CinemaCon, Jon M. Chu talked about remembering seeing The Joy Luck Club when he was a young man and spending hours afterwards dissecting the movie as a family. It was the first time he'd experienced seeing his culture shown on a big screen at a movie theater. So, seeing the same thing happen in the lobby after screening Crazy Rich Asians sort of takes that story full circle.
None of that would likely have been possible without the big screen experience. Sure, Netflix offers a worldwide platform similar to theaters. It also has a large number of subscribers and is good at marketing its new products to the people most likely to be interested. The company is even big on choosing diverse projects for its streaming service. But the shared moviegoing experience is something completely different and it was that experience that was deemed to be the most important by the people who worked tirelessly to make Crazy Rich Asians a reality.
One major thing theatrical releases still have going over streaming releases is their ability to produce event weekends and a lot of buzz. Occasionally a Netflix product like Stranger Things has a similar trajectory, but there's nothing like opening weekend for a new movie. If you are a big release, you're guaranteed to be the center of attention, and even if you land second or third on a busy box office week, a movie is still an event flick that is being talked about on blogs, in social media and at the dinner table. Don't get me wrong, people talk about Netflix shows and movies plenty, but it's often more of a slow burn thanks to people not binge-ing Netflix content at a consistent rate.
It could have been chancy if Crazy Rich Asians hadn't dominated at the box office. But the movie did make money in most countries, leading to Crazy Rich Asians 2 getting greenlighted and more. Jon M. Chu has another project in the works right now, In The Heights based on the Lin-Manuel Miranda musical, but China Rich Girlfriend and the third movie in the franchise are expected to shoot back-to-back in 2020. In the meantime, keep an eye on the Crazy Rich Asians leads in their upcoming new projects.
Amazing Race & Top Chef superfan with a pinch of Disney fairy dust thrown in. If you've created a rom-com I've probably watched it.
Your Daily Blend of Entertainment News
Thank you for signing up to CinemaBlend. You will receive a verification email shortly.
There was a problem. Please refresh the page and try again.