Meg Ryan Helped Come Up With Her Infamous When Harry Met Sally Orgasm Scene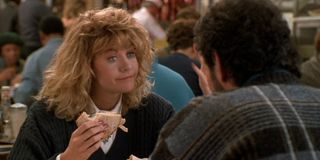 When Harry Met Sally's restaurant orgasm scene is iconic, both within the context of the history of film and also Meg Ryan's career. Now, 30 years after the release of the rom-com starring Billy Crystal and Meg Ryan, the movie is going to be celebrated with galas and even a Fathom Event.
If you can't make those, however, the cast and director Rob Reiner recently joined together to talk about the iconic film, noting that now-infamous orgasm scene was partially a concoction of Meg Ryan's. According to Rob Reiner,
So, the orgasm scene in and of itself wasn't Meg Ryan's idea, but putting that scene in a very public place was chalked up to her influence, per the When Harry Met Sally director.
Previously, Bill Crystal told a similar story in which Meg Ryan had contributed the idea of the fake orgasm after Nora Ephron had mentioned women did this in real life. In his version however, the idea to do a fake orgasm was Ryan's and the idea to do it in a restaurant was his.
Whatever the exact truth, it's clear the When Harry Met Sally scene was pretty collaborative. Which may be one of the reasons it works so well in the final edit of the movie.
Rob Reiner went on to tell EW that wasn't the only portion of the scene Meg Ryan contributed, however. After it was determined Meg Ryan would fake her orgasm opposite Billy Crystal at a restaurant, she had another brilliant idea...
It's a classic movie moment. Many of the people in the restaurant have turned around to stare at Sally while she has her orgasmic moment, when suddenly she stops and all is back to normal. She takes a bit of her coleslaw while Harry gives her a look.
Related: When Harry Met Sally Almost Had A Super Depressing Ending
Afterwards an extra –who we know was actually Rob Reiner's own mother – utters a famous movie line: "I'll have what she's having."
Since I'm sure you'd like to relive the "I'll have what she's having moment, you can watch the full scene below.
However it came about exactly, the orgasm scene is so notable, Meg Ryan's son Jack Quaid learned about it young and purposefully waited until he was in his twenties to actually watch the scene. Because who wants to watch their mom having a fake orgasm, am I right?
For the record, if you think it's weird he watched it at all, he says it was in preparation for a rom-com role.
Thirty years after it was first put to film, When Harry Met Sally is still thought of as one of the most iconic rom-coms created for the big screen. Whether it will live on in the minds of movie lovers for the next 30 years remains to be seen, but for now you can catch it on Blu-ray, DVD or Digital or wait for the Fathom Event this winter.
Reality TV fan with a pinch of Disney fairy dust thrown in. Theme park junkie. If you've created a rom-com I've probably watched it.
Your Daily Blend of Entertainment News
Thank you for signing up to CinemaBlend. You will receive a verification email shortly.
There was a problem. Please refresh the page and try again.