It's Time To Retire Hellboy As A Film Franchise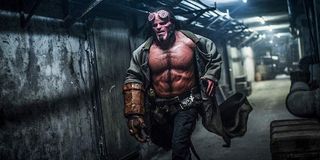 Last year marked the 25th anniversary of Hellboy's introduction over at Dark Horse Comics, and just a year later, the character finally returned to the big screen following an 11-year hiatus. Unfortunately for Hellboy fans, the reboot directed by Neil Marshall and starring David Harbour has fared poorly during its time in theaters, and there's definitely no question that it's nowhere near the level of quality of the previous two movies that were directed by Guillermo del Toro and starred Ron Perlman.
The Hellboy comic book mythology created by Mike Mignola is a rich tapestry full of colorful characters and fantasy/horror elements, and anyone who's remotely interested in Hellboy should check out these stories. However, as far as the Hellboy film franchise goes, it's time it be permanently retired for for several reasons. Let's get the obvious one out of the way first.
The Reboot Bombed
As has already been mentioned, the new Hellboy movie is the definition of a cinematic disappointment. At the time of this writing, it's been in theaters for 12 days and has only made a little over $20 million worldwide. On the critical side of things, Hellboy has received mostly negative reviews, ranking at 14% on Rotten Tomatoes and earning a C CinemaScore. It was also reported shortly before Hellboy's release that there was a lot of behind-the-scenes drama during its production, which probably contributed to the movie's subpar quality.
The Hellboy reboot had the potential to not only launch a new Hellboy film series, but also expand into a cinematic universe reminiscent of the Dark Horse Comics source material, with folks like Lobster Johnson and the other members of the Bureau of Paranormal Research and Defense capable of leading their own movies. Alas, the movie's critical and commercial performance all but guarantees that Lionsgate won't spring for a sequel, making this a one-and-done adventure. Given how negatively this movie was received, it'll be a long time before another studio is willing to entertain the notion of delivering another reboot; it's for the best if that doesn't happen at all.
Hellboy III Isn't Happening
Hellboy fans weren't clamoring for years for the character to be rebooted, but for Ron Perlman's version to return. Both Perlman and Guillermo del Toro expressed interest numerous times in making Hellboy III, and the first two movies certainly planted to seeds for an explosive trilogy capper, namely through Hellboy's destiny to become the Beast of the Apocalypse. Those two tried their best to get the threequel off the ground, but in February 2017, del Toro stated that Hellboy III "100% would not happen," and the reboot was announced soon after.
As we've seen with franchises like Terminator and Ghostbusters, sometimes there are opportunities to return to a previous film continuity following a reboot or two. In theory, Hellboy could also be that franchise, but it's likely that at least another decade would have to pass before Hellboy would be brought back to the big screen. By that point, Ron Perlman would be in his late 70s, and even now he's not interested in stepping back into the superhero genre. The best we can hope for with Hellboy III is that the story can be told through a comic book series.
Animation's Already Been Explored
With Hellboy III off the table and the reboot spectacularly bombing, that's enough justification to not deliver any more inline action interpretations of the Hellboy mythology to the big screen. But what about through animation? Surely Hellboy's adventures could look cool in an animated setting, right? They would, and we've actually already been treated to two such projects. In 2006, a direct-to-DVD movie called Hellboy: Sword of Storms was released, and had Ron Perlman and Selma Blair reprise Hellboy and Liz Sherman, respectively, as well as featured Doug Jones voicing Abe Sapien for the first time. The three actors also returned for 2007's Hellboy: Blood and Iron.
It would certainly be terrific if fans got a feature-length, CGI-animated Hellboy movie for the big screen, but frankly, despite his years of popularity on the printed page, Hellboy is still a relatively niche character. It's a wonder we got those earlier animated movies, but it's doubtful that a studio would be willing to invest so many resources into an animated movie starring a character much of the general public doesn't know about and would gather a smaller audience since it would need to at least be rated PG-13, if not R.
It's A Better Fit For TV
I may be advocating for there not to be any more Hellboy movies, but that doesn't mean I'm not interested in any more live action adaptations of the mythology. On the contrary, with all the stories that Dark Horse Comics has published over the years, there's more than enough material to warrant a Hellboy TV series. Granted, this is not the kind of show that could work on broadcast television, but on a premium cable network like HBO or Starz with only 8-12 episodes per season, it would thrive.
Obviously the biggest budget towards bringing Hellboy to TV would be the budget. It's not cheap to make actors look like monsters and this would definitely require a lot of VFX work. That, along with presenting the numerous locations Hellboy travels to during his B.P.R.D. adventures would make a TV series a more complicated creative endeavor, perhaps even more so than Game of Thrones. Nevertheless, we've seen numerous TV shows present cinematic-level quality of content in recent years, so with the right amount of dollars being poured into a Hellboy TV series and the right creative team and cast attached, this project has the potential to be better than all the movies that have come before. But to be safe, it'd probably still be a good idea to wait another 5-10 years before starting work on such a series.
Feel free to let us know what you'd like to see happen with Hellboy next in our poll and comments below, and rest assured, if another new movie or a TV show starring Big Red is announced, we here at CinemaBlend will let you know about it. You can also look through our 2019 release schedule to plan your visits to the movie theater this year accordingly.
This poll is no longer available.
Connoisseur of Marvel, DC, Star Wars, John Wick, MonsterVerse and Doctor Who lore. He's aware he looks like Harry Potter and Clark Kent.
Your Daily Blend of Entertainment News
Thank you for signing up to CinemaBlend. You will receive a verification email shortly.
There was a problem. Please refresh the page and try again.