This Rotten Week: Predicting Long Shot, Uglydolls, The Intruder, And El Chicano Reviews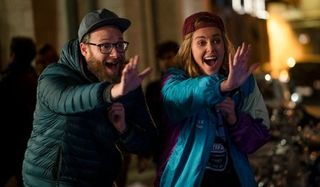 Following the release of one of the most anticipated movies in quite some time came out last week, it's natural to feel a cinematic hangover - but we still have four flicks hitting theaters this week in which we can sink our teeth. Get ready for Long Shot, Uglydolls, The Intruder and El Chicano.
Just remember, I'm not reviewing these movies, but rather predicting where they'll end up on the Tomatometer. Let's take a look at This Rotten Week has to offer.
Politics can be a tricky and controversial subject nowadays, but this one seems to circumvent all of that by framing it all as a romantic comedy. Long Shot centers on Charlize Theron's Charlotte Field, the United States' Secretary of State, hiring her old ex-babysitee (Seth Rogen) to be a part of her team as a speechwriter. It's a quirky premise that would seem a disaster if not for some of the players involved.
Director Jonathan Levine has helmed some quirky winners in the past like The Night Before (67%), 50/50 (93%), and Warm Bodies (81%), and the first two titles on that list starred Rogen as well. He has one miss with Snatched (36%), which was his last feature, but this latest won't fall into that category. Thanks to its early premiere at the SXSW Film Festival, critics have already been sharing their opinion on this one, and the Tomatometer is currently sitting at 84% with 31 reviews posted. I don't think it will move very much over the course of the week.
The story appears quaint enough in Ugly Dolls: a group of unconventional stuffed animals live a rather peaceful life in their insular world, but find their perspective turned upside down doll universe where the other inhabitants are "perfect." It doesn't exactly look like a tale we've never seen before, and I'm a bit concerned with the execution. The trailers suggest the filmmakers spent more time making sure the songs sounded good, with the narrative taking a backseat.
Director Kelly Asbury's critical record in the animated world leaves a lot to be desired. He's directed Smurfs: The Lost Village (38%) and Gnomeo and Juliet (56%) in recent years, and his only real critical win came more than 15 years ago with Spirit: The Stallion of Cimarron (70%). Unfortunately, it looks like this latest film will fall in the former group. There are plenty of critically acclaimed animated features, but this one looks less than redeeming.
Buying a new house should be one of life's most exciting and unforgettable achievements, but it doesn't appear that's the full experience being had by Meagan Good and Michael Ealy's characters in The Intruder. Instead of being able to celebrate the purchase, they have to deal with a crazy man played by Dennis Quaid who is just a bit too attached to his old home.
It probably goes without saying, but The Intruder looks somewhat entertaining, but mostly ridiculous. It has all the earmarks of your run-of-the-mill thriller, with the tough-to-get-rid-of crazy guy doing a lot of stalking and engaging in an an ever-escalating series of violent interactions. Director Deon Taylor already made a similar film with Traffik (26%), and I don't expect this one will fare any better with critics.
Last weekend saw one of the biggest superhero movies of all time hit theaters, but this time around we're getting a costumed vigilante story that exists on a much smaller scale. El Chicano centers on a cop in Los Angeles (Raúl Castillo) who, while investigating gang and cartel activity in his jurisdiction, makes some startling discoveries about his dead brother and starts crimefighting in a different capacity.
It's not your typical superhero movie for sure, but El Chicano kind of looks watchable. It looks like the kind of movie where the hero takes on an ever-increasing amount of danger as he battles foe after foe, developing his skills and getting more badass in the process. I don't expect critics to fall in love with it, but I imagine them being split.
Simply put, I blew it with Avengers: Endgame (Predicted: 84% Actual: 96%) - and I'm saying that knowing that my prediction was only 12% off the mark. I never should have gone that low on this film, letting the overall average of the MCU movies cloud my judgment in predicting the score. Ultimately this flick was nearly perfect, a stunning and fitting closure to an incredible saga of films. It's already destroying box office records, and that's as it should be. In retrospect, 100% would have been the better guess, and then I could have bagged the four percent of critics who couldn't get on board.
Next time we've got the Detective Pikachu, The Hustle and Poms. It's gonna be a Rotten Week!
Doug began writing for CinemaBlend back when Terminator: The Sarah Connor Chronicles actually existed. Since then he's been writing This Rotten Week, predicting RottenTomatoes scores for movies you don't even remember for the better part of a decade. He can be found re-watching The Office for the infinity time.
Your Daily Blend of Entertainment News
Thank you for signing up to CinemaBlend. You will receive a verification email shortly.
There was a problem. Please refresh the page and try again.