New Godzilla: King Of The Monsters Video Unleashes Rodan Onto The World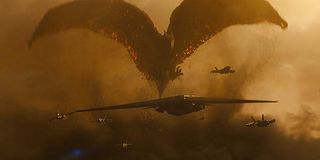 One of the new Titans being introduced in this month's Godzilla: King of the Monsters is Rodan, and judging by the previews for the next MonsterVerse entry, like King Ghidorah and possibly Mothra, he's aiming to knock Godzilla down as the #1 Titan. In case you haven't seen as much of Rodan in the King of the Monsters marketing as you'd like, a new video has come out showing the winged beast emerging from his volcano lair and setting forth to wreak havoc on the world.
Rodan is almost as old as Godzilla, as he was introduced in his own 1956 movie and has been a recurring Toho monster in the decades since. Godzilla: King of the Monsters, however, marks his first appearance in an American blockbuster, and since he's sharing screen time two other "new" Titans, it's important this movie effectively show off why he's a threat.
The main connective thread through the MonsterVerse is Monarch, the scientific organization that's been studying the Titans since the end of World War II. The general public might not be aware of Monarch's existence, but its resources are vast, and the above video shows that the organization has been keeping tabs on the island of Isla de Mara off the coast of Mexico, where Rodan has laid dormant.
While we don't know the specific circumstances in which Rodan will awaken in Godzilla: King of the Monsters, once he does break free from his volcanic confinement, humanity will be in trouble. Along with the general perks of being a gigantic, flying monster, Rodan is also capable of generating sonic thunderclaps with his wings that can level cities. The King of the Monsters trailers make it clear that Rodan is responsible for a lot of the destruction that will unfold.
What isn't quite clear about Godzilla: King of the Monsters yet is what Rodan and Godzilla's ultimate dynamic will be like. Obviously there's a strong chance those two will duke it out once or twice, but the movie's main villain is King Ghidorah. So will Rodan keep troubling Godzilla even as the giant reptile is fighting his three-headed arch-enemy, or will Rodan end up teaming up with Godzilla and perhaps even Mothra to bring King Ghidorah down? We have a few more weeks until that question is answered.
Obviously the main appeal of monster movies is… well, the monsters, but just like the previous MonsterVerse movies, there will be plenty of human characters to follow along with in Godzilla: King of the Monsters. The main cast includes Millie Bobby Brown, Vera Farmiga, Kyle Chandler, Bradley Whitford, Ken Watanabe, Sally Hawkins, Charles Dance, Thomas Middleditch and O'Shea Jackson Jr. There's no word yet on which of those individuals have direct contact with Rodan during the movie.
Godzilla: King of the Monsters hits theaters on May 31, so keep checking back with CinemaBlend for more updates. In the meantime, you can browse through our 2019 release schedule to learn what other movies are opening later this year.
Your Daily Blend of Entertainment News
Connoisseur of Marvel, DC, Star Wars, John Wick, MonsterVerse and Doctor Who lore. He's aware he looks like Harry Potter and Clark Kent.