New Godzilla: King Of The Monsters Video Pokes Fun At Ghidorah's Name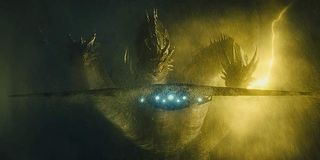 If you thought 2014's Godzilla and 2017's Kong: Skull Island were crazy, Godzilla: King of the Monsters is kicking things up several notches on the chaos scale. This latest MonsterVerse entry is introducing three new monsters (that we know of), including the three-headed King Ghidorah. While Ghidroah is arguably the most dangerous of Godzilla's new foes, a new preview for King of the Monsters takes some shots at the beast's unusual name.
T here's no question that King Ghidorah is a towering monstrosity and looking to be the biggest threat the MonsterVerse has introduced yet, but that doesn't take away from the fact that it has a weird name. This Godzilla: King of the Monsters TV spot highlights that when one of the characters asks about its "catchy name." Kyle Chandler's Mark Russell doesn't understand it right away and Thomas Middleditch's Sam Coleman notes how the name sounds like 'Gonorrhea.' They'd better hope that Ghidorah doesn't have enhanced hearing on top of its many other abilities.
Weird name aside, King Ghidorah is shaping up to be the biggest threat in Godzilla: King of the Monsters, which is saying a lot given how much destruction we've seen in the footage shown so far. Ghidorah is joined by Rodan and Mothra, though it should be noted that the latter is usually depicted as a benevolent creature in the Toho monster movies from Japan, so perhaps it won't be giving humanity too much trouble. Regardless, in keeping with the monster's numerous appearance in the Toho movies over the decades, King of the Monsters' King Ghidorah is described as Godzilla's arch-nemesis, so it's a good bet that the sequel's climactic confrontation will be between these two.
Picking up five years after the events of Godzilla with the entire world now knowing about the existence of the Titans, Godzilla: King of the Monsters sees Monarch crossing paths with all of these monsters as they vie for supremacy and put humanity's very existence at stake. We can at least take comfort knowing that Earth won't be destroyed since Godzilla vs. Kong arrives next year, but there will definitely be mass casualties due to these monsters wreaking havoc, many of which we can likely lay at Kind Ghidorah's feet… or wings.
Along with the previously mentioned actors, Godzilla: King of the Monsters' main cast includes Millie Bobby Brown, Vera Farmiga, Ken Watanabe, Sally Hawkins, Bradley Whitford, Charles Dance, Aisha Hinds, O'Shea Jackson Jr., David Strathairn and Zhang Ziyi. Each of King Ghidorah's heads is played a different actor: Jason Liles, Alan Maxson and Richard Dorton.
Directed by Michael Dougherty, who also co-wrote the script with Zach Shields, Godzilla: King of the Monsters rampages into theaters on May 31. If you're interested in learning what other movies are coming out later this year, head to out 2019 release schedule.
Connoisseur of Marvel, DC, Star Wars, John Wick, MonsterVerse and Doctor Who lore. He's aware he looks like Harry Potter and Clark Kent.
Your Daily Blend of Entertainment News
Thank you for signing up to CinemaBlend. You will receive a verification email shortly.
There was a problem. Please refresh the page and try again.