Yes, Kyle Chandler's Godzilla: King Of The Monsters Character Really Hates The Titans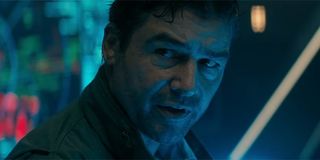 In the trailers and clips we have seen from Godzilla: King of the Monsters, the human reactions to the existence and prevalence of the Titans has ranged from shock and awe to fear and reverence. But for Kyle Chandler's character, Dr. Mark Russell, his overriding emotion towards the Titans is one of hatred. Addressing why Mark Russell hates the Titans so much, Kyle Chandler said:
At first, Kyle Chandler leveled some superficial criticisms of the Titans, saying that Mark Russell hates them because they are obviously dangerous and far from cute and cuddly creatures. But those are reasons that anyone could hate the Titans, and when he says a little more, we learn that Mark Russell's hatred for the Titans isn't just that they are dangerous creatures wreaking havoc throughout the world. His hatred is more specific and personal.
Kyle Chandler told Comicbook.com that the Titans have caused havoc with his family and he has suffered loss in the past that has fueled this hatred. If I had to speculate based on what we've seen in the trailers so far, I would guess that Mark Russell lost a child to the Titans, either directly or indirectly. The Russell family is at the center of Godzilla: King of the Monsters, with Mark Russell, Vera Farmiga's Dr. Emma Russell and Millie Bobby Brown's Madison Russell.
However, while those three are featured in the trailers, in the first King of the Monsters trailer, we see Madison looking at a family photo on the lock screen of her iPad that shows her, Mark, Emma and a boy, presumably her brother. So something must have happened to her brother. Perhaps he was killed as a result of the events of Godzilla, and the loss of his son is why Kyle Chandler's character hates all of the Titans.
That initial hatred may become more nuanced though as Kyle Chandler elaborated:
It sounds like Dr. Mark Russell will go hating the Titans unilaterally, but perhaps his relationship to Godzilla will change. From what we've seen, his wife seems to be advocating using the Titans or working with the ones that are trying to protect humanity against the ones who aren't.
If Godzilla was responsible for his son's death, this will be a tough pill to swallow that would obviously cause strife between Mark and his wife. That may be his internal emotional struggle, hatred and desire for vengeance for a personal loss versus the current needs to survive against an existential threat.
Godzilla may be on the side of humanity, but he's preserving the species, not individual lives. Like Superman versus Zod in Man of Steel, his fights in Godzilla undoubtedly cost many people their lives, so it is hard for their family members to see his work for the greater good through their own personal pain.
It will be interesting to see how Mark Russell learns and works through this over the course of the film. Maybe by the end, he puts on his Coach Taylor hat and starts calling plays for Godzilla and Mothra to get that championship against Ghidorah and Co.
Godzilla: King of the Monsters opens in theaters on May 31. Check out our 2019 release schedule to keep track of all this year's biggest movies.
Your Daily Blend of Entertainment News
Nick grew up in Maryland has degrees in Film Studies and Communications. His life goal is to walk the earth, meet people and get into adventures. He's also still looking for The Adventures of Pete and Pete season 3 on DVD if anyone has a lead.