Looks Like Some Theaters Are Warning Moviegoers About Avengers: Endgame's Credits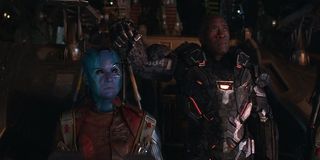 Warning: SPOILERS for Avengers: Endgame are ahead!
If there's one thing the Marvel Cinematic Universe is known best for, it's giving audiences a little something extra after the main story is finished. The superhero franchise didn't create post-credits scenes, but it certainly popularized them, as nearly all the MCU movies feature at least one extra scene either in the middle of the credits or after they've finished rolling. But then Avengers: Endgame had to go and break the streak.
Yes, as a first in MCU history, once the actual Avengers: Endgame story concluded, there wasn't any additional footage for audiences to chew on, and evidently some theaters are now making sure that audiences are aware of this ahead of time. Said theaters are posting a message on the silver screen ahead of time to inform people that they will not be treated to a post-credits scene in Endgame.
Why are these theaters doing this? As the title of the Reddit post showing this message indicates, it's so that the movie theater employees have an easier time cleaning up the theater. Needless to say that picking up fallen popcorn and mopping up spilled drinks are easier endeavors when there are fewer patrons staying in their seats.
While I still see a scattering of people leaving the theater once a Marvel movie has wrapped up the main story, for the most part Marvel has trained moviegoers to stay in their seats until the credits are finished. That's not to say that one can't stay to watch all of the credits just because (a lot of people put time and sweat into making movies, after all), but for the sake of saving time and making theater employees' jobs easier, that no post-credits scene message certainly comes in handy.
Of course, as those of you who've seen Avengers: Endgame already know, just because the movie doesn't have a post-credits scene doesn't mean that there isn't an extra surprise to enjoy. Once the credits finish rolling, the sound of a hammer striking metal can be heard, harkening back to when Tony Stark was building his suit of armor in Iron Man. Given that Endgame marked the end of the Infinity Saga and ended up being the final chapter of Tony's story, it's fitting that we hear something that reminds us of the movie that kicked off the MCU.
As for why Avengers: Endgame didn't include a post-credits scene, directors Joe and Anthony Russo explained how because this movie marked the end of a 22-movie saga, they didn't want to tease anything about the future and instead focused firmly on honoring the past, which Endgame does in spades. Oh, and there's also the fact that the Russos currently don't have any more Marvel projects lined up, so they aren't in the loop about what's to come.
One thing is definitely clear: Avengers: Endgame's theatrical run is not ending anytime soon. With its second weekend over, the latest MCU movie has collected nearly $2.2 billion worldwide, making it the second highest-grossing movie of all time and knocking Titanic down to third place. Endgame has also been doing quite well on the critical front, ranking at 95% on Rotten Tomatoes and earning an A+ on CinemaScore.
If you haven't already, be sure to read CinemaBlend's review of Avengers: Endgame, and stay tuned for more coverage about the movie in the coming weeks. For now, you can browse through our 2019 release schedule to learn what other highly-anticipated movies are on the way this year.
Connoisseur of Marvel, DC, Star Wars, John Wick, MonsterVerse and Doctor Who lore. He's aware he looks like Harry Potter and Clark Kent.
Your Daily Blend of Entertainment News
Thank you for signing up to CinemaBlend. You will receive a verification email shortly.
There was a problem. Please refresh the page and try again.