Bohemian Rhapsody Editor Drops F-Bomb Over Viral Mocked Scene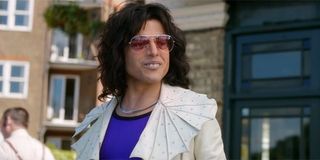 Although it has a bevy of awards to its name and made almost $1 billion at the box office, Bohemian Rhapsody has faced quite a bit of criticism. The aspect of the film that has perhaps received the most criticism is the editing, particularly in the scene where Queen first meets manager John Reid, played by Mr. Chaos is a Ladder himself, Aidan Gillen. And that scene has been held up as evidence that Bohemian Rhapsody did not deserve all of its many accolades.
The scene, which was the subject of a viral video that garnered millions of views, was mocked for the seemingly haphazard way it was edited-- with extremely rapid and jarring cuts. The film's editor (and composer) John Ottman, who won an Oscar for his editing, is well aware of the criticism of the scene and in a recent interview he dropped an F-bomb over it. John Ottman said:
Wow, John Ottman might have earned an Oscar for his trouble, but he is clearly still frustrated at how that scene turned out and the ensuing backlash, which has naturally landed on him as the film's editor. As he told Epicleff Media's Score: The Podcast, he was so frustrated that he actually went back in the editing bay just to recut the scene and see it again how he originally intended.
That seems to be the major source of frustration for the Oscar winner. He has spoken before about how the scene makes him want to put a bag over his head and the reason for that is that it is not what he wanted it to be. He is not proud of that scene because, as he said, that is not how he originally cut it.
John Ottman may have been the editor on Bohemian Rhapsody but that doesn't mean that he had complete and total authority on how the movie was cut. Although he went on to say that the director change was not the culprit behind the scene, John Ottman was still constantly getting notes from the studio about the edit.
John Ottman admits was the final cut of that mocked patio scene was his, the result of "too many cooks", and notes from the studio that forced him to shave down the scene. The studio was worried that the first act was getting too long and it wanted to maintain the pace of the film without slowing down for the scene where Queen meets John Reid.
Describing the effect that had on the scene, John Ottman said:
So what happened was John Ottman had to take a scene that was much longer, and edit it down with quicker pacing-- all while maintaining pivotal elements of the original scene. The end result of those somewhat opposing objectives is the action-movie/montage pacing of the mocked patio conversation scene.
Around Oscar time there was talk that John Ottman basically saved Bohemian Rhapsody in the editing room and given what he said here, I'd be very curious what his 'Editor's Cut' of the film would look like. It seems unlikely we'll ever get that, but maybe one day he'll get to do his "fucking dissertation" on the effect studio notes and too many cooks can have on a movie.
While that scene may always be a thorn in John Ottman's side, he still was a big part of a massively successful movie and he got his first Oscar out of it, so I'd say it's a net win.
Stay tuned to CinemaBlend for all the latest movie news and check out our 2019 Release Schedule to keep track of the biggest movies you can look forward to this summer.
Nick grew up in Maryland has degrees in Film Studies and Communications. His life goal is to walk the earth, meet people and get into adventures. He's also still looking for The Adventures of Pete and Pete season 3 on DVD if anyone has a lead.
Your Daily Blend of Entertainment News
Thank you for signing up to CinemaBlend. You will receive a verification email shortly.
There was a problem. Please refresh the page and try again.