What is Disney Movie Rewards? How Does It Work?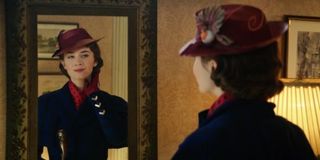 Whether you're buying Blu-ray discs or going to the theater, movies can be an expensive form of entertainment. It would be nice to be able to get something a little more out of it. Luckily, if you're a Disney fan (and let's be honest, who isn't a fan of something from Disney these days), there is a way to get a little something more out of your movie experience through Disney Movie Rewards.
But what is Disney Movie Rewards and how does it work? It it worthwhile to get an account? Below you'll find answers to all your Disney Movie Rewards Questions.
What is Disney Movie Rewards?
Disney Movie Rewards is essentially a loyalty program. It's not that different from the programs you might use at your local supermarket or coffee shop. While those might get you a free latte now and then after you buy several of your own, Disney Movie Rewards does the same thing for movies. Purchase Disney films on Blu-ray or buy tickets to see them in the theater and you'll earn points.
Then, you take those points and redeem them for Disney-related stuff. You can turn right around and buy more Blu-rays or movie tickets, or you can buy Disney stuff like t-shirts, Disney gift cards or even a tour of the Walt Disney Studios, though I'll tell you, you have to buy a lot of Blu-Rays to earn that one.
How Do I Get My Disney Movie Rewards?
The first thing to do is set up an account on the Disney Movie Rewards website. It doesn't cost anything, which means it doesn't require even giving up a credit card number. All you need to do is create a username with an email address and then make a password.
Once you have the account, you can start accruing points. The main way to ear Disney Movie Rewards is by buying stuff. If you purchase a Disney Blu-Ray or DVD that has a Disney Movie Rewards logo on the outside, inside the case, you'll find a piece of paper with a code on it. Simply input the number on the Disney Movie Rewards home page and you'll get your points. Points vary on discs between around 50 and 200 points, depending on what version of a disc you buy.
Getting points for buying movie tickets is a bit more involved. In that case, you'll need to make sure you keep your ticket stub and be sure it actually says the name of the Disney movie in question. Select the movie you saw on the Disney Movie Rewards site and you'll be given a unique ID number. Write that number on your ticket, then take a picture of the ticket and upload the photo to the Disney Movie rewards website. Tickets are usually good for about 75 points.
Another thing to keep in mind is that points can only be earned on tickets for movies currently in theaters, so you don't want to stock up on your tickets and try to redeem them all at once. Be sure to get your points as soon as you can so you don't miss your window.
However, there is an easier way to get your ticket purchases added to your Disney Movie Rewards account. Disney Movie Rewards allows you to link your Rewards account to Atom Tickets, Fandango VIP and the Regal Crown Club. This means that if you buy tickets to a Disney movie through one of these online sites, your points will be automatically added to your Disney Movie Rewards account.
The other purchasable item that earns you points is Disney music. Many Disney movie soundtracks, as well as the popular collectible, vinyl "picture discs," are good for 100 points or more.
How Do I Use My Disney Movie Rewards?
Once you have enough points to redeem them for something you want, simply go to the Disney Movie Rewards website, log in and select the item. If it's an item that requires physical shipping, like a movie poster or DVD, you have the choice of paying for shipping and handling separately, or using additional points to cover the cost, so you really can get something for no additional cost to you.
Do Disney Movie Reward Points Expire?
Disney Movie Reward points only expire if your Disney Movie Rewards account sees no activity for 365 consecutive days. This means as long as you add points to your account or redeem points for something once a year, your points won't go anywhere. With the frequency with which Disney releases new movies in theaters and on Blu-ray, odds are you'll be spending money on at least one a year.
One nice way to make sure that doesn't happen is to log in and take the Disney Challenge. This is a brief Disney trivia quiz that won't take you more than a minute to complete. Doing so will earn you all of five points (unless you're really good, in that case you can get bonuses), but those five points will keep your account active for another year.
Do I Need To Cancel Disney Movie Rewards?
There isn't really much need to cancel your account. You can certainly do so, but Disney Movie Rewards doesn't cost anything, so even if you decide to stop using it, you can just ignore it and let it go.
Can I Get Disney Movie Rewards Points For Digital Movies?
At this point, purchases of Disney movies through digital storefronts cannot be used to earn Disney Movie Rewards points, although based on the Disney Movie Reward FAQ, it sounds like the implementation of such a thing could happen, so keep checking back.
Is Disney Movie Rewards Worth It?
Disney Movie Rewards doesn't cost you anything beyond the money you were probably going to be spending on Disney movies anyway, but does that mean it's obviously something you should do?
Most of the rewards are some pretty simple stuff like movie posters and t-shirts, and if they end up having something you want, that's great. However, little of seems like "must have" merch. Still, is there a better cost than free?
A Blu-ray disc goes for something like 700-800 points, and if you receive 150 points for buying one, you end up getting a movie free for every five you buy, which is a pretty decent ratio so if you're building a serious Disney movie collection, it's worth incorporating Disney Movie Rewards into that plan. This goes double if you join the Disney Movie Club, as most of those movies will earn you points alongside your obligation to the club.
Keep checking back with CinemaBlend for all the latest and greatest news concerning Disney. The company's latest movie, the live action Aladdin remake, hits theaters this Friday, May 24.
CinemaBlend's resident theme park junkie and amateur Disney historian. Armchair Imagineer. Epcot Stan. Future Club 33 Member.
Your Daily Blend of Entertainment News
Thank you for signing up to CinemaBlend. You will receive a verification email shortly.
There was a problem. Please refresh the page and try again.