The 10 Best Chris Pine Movies, Ranked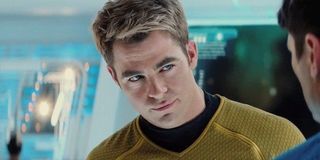 Talented, handsome and accomplished, Chris Pine is the real Hollywood deal. Ever since he stole the hearts of audience members everywhere in 2004's The Princess Diaries 2: Royal Engagement, Pine has continued to grow in a dependable, versatile actor — capable of expanding into various genres and narratives. In fact, the actor has proven his acting chops and cinematic skills in a number of projects since his career went into hyper-drive back in 2009.
The actor has appeared in plenty of good movies across many different genres in the past decade-plus, but which are the best? Everyone has their favorite Chris Pine movies and it's rarely a bad day at the cinema when Pine is on the screen. With that, let's break down the best Chris Pine movies and rank 'em just for fun.
10. Unstoppable
Though it is perhaps best known as the final film from director Tony Scott before his untimely death, Unstoppable is worthwhile on its own merits. A briskly-paced, action-intensive thrill ride that constantly keeps itself in motion, as the title suggests, it's an electrifying ride — in more ways than one.
Beyond its sharp forward-moving story and exhilarating Speed-esque suspense, one of the keys to Unstoppable's success is the back-and-forth between Denzel Washington's Frank and Chris Pine's Will, an engineer and a conductor who need to do everything they can to stop this train. While the characters are doing all they can to stop this freight train from endangering anyone's lives, Unstoppable is an entertaining thriller that exhilarates.
9. Z For Zachariah
In Craig Zobel's apocalyptic science-fiction drama Z For Zachariah, our central three actors — Margot Robbie, Chiwetel Ejiofor and Chris Pine — are often left to carry the dramatic tension and the narrative focus. With so much desolation and devastation happening around them, it's up to our main characters to carry the heft of the film, making sure that our attention is squarely focused and that we never lose interest in the film, despite its somber and sullen tone.
With that in mind, in addition to his co-stars, it's a testament to Pine's charisma in the role of Caleb that Z For Zachariah is able to succeed. The third survivor that creates tension between our two leads, Pine is bring layers to this film's initial subtly and helps produce a quietly engaging tale.
8. Outlaw King
Outlaw King, Chris Pine's second collaboration with director David Mackenzie, didn't earn the same acclaim as Hell or High Water, their first team-up. But while it doesn't quite rank to the same standards, this biographical 14th century tale shouldn't be overlooked. Bringing the mythic Scottish king Robert Bruce, Earl of Carrick to the big screen — or, more accurately, computers, tablets and streaming screens attached to distributor Netflix — around the world, Pine remains a commanding, compelling screen presence.
In fact, he brings humanity and understanding to this historical figure for modern audiences. While it doesn't quite reach the same heights as Mel Gibson's Braveheart, this Scottish action-drama is nevertheless worth clicking 'play' one.
7. Star Trek Into Darkness
Look, I know it's an uphill battle to put Star Trek Into Darkness on this list. And I don't think I can convert anyone into believing that's secretly a whole lot of fun, flawed though it very, very well might be. But when it comes to exhilarating, well-paced summer blockbusters, filled with action, suspense and a whole lot of thrills, J.J. Abrams knows what he's doing. Returning to the role of James T. Kirk, Chris Pine continues to hone his characterization of the popular space captain. It's a good performance!
His performance becomes more refined with each new Star Trek film, even though the movie around it with this sequel is anything but that. It's truly commendable how Pine makes such an iconic character his own in these movies, while remaining respectful to William Shatner's iconic, decades-spanning performance. It's far from a perfect Star Trek movie. But when it comes to fun popcorn entertainment, it's a blast.
6. Star Trek Beyond
In the broad scheme of things related to Star Trek, Star Trek Beyond is the most overlooked of the recent Star Trek blockbusters. With J.J. Abrams moving on to another galaxy altogether with Star Wars: The Force Awakens, and the fanbase feeling stung — justly or otherwise — by Star Trek Into Darkness, Star Trek Beyond is one that never got its full due. That's not really fair, in my view.
While Beyond isn't on the level of the all-time great Star Trek movies like The Wrath of Khan, for instance, or The Voyage Home (hopefully that does not offend any more Star Trek fans than I've already upset), director Justin Lin's respectably narrowed, more focused installment to the extended franchise is distinctly more modest, more character-focused new addition to the series, one that feels more respectful to the source material compared to the bombast of the previous two Star Trek movies. It didn't end up making a big splash, compared to the first two movies in this reboot series, but this likable installment works well.
5. Rise Of The Guardians
While the DreamWorks Animation branch is often known for their more franchise-friendly fares like Shrek, Kung Fu Panda, Madagascar and How To Train Your Dragon, to only name a few, 2012's disappointingly overlooked Rise of the Guardians is the sort of creative, imaginative, massively heartfelt and richly inspired fantastical original story that only occasionally comes out of their established animation house.
Based on the children's book series The Guardians of Childhood, and directed by Spider-Man: Into the Spider-Verse helmer Peter Ramsey, this fantasy film reimagines Santa Claus, the Tooth Fairy, the Easter Bunny and the Sandman as a ancient guild of guardians who bring Jack Frost (Chris Pine) into the fold in order to defeat Pitch Black from bringing the world to darkness. It's a shame that it didn't find an audience, because there's a lot of franchise potential left untapped here.
4. Wonder Woman
There's no denying that Wonder Woman is Gal Gadot's film. She makes the most of Diana Prince's first cinematic foray, and the key to the film's warm success often lies on her engaging mix of exuberance and ferociousness in the lead role. But one of the reasons why director Patty Jenkins' hit film worked for audiences in a way that many other recent DC adaptations did not was because of the lead character's sizzling chemistry with Chris Pine's Steve Trevor, an army pilot who finds up crossing paths with the super-heroic world-saver and forming a tender, then heartbreaking, relationship with our lead.
While it's not hard to fall in love with Chris Pine, Gal Gadot and her leading man make a hell of an impression together. Their bright on-screen dynamic played a key role in making this origin superhero movie into the record-breaking DC adaptation that lassoed in audiences around the world.
3. Hell Or High Water
After appearing in a number of different genre films, ranging from science-fiction to action flicks to comedies to romances, Chris Pine finally got his chance to prove himself as a dramatic actor in David Mackenzie's incredibly engaged, intensely well-made drama-thriller, 2016's Hell or High Water. A confident, diligently well-crafted character piece with a punch, made with a great sense of location, structure and social commentary, its well-polished screenplay and its dutiful direction do the movie a lot of favors.
Yet the top-notch performances from its well-established ensemble do wonders to make Hell or High Water pop. While Jeff Bridges and Ben Foster get the lion share of praise for their individual performances, respectively, Chris Pine's Toby shouldn't be ignored here. His compelling, layered performance showcased an actor willing to expand and establish himself in unique, exhilarating new ways.
2. Spider-Man: Into The Spider-Verse
What can be said about Spider-Man: Into The Spider-Verse that hasn't already been said? The animated superhero movie hasn't been out for over six months yet, but there are many folks out there who are willing to deem it a new classic in the overcrowded genre. And for good reason. While there are no shortage of Spider-Man movies out there, particularly good Spider-Man movies, Spider-Verse is among the cream of the crop. It's an exhilarating, impressively balanced comic book adaptation that springs to life with wit, heart, humor and bundles of creative energy.
The only reason it doesn't rank higher than it is on this list is because there were some back-and-forth regarding whether-or-not it's actually a Chris Pine movie, instead of a film that features the incredible voice talents of Chris Pine. No matter. Pine's Peter Parker doesn't have a long stay inside the film, but his role is important and undeniably among his most beloved roles in cinematic history. And when it comes to ranking his best movies, one would be hard-pressed not to put this one close to the tip-top.
1. Star Trek (2009)
While Chris Pine was working his way up the ladder as an actor before he got his biggest role to date as James T. Kirk in J.J. Abrams' 2009 Star Trek reboot, it wasn't until he found himself in the captain's chair that his chair excelled into hyper-drive. The actor impressed hard-to-please Star Trek fans everywhere with his balance of charisma, charm, stamina and dexterity playing the iconic role, careful enough to not make it simply an impression of William Shatner's familiar affectations while also paying respect to the man who found himself in the chair before.
The result is a wonderful blend of new and old, bringing the world of Star Trek back on the big screen in a major way while also paying tributes to the hallmarks of this legendary series. While this film didn't bold go where no men have gone before, it created a new route – one that paved the way for Pine's acting career in a major way.
There are several other Chris Pine titles that we didn't end up listing here. Though you should know that we didn't forget about them, even if they weren't listed above. For instance, we recognize that there are many fans of Just My Luck, Smokin' Aces, Horrible Bosses 2, People Like Us and the aforementioned Princess Diaries 2. They didn't make the cut here, but that shouldn't make them any less special to you if you love those movies. And we're sure there are other Chris Pine titles, possibly including Blind Date, Into the Woods, The Finest Hours and Jack Ryan: Shadow Recruit, that you may believe were unjustly overlooked in our ranking process. If that's the case, then please feel free to hit the comment section with your own personal picks.
In any case, we look forward to seeing Chris Pine on the big screen again — particularly in hotly-anticipated upcoming movies like Wonder Woman 1984. Chris Pine's profile is only continuing to grow. And we'll continue to follow his career with interest right here at CinemaBlend.
Your Daily Blend of Entertainment News
Will is an entertainment writer based in Pittsburgh, PA. His writing can also be found in The Playlist, Cut Print Film, We Got This Covered, The Young Folks, Slate and other outlets. He also co-hosts the weekly film/TV podcast Cinemaholics with Jon Negroni and he likes to think he's a professional Garfield enthusiast.