The 10 Best Sandra Bullock Movies, Ranked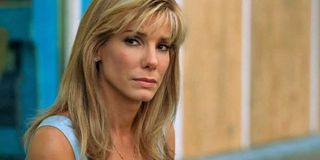 (Image credit: Alcon Entertainment)
I think I could safely make a case that America's sweetheart is Sandra Bullock. The actress has been doing a mighty fine job trying to prove that to us for nearly three decades.
Sandra Bullock has the versatility to thrill you in Gravity, keep you laughing in The Heat or Ocean's Eight, make you fall in love with her in Love Potion No. 9, or do all three in Miss Congeniality.
She is also the kind of actress who will proudly accept a Razzie for her infamous performance in All About Steve literally the day before accepting the Oscar for her heartwarming performance in The Blind Side. Yes, that actually happened.
Maybe you know the actress, producer, and philanthropist best from Netflix's Bird Box (more on that one later), but Sandra Bullock's endurable career deserves a little more attention than that, if you ask me. On that note, what choices among her eclectic filmography are the best? Here are some the best picks, ranked.
10. Bird Box (2018)
If you are reading this, congratulations on surviving the Bird Box Challenge! Honestly, anyone who would think of the bright idea of mimicking the actions of blindfolded horror movie characters as a "fun" game could use a slight bump to the head.
Anyway, Sandra Bullock, who also produces, stars in this Netflix original as a woman who must protect her children from an ominous, unseen presence that has driven most of the world to suicide. She must keep herself blindfolded at all times or bear witness to a sight that will surely be her last.
While it does share thematic similarities to M. Night Shyamalan's The Happening or 2018's other hit apocalyptic thriller A Quiet Place, Bird Box is a highly intense thriller, only made better by Sandra Bullock's performance, not to mention the 45 million viewers it attracted in just its first week of release is pretty impressive. If only its internet legacy was as admirable.
9. The Proposal (2009)
I would like to divert the conversation from Sandra Bullock for a moment to another incomparable Hollywood treasure, Ms. Betty White. Have you ever seen a celebrity with status as endurable as she, with an active career starting in 1945 that is showing no signs of stopping?
If you ask me, I believe that we have this charming romantic comedy to thank for rejuvenating Betty White's modern-day acting prowess.
In The Proposal, Sandra Bullock plays a ruthless Canadian publisher threatened with deportation who promises her assistant (Ryan Reynolds) a long-deserved promotion if he marries her to keep her U.S. citizenship. Bullock and Reynolds' chemistry (and, of course, Betty White as Reynolds' grandmother) make this fun box office smash worth a re-watch.
8. While You Were Sleeping (1995)
Sandra Bullock had already proven herself to be an actress of great versatility, starring in action thrillers and comedies alike before leading this romantic film from a director later known for action thrillers and comedies alike, Jon Turteltaub. Yes, the director of National Treasure and The Meg directed While You Were Sleeping.
Lucy (Sandra Bullock), a Chicago Transit Authority token collector, accidentally gives the family of a man in a coma (Peter Gallagher) the impression that she is engaged to him. Meanwhile, as she gets to know the family better, she becomes especially familiar with her "fiancée's" brother (Bill Pullman). What is she going to tell the family?
This is the kind of romantic comedy that succeeds from a strong cast, snappy writing, and a clever concept. While You Were Sleeping is no snooze.
7. Demolition Man (1993)
Imagine a perfect future in which crime is virtually non-existent, curse words are illegal, Taco Bell is the only restaurant available for dining out, and toilet paper has been replaced with three metal seashells. All of these things are in this wacky B-movie co-starring Sandra Bullock.
The title of Demolition Man refers to the nickname of tough Los Angeles cop John Spartan (Sylvester Stallone), cryogenically frozen as punishment for a crime he did not commit, along with his enemy whom he rightfully captured, Simon Phoenix (Wesley Snipes). When Phoenix is revived in 2032 for a parole hearing and escapes, wreaking havoc on the city now dubbed San Angeles, the police, clueless over how to handle violence, awaken Spartan to help stop him.
Demolition Man is like the love child of Die Hard and those 2015-set scenes from Back to the Future Part II. It has hilarious satire of the concept of utopian society, cartoonishly over-the-top action, and Sandra Bullock at her most adorably quirky.
6. A Time to Kill (1996)
In the 1990s, there were a wave of cinematic adaptations of John Grisham novels, much like Stephen King's work is getting today. Many consider this Joel Schumacher-directed and Sandra Bullock-starring court drama to be that wave's biggest splash.
After Carl Lee Hailey (Samuel L. Jackson) takes the law into his own hands by shooting down the men who raped and beat his young daughter, southern lawyer Jake Tyler Bigance (Matthew McConaughey) and his assistant Ellen Roark (Sandra Bullock) are hired to defend him in court. Jake must question where his moral compass points as the case attracts controversy and attacks by the Ku Klux Klan.
Sandra Bullock's chemistry with Matthew McConaughey keeps things sizzling between them. However, what keeps A Time To Kill on fire is its high-tension courtroom sequences, fearless commentary on controversial morality themes, and Golden Globe-nominee Samuel L. Jackson's immortal cry, "Yes, they deserved to die and I hope they burn in hell!"
5. The Blind Side (2009)
Sandra Bullock is the kind of actress who can please a crowd as well as win over the critics. Her Academy Award-winning performance as an adoptive mother to a future NFL player is potent proof of that.
The Blind Side, based in part on a book by Michael Lewis, tells the true story of Michael Oher (Quinton Aaron), a homeless Tennessee teen taken in by well-to-do white family, the Tuohys (Sandra Bullock, Tim McGraw, Lily Collins, Jae Head). The family helps Michael rise up in the ranks academically and athletically, leading him on the path to NFL stardom.
Director John Lee Hancock's eye for sentimentality and Sandra Bullock's ferocious performance makes this rags-to-riches biopic a heartwarming, often funny charmer. Never is there a dry eye in the house when The Blind Side is on.
4. Miss Congeniality (2000)
As I said before, Sandra Bullock is an actress of great versatility, proving throughout the 1990s that she can master romance, action, and comedy. It only seemed natural to see her take on all three at once.
F.B.I. agent Gracie Hart (Sandra Bullock) is the type of woman who does not bother with makeup, would rather wear a pantsuit than a dress, and does not take any crap from her male subordinates. That is, until she figures out that a terrorist's next target is the Miss USA pageant, forcing her to reluctantly assume the appearance of a beauty queen and blend in with other pageant contestants to prevent the attack.
Miss Congeniality is Sandra Bullock at her funniest. With the commitment she shows in every witty line, every laugh-snort, and watching her fall down ungracefully in high heels, it is no wonder how she became the leading lady she is now after this.
3. Crash (2005)
When Sandra Bullock was approach by Paul Haggis to star in this drama, she did not care what her contribution would be. She believed this was a story that needed to be told.
Crash is a Los Angeles-set compendium of loosely connected morality tales commenting on identity, class, and prejudice taking place over a 36-hour period. Featuring a diverse ensemble cast, including Sandra Bullock, Oscar-nominee Matt Dillon, Don Cheadle, Michael Pena and several more, the characters' lives interweave in ways that bring them face-to-face with their own personal demons and the harsh realities of those affected by their choices.
Writer and director Paul Haggis crafts a brutally realistic portrait of racial tension in an urban setting elevated by cleverly written stories dealing with senseless violence, crippling fear, redemption, or descent. Crash's powerful message and themes earned it widespread critical acclaim and three Academy Awards, including Best Picture.
2. Gravity (2013)
In 1979, Alien convinced audiences that the scariest thing about space travel is the threat of the unknown. In 2013, Alfonso Cuaron's Gravity made us realize that just being in space is scary enough.
After an accident leaves their shuttle destroyed, scientist Ryan Stone (Sandra Bullock) and veteran astronaut Matt Kowalski (George Clooney) find themselves stranded in the cold, lifeless environment of space with nothing but the oxygen suits on their backs. They must work together to figure out how to survive and how to get home before it is too late.
On top of Sandra Bullock's Oscar-nominated high tension performance, Gravity is a breathtaking technical achievement. With seamless cinematography by Alfonso Cuaron's go-to director of photography Emmanuel "Chivo" Lubezki and heart-racing sequences with unbelievable special effects, this is a space epic that dares you to hold your breath.
1. Speed (1994)
We've seen Die Hard on a boat (Under Siege), Die Hard on a plane (Passenger 57), and even Die Hard in a boarding school (Toy Soldiers). However, none of those compare to the summer blockbuster informally dubbed as Die Hard on a bus.
In Speed, crazy-not-stupid Dennis Hopper places a bomb on a bus rigged to detonate if the vehicle, filled with passengers, does not stay above 50 mph. Young but savvy cop Jack Traven (Keanu Reeves) gets himself on board, enlisting young Annie Porter (Sandra Bullock) to assume the driver's position while he figures out how to defuse it.
Speed, from director Jan de Bont (the cinematographer for Die Hard, actually), is an adrenaline junkie's cinematic dream come true. It is an ingeniously crafted thriller that constantly reinvents itself (starting off as an elevator disaster movie before incorporating the main bus bomb plot and concluding with a subway chase) and keeps the suspense meter running at the highest level.
Now, looking at this list, perhaps we can all agree that there is a Sandra Bullock movie for everyone to love. However, do you love our list?
This poll is no longer available.
Your Daily Blend of Entertainment News
Jason has been writing since he was able to pick up a washable marker, with which he wrote his debut illustrated children's story, later transitioning to a short-lived comic book series and (very) amateur filmmaking before finally settling on pursuing a career in writing about movies in lieu of making them. Look for his name in just about any article related to Batman.