The Strange Story Of How Matthew McConaughey Won His First Lead Actor Role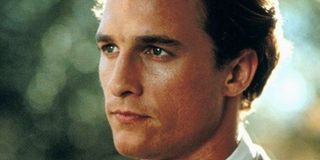 Matthew McConaughey has now blossomed into one of Hollywood's most desired actors, despite a few bumps in the road courtesy of the romantic-comedy genre. It was Joel Schumacher, though, who was one of the first directors to spot the prestigious talents of the Texas native, and he gambled on giving him his first leading role in 1996's A Time To Kill. But it turns out, it all had to be done in a rather covert manner.
During an in-depth talk with Joel Schumacher, the Batman & Robin and St. Elmo's Fire filmmaker told Variety that he always wanted McConaughey to be a part of his adaptation of John Grisham's novel, but he just wasn't sure which role he was right for. Schumacher soon deciphered that he'd be perfect as Jake Brigance, the lawyer who defends Samuel L. Jackson's Carl Lee Hailey after he murders the men who raped his 10-year-old daughter. But he knew that Grisham had final approval over the lead character, and he didn't want to inadvertently ruin McConaughey's career by putting him forward for a part that he was then rejected for. So they filmed a secret audition tape and sent it off to the author. I'll let Joel Schumacher tell the rest in his own words:
Joel Schumacher admitted that he was first drawn to Matthew McConaughey thanks to his intoxicating performance in Richard Linklater's1993 classic coming of age drama, Dazed and Confused. "Everyone knew when they saw Dazed and Confused that he leapt off the screen," the filmmaker declared, but it still took the actor three years to truly find his footing in Hollywood. After bit parts in Angels in the Outfield, Texas Chainsaw Massacre: The Next Generation, and Boys On The Side, it was his effort as Brigance that truly showed how captivating he could be on the big screen in a leading role.
Of course, you could say that he actually wasted these talents by then going on to appear in a number of lucrative but despicably woeful slices of mainstream cinema, which included the likes of The Wedding Planner, How To Lose A Guy In 10 Days, Sahara, Failure To Launch and Fool's Good. However he has since shown that he still has the passion and desire for more complex roles with his Oscar winning performance in Dallas Buyers Club, joined by sterling work in True Detective and Mud too. With Interstellar just around the corner, you can't help but feel that McConaughey's best is yet to come.
Your Daily Blend of Entertainment News
Thank you for signing up to CinemaBlend. You will receive a verification email shortly.
There was a problem. Please refresh the page and try again.