The 10 Best Samuel L. Jackson Movies, Ranked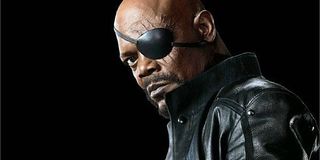 (Image credit: Marvel)
OK, this one took quite a bit of time. It's not that researching Samuel L. Jackson's memorable filmography is a trying feat. It is just that there are just so many great movies he has been a part of, it's difficult to narrow down which are among his best.
The man, who is making a return to the Shaft franchise this week, has 183 acting credits listed on IMDb and only 11 of them are labeled as "uncredited." Even a few of those uncredited appearances are still widely praised, such as narrating Inglourious Basterds or Nick Fury's post-credit Marvel movie cameos.
It seems that no matter what the task may be, Samuel L. Jackson is most likely to say "yes," an answer that usually makes a film automatically better. Would you have seen Snakes On A Plane without the actor and its now iconically profane flagship quote?
Needless to say, there are A LOT of Samuel L. Jackson movies and compressing his best work down to just 10 movies took a couple of trips up and down memory lane before a final decision could be made. Whether or not the result is a stupid-ass decision and you elect to ignore it is up to you.
Here are the picks for the top 10 best Samuel L. Jackson movies. Hold onto your butts:
10. The Hateful Eight (2015)
Quentin Tarantino owes a lot of his career to Samuel L. Jackson, who turns the writer-director's brutal and sometimes trashy words into poetry with ease. Still, somehow, it took QT more than 20 years to actually give Jackson the top billing in one of his films and it made for an epic display.
Samuel L. Jackson is one of eight despicable, dastardly, and vile people from both sides of the law holed up in a "haberdashery" during a deadly snowstorm in post-Civil War Wyoming. Tensions begin to rise between the bunch as they question each others' true natures and what brought all of them there in the first place.
Samuel L. Jackson takes the reins of this western-twist on Quentin Tarantino's own film debut Reservoir Dogs, with his explosive performance in an already "bombs away" ensemble cast. The Hateful Eight may be a slow burn running at 168 minutes, but it is a welcome return to the shockingly gritty westerns of a long-abandoned era of cinema.
9. A Time To Kill (1996)
It is easy to picture Samuel L. Jackson as the strong-willed, rebellious figure of authority he has made into his signature persona. Yet, the Hollywood Foreign Press seemed very pleased by his more vulnerable portrayal in A Time To Kill, which earned him a Golden Globe nomination.
This Mississippi-set adaptation of John Grisham's 1989 novel sees Carl Lee Hailey (Samuel L. Jackson) as a father put on trial for murdering two men who, as Hailey claims, "deserved to die [and] burn in hell," for raping and beating his young daughter. His representation, Jake Tyler Bigance (Matthew McConaughey) and Ellen Roark (Sandra Bullock), must question their morality and commitment to the case in the face of controversy and racial tension.
From director Joel Schumacher, A Time To Kill is considered by many to be one of the finest Grisham adaptations of the 1990s. It boldly enforces deep questions regarding justice and consequence with earth-shattering conclusions.
8. Captain America: The Winter Soldier (2014)
Nick Fury, the man responsible for putting the Avengers together, is such a perfectly portrayed character that any of Samuel L. Jackson's starring roles in the Marvel Cinematic Universe could have fit this list. I would say, though, that if you want Nick Fury at his best, it's right here.
Anthony and Joe Russo made a spectacular first impression with their first MCU film, putting Captain America in a 1970s-style espionage thriller that turned everything you assumed about S.H.I.E.L.D. on its head. Meanwhile, Chris Evans' Steve Rogers is also shocked by a bitter reunion with a figure from his past.
As the first sign of proof that Captain America is at his best when he is sharing the wealth, Captain America: The Winter Soldier is every bit a Nick Fury movie (or a Black Widow movie) as it is a Cap movie. Thanks to Fury (whose assault at a New York intersection may be his best MCU scene) Captain America would have never discovered S.H.I.E.L.D.'s dark secrets or learned the consequences of trust.
7. Die Hard with a Vengeance (1995)
By 1995, Bruce Willis had appeared in two films with Samuel L. Jackson, but without ever sharing any scenes together. That changed with Willis' second reprisal of Die Hard hero John McClane.
John McTiernan returns as director of Die Hard with a Vengeance, the third in the series, in which mysterious terrorist Simon (Jeremy Irons) threatens New York unless McClane participates in his game of "Simon Says." After Harlem store owner Zeus Carver (Samuel L. Jackson) botches one of Simon's tasks for McClane, he becomes roped up in the action, turning it into the Die Hard series' first buddy movie.
Die Hard with a Vengeance is sometimes praised as the second best of the franchise, mostly due to Samuel L. Jackson and Bruce Willis' great chemistry as reluctant, bickering partners. It was great to see them finally headline a film together, and even better the next time they did...
6. Unbreakable (2000)
Samuel L. Jackson is always at his best when playing a bad man. Usually, "bad" just refers to his character's rebellious and resilient nature, but in M. Night Shyalaman's follow-up to The Sixth Sense, Jackson's character is straight-up diabolical.
After security guard David Dunn (Bruce Willis) becomes the only survivor of a fatal trainwreck, comic book enthusiast Elijah Price (Samuel L. Jackson) becomes fascinated by him, believing him to be an individual with abilities much like the costumed heroes he read about growing up. Once Dunn accepts Price's push to embrace to embrace his gift, he learns that Price's intentions may not just be out of sympathy.
Not only does Unbreakable serve as a potent, thought-provoking indictment on comic book tropes, but also a commentary on the dangerous effects of obsession. If you ask me, Samuel L. Jackson's return as Elijah Price in 2019's Glass was fun too.
5. Django Unchained (2012)
As I said before, Samuel L. Jackson is at his best as a "bad" man, and since there are rarely any "good" roles in any of Quentin Tarantino's films, he remains one of the director's go-to actors. QT usually casts Jackson as, at least, a likable bad guy, though, with Django Unchained being the biggest exception.
In Quentin Tarantino's pre-Civil War era western, slave-turned-bounty-hunter Django Freeman (Jamie Foxx) and partner Dr. King Schultz (Christoph Waltz) are on a covert rescue mission to save Django's enslaved wife, Broomhilda (Kerry Washington), from plantation owner Calvin Candie (Leonardo DiCaprio). The only thing in their way is Candie's shockingly loyal house slave, Stephen (Samuel L. Jackson).
Stephen just may be the most evil character Samuel L. Jackson has ever played, with his complete lack of empathy or respect and his unquestioned subservience to his vile master. Reportedly, what we see from Stephen in the final cut of Django Unchained is not even the worst his character was originally meant to do. Yikes.
4. The Incredibles (2004)
Before he was putting the Avengers together as Nick Fury in the Marvel Cinematic Universe, Samuel L. Jackson was a costumed vigilante himself. His enduringly entertaining turn in the animated classic The Incredibles has grown to be Hall-of-Fame role for Pixar.
Set in a world in which superheroes exist but have been outlawed for years, Bob Parr (Craig T. Nelson) is stuck in a mid-life crisis, desperate to relive his glory days as the super-strong, agile Mr. Incredible. When his chance finally comes, he takes it, not realizing that it is part of a sinister plot that will soon put the world and his super-powered family members in danger.
Samuel L. Jackson's Lucius "Frozone" Best is the "coolest" superhero in The Incredibles and also provides some hilarious commentary on comic book tropes in a few scenes. Most notably, the iconic "Where is my supersuit" scene finally introduced a Sam Jackson quote children could repeat without shame.
3. Jurassic Park (1993)
Samuel L. Jackson's performance in Steven Spielberg's prehistorically-minded classic may be one his more low-key appearances. However, he still manages to steal every one of his scenes in Jurassic Park as a chain smoking computer technician with a penchant for blunt delivery of bad news.
Paleontologist Alan Grant (Sam Neill) and his colleague Dr. Ellie Sattler (Laura Dern) are invited, among other guests, on a preview tour of a billionaire's one-of-a-kind theme park featuring real, live, cloned dinosaurs. When the park suffers a major power breakdown, the park's creatures become a danger to the guests.
Of course, people fondly remember Jurassic Park's revolutionary visual effects and spine-tingling suspense. However, every time I watch this movie, I most look forward to hearing Samuel L. Jackson breathe brilliant life into the words, "Hold onto your butts."
2. Do The Right Thing (1989)
Spike Lee has cast Samuel L. Jackson in many of his films over the past few decades. His second time working with the prolific filmmaker may be the first grand display of his robust onscreen presence.
Do The Right Thing, which Spike Lee wrote, directed, and stars in, is an urban morality tale set in Brooklyn on the hottest day of the year. As the temperatures rise, so does racial tension between citizens, that slowly bottles up into an explosion of violence.
Samuel L. Jackson opens the film with his dazzling portrayal of radio DJ Mister Señor Love Daddy. His energetic performance provides welcome levity to this otherwise bleak commentary on modern-day prejudice, and that is the ta-ruth, Ruth.
1. Pulp Fiction (1994)
Unless, perhaps, you are a 7-year-old Marvel fan, it is nearly impossible to think of Samuel L. Jackson without picturing his defining role that earned him his sole Academy Award-nomination. Actually, if you ask me, Jackson's portrayal of contract killer Jules Winnfield is the defining performance of Pulp Fiction, although John Travolta gets the top bill.
Quentin Tarantino made his machine gun blast of a mark on the world of cinema with his sophomore effort that not only paid tribute to Hollywood, but also redefined it forever. Telling three interweaving stories featuring an ensemble of shady Los Angeleans, Pulp Fiction is a masterpiece whose influence refuses to yield nearly three decades later.
In my opinion, the secret weapon to Pulp Fiction's enduring iconography, however, is Jules Winnfield, whom Samuel L. Jackson embodies to unwavering perfection. His monologues at the film's opening and closing moments, quoting scripture with his own theatrical spin, are so chilling and expertly crafted they stay with you long after the third, fourth, or even tenth viewing.
At 70 years old, Samuel L. Jackson is still giving us one memorable performance after another with no sign of stopping yet. You got a problem with that? Didn't think so.
Your Daily Blend of Entertainment News
Jason has been writing since he was able to pick up a washable marker, with which he wrote his debut illustrated children's story, later transitioning to a short-lived comic book series and (very) amateur filmmaking before finally settling on pursuing a career in writing about movies in lieu of making them. Look for his name in just about any article related to Batman.
Your Daily Blend of Entertainment News
Thank you for signing up to CinemaBlend. You will receive a verification email shortly.
There was a problem. Please refresh the page and try again.