John Grisham Is Writing A Sequel To A Time To Kill Called Sycamore Row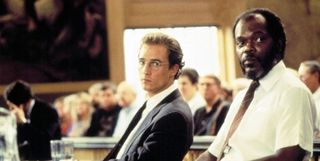 Dan Brown isn't the only popular author publishing a sequel to one of his hit novels. John Grisham, author of The Firm, The Rainmaker, and more recently, The Racketeer and The Litigators, is set to revisit his first novel with a sequel to A Time To Kill called Sycamore Row.
A Time To Kill centered Jake Brigance, a Mississippi attorney who defended the man who took it upon himself to kill the men who raped his ten-year-old daughter. The book was published in 1989, but didn't become a hit until after Grisham hit it big with the Firm, The Pelican Brief and The Client. It was adapted to film in 1996, with Joel Schumacher at the helm and Matthew McConaughey playing Jake Brigance. Samuel L. Jackson played Carl Lee Hailey, the father who made no apologies for killing his daughter's rapists ("Yes they deserved to die and I hope they burned in hell!").
EW says Grisham is writing a follow-up to the novel, which is titled Sycamore Row and will have Jake Brigance working as an attorney in a small Mississippi town. That's a pretty vague description and could actually apply to the original novel as well. We'll have to wait for more information on what the book is about, beyond the promised "intrigue, suspense and plot twists." It'll be interesting to see where Brigance's story picks up and what kind of aftermath their was to his involvement in Hailey's murder trial.
Sycamore Row is set to hit shelves October 22, with Knopf Doubleday Publishing Group set to print it.