MC Ren Has A Big Problem With Straight Outta Compton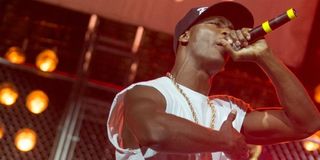 Straight Outta Compton emerged as the number one movie in America during its opening weekend, and it helped push Universal past the $2 billion mark at the domestic yearly box office, making it the fastest studio to reach that mark. But you know who's not all too happy about the film? The real MC Ren. The original member of N.W.A. spoke out about his depiction in the film, and, according to him, it wasn't accurate.
On the Saturday the 15th, the rapper tweeted the following:
Aldis Hodge of A Good Day to Die Hard and The East portrayed MC Ren in Straight Outta Compton, and his character definitely took a backseat in relation to the other members. The film really focused on Ice Cube (O'Shea Jackson Jr.), Dr. Dre (Corey Hawkins), and Eazy-E (Jason Mitchell).
MC Ren, whose birth names is Lorenzo Jerald Patterson, doesn't seem too thrilled about this, as he was a major part in writing the lyrics for the group. For example, though he was only featured as a guest rapper on Eazy-E's solo debut, Eazy-Duz-It, he wrote most of the lyrics. And following Ice Cube's departure from N.W.A., Ren went on to take over the lyric writing duties, including all the jabs at Cube, accusing him of cowardice and betrayal. However, the main focus of this portion of the film was the controversy between Cube and his former group.
DJ Yella (Neil Brown Jr.) was similarly portrayed as a supporting player, but, in the film's defense, there was a lot of material covered in the two-and-a-half-hour movie. For better or worse, this probably explains why certain aspects were glazed over.
A couple of months ago, Ren similarly vented his frustrations with the film on Twitter. He wrote:
In his defense, he wasn't wrong. The Straight Outta Compton trailers did feature little of Ren, and he didn't stop at those harsh words.
Funny enough, the real Ice Cube and Dr. Dre helped produce the film, so I wonder if Ren was hinting at his former group members when bashing the filmmakers. Maybe there are still some hurt feelings over the feud.
Your Daily Blend of Entertainment News
Thank you for signing up to CinemaBlend. You will receive a verification email shortly.
There was a problem. Please refresh the page and try again.