Yes, Toy Story 4 Has End-Credits Scenes, And They're Even More Delightful Than The Movie
Warning: SPOILERS for Toy Story 4 are to infinity and beyond this point. If you want to remain unspoiled, turn back and return only after you've dried your eyes.
Whether you're a skeptic or a true believer, Toy Story 4's ending is enough to make you shed a tear or two for the toys that have warmed our hearts with laughter and life lessons since 1995. But the ending to this latest, and possibly last, chapter is quite possible the most heart tugging yet. And that's even after the gigantic goodbye to Andy that we saw take place at the end of Toy Story 3.
But beyond that ending are a handful of mid-credits scenes that are so funny, they're even more delightful than the film you'll watch before them. That's saying something too, as director Josh Cooley and the folks who worked on Toy Story 4 have delivered a pretty beautiful movie in this fourth go at toy-centric action.
Somehow, these closing thread to the narrative delivered in this film push the entire enterprise over from impressive to amazing. This is the last chance to jump out before spoilers, as we'll be discussing the ending of the film, so as to set the proper context for these scenes.
The Ending Of Toy Story 4
After rescuing Forky, and giving Gabby Gabby a new lease on life with a young girl lost at the fair, the time comes for Woody and Bo Peep to say goodbye again. Their reunion, after nine years of separation, was a sweet one; but Bo is a lost toy now and Woody feels he belongs to Bonnie. At least, he did before his mission to give Gabby her own home.
Walking across an awning back to Buzz Lightyear, Woody starts to feel conflicted. Buzz, seeing his good friend struggle, tells him that, "She'll be ok." By that, he means that Bonnie will be fine without him, since she hasn't played with Woody in some time, and is more concerned with Forky. After initial trepidation, Woody runs back to Bo Peep and the two embrace.
His mind made up to leave, the rest of Bonnie's toy gang, old friends and not as old, come up to say goodbye. Toy Story 4's narrative proper sees Rex asking if Woody's now a lost toy, with Buzz responding that he isn't… not anymore. One last refrain of "To infinity, and beyond" is uttered between the friends, as they part ways in the fading light of the carnival.
Woody's New Family
While a good Disney/Pixar movie wants to make its audience feel, and more than likely cry, before the film is over, they don't want anyone to leave the theater on a sad note. This is where Toy Story 4's mid-credits scenes come in, as Woody and Bo's new life traveling with the carnival starts out with a stop at New Stanton Beach.
Accompanied by Ducky and Bunny, Giggle McDimples and Duke Caboom, this newly nomadic family has one goal in mind: to help every toy in the Space Destroyer game go home with a new kid, rigging the game so there's pretty much always a winner, all of the toys. Soon enough, the game is cleared out, with no new toys to give away.
This leads to a question among the group of what should happen next. A question that Ducky and Bunny have another predictably hysterical answer to. In the next scene, we see these two troublemakers dive off the deep end, in the most extreme way possible.
Ducky And Bunny: Maximum Plush Rush
Once the Space Destroyer game is cleared out, the operator looks at the booth in shock. All of the toys are gone! Looking over the edge of the station eager kids have been playing at all day, two figures slide into view and Plush Rush the hapless slacker.
Ducky and Bunny launch into their now trademark Toy Story 4 attack, which leads to them growing to gargantuan proportions. Even more distressing for our human victim is the fact that Ducky's developed fire breath, with Bunny acquiring laser eyes. The two stomp around the carnival, causing destruction and shouting into the night, with nothing to stop them. At least, that's what they see happening in their ever imaginative dreams, much like the earlier sequence where Ducky and Bunny explained how they were going to get the key to Gabby Gabby's cabinet.
Bo suggests that maybe the group stick to finding homes for carnival toys, and all but Duke Caboom leave the frame. Duke lingers, asking if they really have the powers that they've just described, with Bunny saying yes. Duke's response is one, extremely fitting callback to Keanu Reeves' previous history: "Whoa."
Bonnie's New Toy
No ending to Toy Story 4 would be complete without a final update on Bonnie's toy gang, now complete with Forky back in their lives. In fact, we flash forward a year to see how the gang's been doing, just in time to see Jessie come home from Bonnie's first day of first grade. Show and Tell is the reason she got to tag along, and it's a good thing too, because she tells the gang that just as expected, Bonnie's made a new friend in class.
But just like Toy Story 4 showed us with Bonnie's kindergarten orientation, that means that she's literally made a new friend to join the rest of the toys in her room. Made out of a plastic knife, Knifey is a female utensil that is now suffering the same existential crisis that Forky did when he was first made. Assuring her that she's not trash, but rather a toy, he promises to teach her everything.
Which then kind of goes out the window, as Knifey asks Forky why they're alive; to which he replies that he doesn't know. Now as far as mid-credits story beats go, that's the end of our Toy Story 4 friends' adventures. But, the closing Pixar logo does offer one last twist to send folks home with a smile.
Duke Caboom Rides Again
The credits have rolled, the music has faded and the Pixar logo is about to be the final button on the finished product of Toy Story 4. But instead of the famed Luxo Jr. hopping in to complete his usual job, we hear a small engine revving, only to find out that that Canuck with all the luck, Duke Caboom, will be seeing us out.
Using his bike to jump on the "I", Duke exclaims with excitement, and nails the job by flattening the letter and landing his bike. The arctic outfitted version of Combat Carl, who was ignored when it was time for high-fives in the park, walks in and finally gets his high five from Duke.
And there you have it! Toy Story 4 has now started to cross into the history books, and the popular imagination of fans eager to see if the film is the fitting continuation of the Toy Story series. Keeping that blend of happy wit and very warm humanity at its core, this new film has it all for fans who want to see their favorite movie toys ride like the wind once again.
Toy Story 4 is currently in theaters, ready for playtime! But if you're ready to head off to the next roundup, take our 2019 release schedule with you, and find your next cinematic destination.
Your Daily Blend of Entertainment News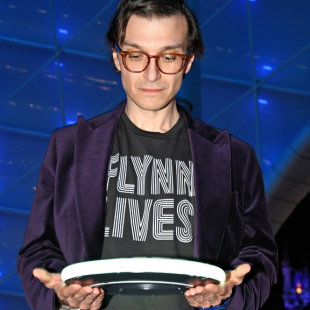 Senior Movies Contributor
CinemaBlend's James Bond (expert). Also versed in Large Scale Aggressors, time travel, and Guillermo del Toro. He fights for The User.