Everything You Need To Remember About The Toy Story Movies Before Seeing Toy Story 4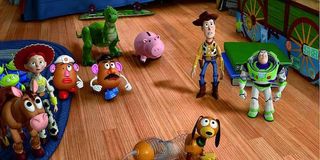 Pixar's been riding the sequel train frequently over the last five years with 2016's Finding Dory, 2018's Incredibles 2 and now Toy Story 4 arriving in theaters this weekend. It's been nine years since Toy Story 3 was released, and while that movie initially looked like it intended to cap off the film series about toys who come to life when humans aren't looking, Toy Story 4 is picking up where the threequel left off, and the critics are loving this latest installment.
While the Toy Story mythos is hardly as intricate as complicated as what franchises like Star Wars and the Marvel Cinematic Universe have built, there are still some key things one should remember from the last three Toy Story movies before seeing Toy Story 4. So let's go over those important facts now since there's only days left until the latest Pixar offering hits the silver screen.
Woody And Buzz Didn't Get Off To A Great Start
Woody and Buzz Lightyear have been an iconic duo for so long, it's easy to forget that these two were initially at odds with one another. Before Buzz's arrival, Woody was Andy's favorite toy, but once the space ranger was given to the lad for his birthday, he took the #1 spot, which irritated Woody to no end. Frustrating the cowboy further was that unlike every other toy at the household, Buzz believed he was an actual space ranger for Star Command.
However, hardship can bring people together, and thanks to their time being held captive at Sid's house, where Buzz also realized that he's a toy, Woody and Buzz eventually found common ground and worked together to escape the clutches of the sadistic adolescent. From then on, those two have been the best of friends, and with Buzz has also served as an effective second-in-command for the toy gang. It's hard to say how much screen time Woody and Buzz will have in Toy Story 4, but you can count each of them still having the other's back.
Woody Made Peace With Andy Eventually Outgrowing Him
Whether or not Toy Story 2 is your favorite of the series, there's no question that it was important for Woody's development. After his arm was torn and he was stolen by Al of Al's Toybarn fame, Woody was briefly convinced by Stinky Pete the Prospector that it was better for a toy to be persevered rather than be played with. Had Woody stuck with that belief, he would have been shipped off to a museum in Japan.
After reuniting with his friends, Woody was convinced that he was better off being a child's plaything rather than being encased behind glass for the rest of his days, and he came back home with Jessie and Bullseye in tow. By the end of Toy Story 2, Woody informed Buzz that even though that there would come a day that Andy wouldn't play with him anymore, he'd enjoy what time he had left with the boy and took comfort knowing he'd still have the other toys by his side. Needless to say that plot thread factored heavily into Toy Story 3, but Toy Story 4 will not only see Woody being set aside by Bonnie, but also changing his perspective on what it truly means to be a toy.
Bo Peep Wasn't Around For Toy Story 3
For the first two Toy Story movies, Bo Peep was a valued member of the toy gang, serving as Woody's love interest and offering the cowboy the occasional piece of wisdom or advice. However, other than making a silent cameo at the beginning of Toy Story 3 through home video footage, she was absent from the movie, with Woody only vaguely saying that she was among the friends they'd lost in the decade or so since Toy Story 2.
Fortunately for Bo Peep fans, she's back for Toy Story 4, and while we won't post any spoilers here for the folks who want to go in completely fresh, the movie will show how she was separated from the other toys. More importantly though is that Bo Peep is a lot more independent and adventurous since the last time we saw her. As a result of her experiences, she's developed a new philosophy on what it means to be a toy, which she'll pass along to Woody when they reunite.
Andy Gave His Toys To Bonnie
Some may still gather action figures and other toys as collectibles when we become adults, but more frequently than not, toys are left behind when childhood is over. That was the case with Andy, who was about to head off to college at the start of Toy Story 3. It had been years since he'd even looked at Woody, Buzz and everyone else, as they'd been kept in the toy box. However, they still meant a lot to him, and initially he planned to take Woody to college and keep the other toys in the attic, although a mistake on his mom's behalf resulted in their crazy adventure unfolding.
By the time Toy Story 3 ended, Andy, now reunited with all his childhood toys, decided that rather than go forward with his original plan, he'd go along with the suggestion on a note he believed was from his mother (it was actually from Woody) and give the toys to young Bonnie, who was at just the right age to appreciate them. Andy is now at college and taking his first steps into adulthood, and while he won't be a participant in Toy Story 4's present day narrative, we will see flashbacks of him when he was a kid.
The Toy Gang Grew A Lot Bigger
For the most part, the Toy Story movies have relied on the same core cast of characters. Toy Story 2 expanded the lineup with Mrs. Potato Head (who was mentioned at the end of the first movie), Jessie and Bullseye, and in Toy Story 3, the gang grew even bigger once Andy's toys set up shop at Bonnie's house. Now we can also count the likes of Dolly, Trixie, Buttercup, Mr. Pricklepants and more among this unique group.
All these toys will be back for Toy Story 4, although needless to say that many of them won't be prominent players in the story. They'll be joined by Forky, an arts and crafts project brought to life who has taken over as being Bonnie's favorite toy, and Woody will also meet Melephant Brooks, Chairol Burnett, Bitey White and Carl Reineroceros, four toys who Bonnie loved as a baby, but have since fallen out of favor. With other new characters like Duke Caboom, Ducky and Bunny, and Giggle McDimples being introduced, it's possible that some of them may also join the toy gang by the time Toy Story 4 wraps up.
And now you're up to speed on Toy Story 4, which opens in theaters this Friday, June 21. Stay tuned to CinemaBlend for more coverage on the movie and don't forget to look through our 2019 release schedule to learn what other movies open later this year.
Your Daily Blend of Entertainment News
Connoisseur of Marvel, DC, Star Wars, John Wick, MonsterVerse and Doctor Who lore. He's aware he looks like Harry Potter and Clark Kent.