Meet The New Toy Story 4 Characters: Gabby Gabby, Duke Caboom And The Rest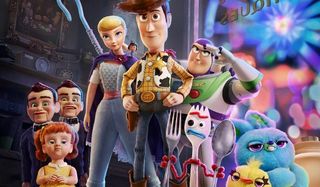 In the pantheon of Disney/Pixar films, the release of Toy Story 4 makes Toy Story the longest running series to have ever run in the studio's world of computer animated stories. Being the trailblazer that it was back in 1995, that first film detailing the adventures of characters such as Tom Hanks' Woody and Tim Allen's Buzz opened new pathways to animated splendor. And every sequel has managed to captivate the imaginations of audiences to this very day.
So with a new Toy Story movie in theaters, it's time to become acquainted with some new toys. Whether they be new protagonists and/or antagonists, humorous comic relief characters or a set of cameos from comedy royalty, there's quite a few new friends to catch up with in Toy Story 4's adventure on that great road trip that awaits the toys.
Before going further, it should be noted that while we see several Combat Carls pop up for the first time in Toy Story film history, and still voiced by the always awesome Carl Weathers, we have seen that particular toy debut previously in the short Toy Story of Terror! So he's not exactly new, but it's pretty cool that he's made his way to the big screen after all this time!
That having been said, we're about to introduce you to the big additions to the family, starting with a rather chatty toy from the '50s who just wants what every toy should want in life: a friend.
Gabby Gabby (Christina Hendricks)
Gabby Gabby isn't wrong in wanting to be someone's special play pal. There's just one problem: her voice box doesn't work correctly, and as she's been sitting in the Second Chance Antique Store for some time, she hasn't exactly had the time to be repaired. Not to mention, she's kind of a creepy/intimidating figure in the Toy Story 4 cast, or at least she seems to be that way in early materials released.
With an entourage of three ventriloquist dummies, known as "The Bensons", by her side, Gabby Gabby's the defacto queenpin of Second Chance, and she still hopes to find that perfect kid to take her home. And meeting a cowboy doll made around the same time, with a perfectly working voice box, may help her fortunes yet. Voicing Gabby Gabby is Mad Men and Good Girls star Christina Hendricks.
Duke Caboom (Keanu Reeves)
Another toy hiding out at the Second Chance Antique Store, Keanu Reeves' Duke Caboom has his own tale of woe. A toy based on a famous 1970s Canadian stuntman, Duke was promised to be able to jump a ramp through a toy ring of fire. But as this toy's little boy found out, that wasn't exactly a promise that could be kept by this plastic powerhouse.
As such, Duke Caboom was abandoned and eventually became a fixture at Second Chance, while also making friends with Annie Pott's Bo Peep. With a can-do attitude and poses to spare, if you need a stunt toy ready to take a crazy leap of faith, Duke is your guy.
Forky (Tony Hale)
Not all toys are created equal, and in Toy Story 4, we get to learn that information firsthand! Out of the sadness of her day at kindergarten orientation, little Bonnie creates a brand new friend to bring home to her toy collection: Tony Hale's Forky. With a very existential mindset about whether he's a toy or a piece of trash, Forky's antics cause quite a few headaches for Woody and the gang.
It's his departure from the toy gang that starts off Toy Story 4's big adventure, and it's his story that in turn helps Tom Hanks' beloved cowboy reunite with the love of his life, as Bo Peep has been absent since events prior to Toy Story 3. So that little spork serves more of a purpose than he thinks.
Ducky and Bunny (Keegan Michael-Key And Jordan Peele)
Carnival toys are a new field of character that the Toy Story series is about to branch into, and they couldn't have found a better pair to do that with than Keegan Michael-Key's Ducky and Jordan Peele's Bunny. The famed comedy duo play the inseparable pair of fluffy friends that have been traveling with the same carnival for what seems like forever, waiting for some kid to win them and take them home.
Unafraid to plush rush a foolish toy, they give Tim Allen's Buzz some hell in Toy Story 4, as he tries to rescue the lost Woody and Sporky in his own space ranger way. Trust us when we tell you, you'll want them on your own shelf before the movie's over.
Giggle McDimples (Ally Maki)
While Bo Peep has been out in the world in Toy Story 4, she hasn't been alone. Her best friend and confidante has been a pocket-sized playset, with a toy known as Giggle McDimples (seen pictured above, between Woody and Bo). Played by Ally Maki, Giggle is a police officer for the renowned Pet Patrol, and she's got a healthy distrust for Gabby Gabby, ever since she and Bo escaped Second Chance Antique Store.
Feisty, but kind hearted, Giggle isn't exactly sold when Woody comes calling with an adventure to return to that very place. But as a loyal friend, and a force for good, she comes along for the ride as part of the team.
The Closet Toys (Mel Brooks, Carol Burnett, Carl Reiner And Betty White)
Last, but not least, there is a new batch of toys at the beginning of Toy Story 4 that mark one hell of a cameo crew added to this latest adventure. When Woody gets banished to Bonnie's closet in the first act, he meets some new toys we've never seen before in the rank of this young girl's play pals.
With the rather apt names of Melephant Brooks (Mel Brooks), Chairol Burnett (Carol Burnett), Carl Reineroceros (Carl Reiner), and Bitey White (Betty White), these early development toys are a relic of Bonnie's time as a baby. Wisened by their years, they help clue Woody into the realization that maybe he's just not as popular a toy as he used to be.
As you can see, there's clearly a lot of new toys to keep up with in Toy Story 4, with unique personalities all their own. But don't worry, these characters all get their chance to shine, while keeping this fourth installment on the straight and narrow in terms of its overall story. Chances are, these new kids in the box are going to surprise you with their individual antics, and you might just want to bring some of them home with you as Woody, Buzz, and the rest of the toy gang's latest adventure wraps up.
If you're as excited as we are to meet these toys, then you'll want to get your tickets for Toy Story 4, which is set to release in early shows this Thursday night. And keep it tuned to CinemaBlend, as we've got plenty of coverage pertaining to one of this week's huge debuts.
Your Daily Blend of Entertainment News
Senior Movies Contributor
CinemaBlend's James Bond (expert). Also versed in Large Scale Aggressors, time travel, and Guillermo del Toro. He fights for The User.