Star Wars: Galaxy's Edge No Longer Requires Reservations At Disneyland, Here's What You Need To Know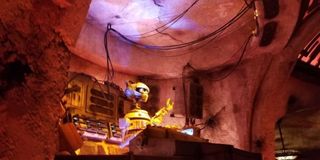 When Star Wars: Galaxy's Edge first opened a little over three weeks ago, reservations were required to get into the brand new land. As of today, the land is open to anybody who has a valid Disneyland park ticket. However, that doesn't mean than anybody can necessarily just waltz onto the planet of Batuu. While you don't need to book your passage ahead of time, there are still some things that you need to know if you're going to try to check out Galaxy's Edge for the foreseeable future.
Based on the first reports this morning, it seems quite clear that now that the flood gates are open, crowds are going to be a bit more the sort of issue we all assumed they would be at the beginning. All the more reason to know how to handle your time in the new land, in order to get the most out of it.
Signing Up In Advance Might Still Be Required
While the original reservations for Star Wars: Galaxy's Edge were released a month before the land opened, the new system is handled on a day by day basis. You'll want to download the Disneyland app to your phone, and as soon as you walk through the gate, you'll want to open it up and see if a "Boarding Group" is going to be necessary.
Depending on crowd sizes each day, it might actually be possible to walk through the gate and make your way directly to Galaxy's Edge, but more than likely, especially for the next few weeks, you'll need to sign up for a boarding group. If you check out the app, you'll be able to sign up for a boarding group, and you'll get a rough estimate for when your group will be called. While you're waiting, you can go ahead and enjoy the rest of Disneyland.
You'll need to register your entire party in your boarding group, which means everybody will need to have an account on the Disneyland website and all the accounts will need to be linked in order for somebody to set up the boarding group.
When it's your turn, you'll get a notification on your phone that you can now enter the land. One nice detail, is that, according to the Disney Parks Blog, your window for entering Galaxy's Edge after you receive a notification is two hours long. This means there's no need to wait around close to the land or limit what you're doing before you get called. If you're in a long line for another ride, or just sitting down to eat, you will still have plenty of time before you need to get there.
Those who aren't using the Disneyland app can join a boarding group at a number of select FastPass locations, though without the app you won't know when your group has been called, so it's best to do it that way.
Some Places Will Still Require Reservations
While you don't need reservations ahead of time to get into Star Wars: Galaxy's Edge, two locations within the land will require reservations. Oga's Cantina, the one place where adult beverages can be procured by the general public inside Disneyland, and Savi's Workshop, where you build your own customized lightsaber, will both require reservations. Reservations will be made available each morning on the Disneyland website, or via the app, at 7:00 AM.
The good news there, is that, if you make a reservations at either location, you'll be given automatic access to Star Wars: Galaxy's Edge to make your reservation, so if Boarding Groups are required, you won't need to join one.
If you have a reservation at Oga's Cantina, your party can enter Galaxy's Edge up to one hour before the scheduled reservation time. Disneyland's standard food reservation rules apply, which means if you no-show your reservation. You'll be charged $10.
Things are a bit stiffer when comes to booking your reservation at Savi's Workshop. You can only enter Galaxy's Edge 15 minutes before you reservation. Also, when you book the reservation, you'll give them a credit card and if you don't show up, you'll be charged the entire $199.99 that you would have paid for your custom lightsaber, so you'll want to be sure that you can make it before you book.
Reservations at Savi's Workshop also limit how many people can enter the land. Only six people can enter Batuu as part of a reservation at Savi's. However, the person building the actual lightsaber can only bring two guests with them to the experience, so the other three will get access to the land, but can't experience the lightsaber building.
Reports this morning in social media were that reservations for both locations were gone within about 20 minutes of being made available this morning, although some more reservations were apparently released later in the day, so it's worth checking back regularly just to see in case a slot opens up.
Once You're There, You Can Stay
While the number of things you can actually do inside Star Wars: Galaxy's Edge are somewhat limited if you can't get into Oga's Cantina or Savi's Workshop, the biggest change between the previous reservation system and what's happening now is that once you get onto Batuu, there's no requirement that you leave.
Those who made reservations previously had to vacate the land after four hours, but now, once you get in, you can stay until Disneyland Park closes. This means you can ride Millennium Falcon: Smuggler's Run as many times as you want, so you can try all three crew positions, and you can eat as much of the food at Docking Bay 7 as your stomach can handle. Wait times for Smuggler's Run have only been averaging an hour on day one, which isn't bad at all for a brand new attraction.
While Star Wars: Galaxy's Edge is clearly more crowded than it has ever been today since reservations are no longer required, based on current wait times elsewhere in the park, it looks like the rest of Disneyland Park is still actually quieter than it would usually be for this time of year. Also, while getting reservations at Savi's or Oga's appears to be tough, getting into the land itself is not (as of this writing space for this afternoon is still available and the park is open until midnight), so, all things considered it looks like now might be the best possible time to go to Disneyland.
Boarding groups were actually no longer needed as of about 5:00 PM on the first day, so it looks like there won't be an issue with guests actually getting into the land. This is great news for anybody who was afraid crowd levels would be too high to actually get in.
Your Daily Blend of Entertainment News
Content Producer/Theme Park Beat
CinemaBlend's resident theme park junkie and amateur Disney historian. Armchair Imagineer. Epcot Stan. Future Club 33 Member.