The Insane Number Of Guests Disneyland Could See On Opening Day Of Star Wars: Galaxy's Edge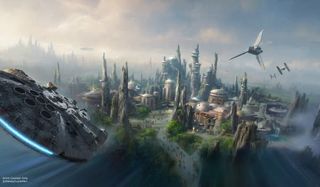 We know that Star Wars Galaxy's Edge is going to be insanely popular, but exactly what that means in terms of actual turnout has been anybody's guess. However, one theme park expert has taken the time to actually come up with a number, and if he's right Disneyland is going to have a serious problem on their hands as he estimates that Disneyland could see 200,000 guests on opening day alone.
The estimate comes via Bill Zanetti who studies theme park design in Orlando, Florida. He provided the estimate to theme park and attraction focused site Blooloop, based on his knowledge of the industry and his belief in what the interest level is in the new Star Wars themed area.
Needless to say, 200,000 is a huge number. While Disneyland doesn't release information on crowd sizes, or what maximum capacity of the park actually is, estimates put max capacity at somewhere around 75,000-80,000 people, with an average day in the park seeing numbers of somewhere over 40,000 people.
This means that if this estimate is anywhere close to accurate, we could see more than double the number of people allowed inside Disneyland trying to get in on opening day. One can only imagine what the chaos inside will be. Even if you wanted to get into Disneyland and ignore Galaxy's Edge, because the lines for everything else are sure to be non-existent, you'll have to be in line super early along with the people who do want to be the first to ride Millennium Falcon: Smuggler's Run in order to have chance to even get in and do that.
Even if this estimate is high, other estimates aren't much better. Touring Plans, a subscription service that lets users create custom theme park itineraries, is estimating the crowd at 150,000 people. They're also estimating eight to 10 hour waits just to get into the park, never mind lines for the attractions themselves. Those lines, thanks to a limited number of FastPasses and MaxPasses, that will disappear very quickly, could be a relatively short six hours or so by comparison.
We can also take a step even further back as the biggest issue of all might be parking. A new parking garage is currently under construction but it's unclear if it will be completed in time for the opening of Star Wars Galaxy's Edge. Currently, parking is limited to one large parking lot and a 10,000 space garage. Seeing the Toy Story lot hit capacity is a not infrequent occurrence.
Seeing Disneyland itself hit capacity doesn't happen too often, but it certainly does happen. Often during the peak seasons of summer and the holidays.
Due to Disneyland's proximity to the freeway, Galaxy's Edge's opening could see crowds of people causing serious freeway problems as hundreds or thousands of cars try to get off I-5 in order to try to get a parking spot before getting in a 10-hour line to get into the park. Then there will likely be a line to get into the land itself, because it's going to have a max capacity of its own. Once you're allowed in you'll get to stand in a six-hour line to get on one of the two E-ticket attractions. Then do it again if you want to do the other ride.
With the traffic and parking problems, not only will trying to take advantage of short lines at other Disneyland attractions probably be more trouble than its worth, trying to spend the day at Disney California Adventure, which will probably be close to empty, might also be close to impossible.
There might be some potential to avoid the crowds, but it will cost you. Disney California Adventure charged guests $299 for the Pixar Pier premiere day when it opened in 2018. Disneyland has yet to announce if something like that will happen for Star Wars: Galaxy's Edge, but if it does, you can be sure it won't be cheap, expect to be considerably more than $299, and tickets will still sell out quickly.
Of course, the bigger issue may be that this likely won't be simply an opening day problem. The demand for Star Wars: Galaxy's Edge will be incredibly high, and since a large part of Disneyland's guests are tourists only spending a few days in the park, every day there will be a new crowd who wants to experience the attractions. Even if the park doesn't hit capacity on a regular basis or require multiple hour wait times just to get in, lines for the attractions are likely to be several hours long for the foreseeable future.
Pandora: The World of Avatar is nearly two years old and yet wait times for the popular Flight of Passage attraction are still frequently three hours or more. The new Toy Story Land at Disney's Hollywood Studios sees similar waits during busy periods for Slinky Dog Dash.
Wait times are a fact of life at theme parks, as are crowds, but one certainly wonders just how an experience like this will impact the guests. Being one of the first to ride these attractions and see the new land is one thing, but if it's so crowded that you can't enjoy it, is it really worth it? I love Disneyland as much as anybody and more than most, and I'm not sure I want to go anytime soon if it's going to be like this.
Or, more specifically, I think I'd rather go very soon, as in some time before Star Wars: Galaxy's Edge opens, and enjoy the park one last time before things get out of control. Recently, Disney CEO Bob Iger seemed to confirm the new land will open in June, though the exact date is still unknown
Disney Hollywood Studio's version of the new land is set to open sometime this fall, at which point we get to do this all over again. Being the second park to open might make the lines slightly less insane, but we can still expect extensive wait times for months or years to come on both coasts.
Your Daily Blend of Entertainment News
Content Producer/Theme Park Beat
CinemaBlend's resident theme park junkie and amateur Disney historian. Armchair Imagineer. Epcot Stan. Future Club 33 Member.