4 Life Lessons Toy Story 4 Can Teach Adults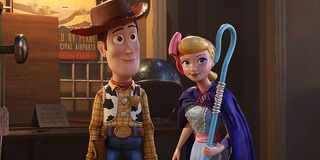 Warning! The following contains SPOILERS for Toy Story 4**. Read at your own risk!**
Toy Story 4 wasn't specifically crafted for adults, but with the franchise having a major successful release across a few generations, it's fair to say many of them will buy a ticket to see the latest installment. Luckily, Pixar's run of crafting films for all audiences has continued, and as there's plenty for kids to enjoy while watching, there's also a lot of themes for grown ups to chew on as well.
In fact, there's a surprising amount of lessons adults can pull from Toy Story 4 that might go well over a child's head. This is totally fine by the way, as they'll be far too obsessed with Forky and the hilarious Ducky and Bunny to pay attention. For the older crowd, here are some of the major thematic beats of the film that may speak to them.
Change Is Scary, And Sometimes Inevitable
As children, very few people go through life with the thought they'll be anything less than a raging success at whatever their career path is. As many adults will attest to, plans don't always pan out, and whether it's early in the game or late, changes happen that can turn a person's life and goals upside-down. This was the case for Woody, who went from top toy under Andy to largely forgotten under Bonnie.
One interesting bit of this plot point, in my opinion, is that the change hit Woody before he was even ready to admit it. We see early on he's still trying to operate as the "top toy" and give orders to others when Dolly was running things. Finally, once things start to sink in, he throws himself into keeping Bonnie happy by doing his best to keep Forky around even when the newest "toy" just wants to be trash.
Toy Story 4 features a lot of Woody floundering for a purpose under new management, and coping with the realization that he doesn't really have one under his new kid. It's an experience several adults can empathize with and perhaps understand far better than the kids in the theater. It's probably not the best parent-to-child talking point of the film, but at least both parties will probably agree those dummies were scary as hell!
"One Man's Trash Is Another Man's Treasure"
This popular old adage is often said ad nauseum in pop culture, but rarely does it come into play as heavily in a story as it did in Toy Story 4. By Forky's own admission, he's trash, and at the start of the movie would like nothing more than to wallow in the safe and warm garbage that's calling out to him. I get it, who doesn't love a roll in the trash?
Of course, Woody informed Forky he's more than trash; he's a toy of great significance to Bonnie. As Toy Story 4 laid out, he's tied to what turned around Bonnie's difficult orientation, and creating him ended up brightening her experience quite a bit. It didn't matter to her if he wasn't a real toy or generally viewed as someone who might be called "trash," he was important to her even if she didn't particularly understand why.
For me personally, this was a reminder of the things kids latch onto that adults don't really understand. We forget that kids can have deep connections to seemingly insignificant things, partially because they may not be the best at articulating why these things are so important to them. "Trash" can mean a lot to people regardless if others understand it, and as long as it doesn't evolve into a hoarding obsession, that's generally ok.
Change Can Be Positive
As stated earlier, change is inevitable and can often upend the goals and dreams we had previously set for ourselves. For Woody, this meant coming to terms with the fact that he was no longer a vital toy to his owner, and finding his new place within the group dynamic in lieu of that change.
Of course, his goals changed a bit when he discovered the previously missing Bo was hanging out around the carnival, and Woody's change ended up being something positive that allowed him to become a "lost toy" and reunite with his love from way back in the day. It was one of those "when one door closes another one opens" situations that turned a somewhat sad situation into a positive for the toy sheriff.
Even though it may have seemed like an absolute win to audiences, Toy Story 4 did a great job showing the struggle in Woody in considering such a bold change in life. Even the best opportunities can be scary when someone's done the same thing for so long, but sometimes it's worth it to take that dive into the unknown and deal with the details and consequences as they come.
True Friends Want What's Best For Us
One important thing to note is that Woody didn't come to the decision to leave Bonnie all on his own. In fact, he seemed ready for another painful goodbye to Bo and to resume his duties as an ignored toy until Buzz stepped up and encouraged his good buddy to move on. The other toys supported the decision, of course, even though many of them had little to no context of the situation.
True friends want what's best for us, even if those decisions end up putting some distance between them. It's a great lesson to learn as an adult, especially for those of us who may not have made any new friends since college and don't have many to spare as is. Saying goodbye to friends is never easy, but the good ones tend to understand and want only want what's best for you.
Of course, there's always some sadness in saying goodbye to these people, which is why I'm glad Toy Story 4 didn't try to dress up Woody's exit as an entirely happy affair (though Pixar had some doubts about doing so). Everyone was a little sad, but Woody was happy to be reunited and have some future with Bo, and his friends were happy to see him happy again. It's basically like a rated G version of a bachelor/bachelorette party!
Why Toy Story 4 Needs To Be The Final One
Did any adults who watched gather any other big life lessons from Toy Story 4? Let us know in the comments and see it in theaters now, and continue to stick with CinemaBlend for the latest in movie and television news.
Your Daily Blend of Entertainment News
Mick likes good television, but also reality television. He grew up on Star Wars, DC, Marvel, and pro wrestling and loves to discuss and dissect most of it. He's been writing online for over a decade and never dreamed he'd be in the position he is today.