Can We Talk About How Toy Story Made 4 Consecutive Great Movies?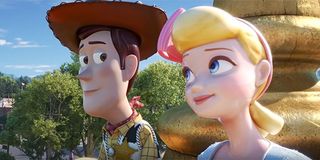 Warning: Toy Story 4 SPOILERS ahead!
This past weekend, nearly a decade after we thought this series had said its last goodbye, the latest Toy Story movie opened in theaters and proceeded to dominate at the box office. It is the fourth entry in Pixar's first and most illustrious franchise, and like the three films before it, Toy Story 4 has enjoyed plenty of audience excitement, positive buzz and near universal critical acclaim.
Toy Story 4 is, by most accounts, a great film. The fourthquel, from Pixar vet and first time feature director Josh Cooley, boasts a fantastic 98% on Rotten Tomatoes from 321 critics and an 84 on Metacritic, where it earned the site's Must-See designation. Audiences too have recognized how good Toy Story 4 is, netting the film an "A" CinemaScore to go along with its franchise best $118 million opening weekend.
Toy Story 4 will almost certainly find itself in the Best Animated Feature race next year, ironically opposite How to Train Your Dragon: The Hidden World, another film that features the bittersweet end of a cherished cinematic friendship and a beloved franchise.
It's not hard to see why critics and audiences responded to Toy Story 4 in this way. It is a gorgeously animated, hilarious and heartfelt film that appeals to both kids and adults alike and stays true to what the Toy Story franchise is, while reminding us of why we fell in love with these characters in the first place.
More than that, Toy Story 4 succeeds in perhaps the most crucial area of all: it justifies its own existence. Although those at Pixar may have always known there would be more adventures with Woody and Buzz Lightyear, many of us thought that the franchise was complete after 2010's Toy Story 3. There was even a hope that Toy Story 4 wouldn't happen, lest it risk ruining what was already considered a beautiful and perfect ending to an excellent trilogy.
But Toy Story 4 did happen and despite the weight of those expectations, it still managed to be a worthy entry in this saga, and one that does not diminish Toy Story 3 nor make this series feel like it has overstayed its welcome.
In his review, CinemaBlend's own Mike Reyes said Toy Story 4 is "the sequel I never knew I needed, and it's quite possibly the best Toy Story to ever be told." While opinions will vary on that latter part, it is clear to most that Toy Story 4 showed why this series didn't end at the trilogy.
Yet for these accomplishments and the near universally recognized greatness of Toy Story 4, the most remarkable thing is how completely unremarkable it all is. That is to say, a Toy Story movie being great is not at all surprising.
That's because time in and time out, Toy Story has delivered greatness to the point that the whole exercise now seems matter-of-fact, a foregone conclusion where the perfection is predicted. After the first film changed animation in 1995, Toy Story 2 proved a worthy sequel in 1999, back when Disney was still going the straight-to-DVD route with subpar sequels. Then in 2010, Pixar completed the trilogy with the beloved and bittersweet Toy Story 3.
Pixar's track record may no longer be as unimpeachable as it once was, but Toy Story's remains pristine. That's why despite our qualms and worries about this franchise continuing past Toy Story 3, we still expected Toy Story 4 to be great, because Toy Story has never once disappointed.
If Toy Story 4 is indeed the last film in this franchise, as its ending would seem to indicate (but then again so did Toy Story 3's), Toy Story will go down as perhaps the best four-film series of all time. But regardless of whether this is the end or not, for Toy Story to have maintained its high level of quality over the course of four consecutive films is an achievement that needs to be recognized.
As easy as Pixar made it look, making a series with four consecutive great movies is no simple thing. In fact, it is extremely difficult, as evidenced by how rare it is to see. Many franchises don't make it to four films, either by design or because they sputter out before they get there, and not all of those that do make it to that amount manage to stay good throughout.
The common thinking is that sequels aren't as good as the original; that's why we have lists about sequels that are actually better than the original movies, because it is not the norm. The rule of thumb is that franchises/series get worse over time, that there is a law of diminishing returns where a franchise's quality goes before the franchise itself. The sponge is often already wrung dry before a franchise dies off, as we are seeing now with Dark Phoenix.
There are plenty of examples of this. As good as the Daniel Craig James Bond films may be compared to some of their predecessors, they have still alternated greatness and mediocrity. Casino Royale and Skyfall are great; Quantum of Solace and Spectre are not. That's not to say that they are terrible, but it shows how hard it is to deliver greatness again and again.
Pirates of the Caribbean couldn't manage four consecutive great movies, nor could Shrek, Indiana Jones, Star Trek and Lethal Weapon. There are great trilogies like The Lord of the Rings, the modern Planet of the Apes, The Before Trilogy and the original Star Wars trilogy, but even that is difficult. Sam Raimi's Spider-Man movies delivered 2 out of 3, and the same goes for Christopher Nolan's Dark Knight Trilogy and The Godfather.
This is no way an indictment of these films and franchises, it is merely meant to illustrate how hard it is to deliver the kind of consistency that Pixar has with Toy Story. With all the variables that go into moviemaking, even when great filmmakers shepherd an entire trilogy it can still stumble. Making four great movies in a row is tremendously hard and perhaps as much alchemy and luck as preparation and execution.
This is not to say that making four great films in a row is impossible or that Toy Story is definitively the first franchise to do it. The recent run of Mission: Impossible films from Mission: Impossible 3 to Mission: Impossible Fallout has been pretty darn good. The same is true for four-film runs in the Harry Potter series and the four-film Hunger Games franchise.
Some might even argue the Fast & Furious franchise has delivered four in a row from Fast Five to Fate of the Furious. And while it's not a 1:1 comparison given its unique cinematic universe model, the MCU's run of Spider-Man: Homecoming, Thor: Ragnarok, Black Panther and Avengers: Infinity War is fairly great.
However, even these examples don't enjoy the kind of overwhelming praise and universal acclaim for each entry that the Toy Story films have had, each of which has earned at least an "A" CinemaScore and no lower than 98% Certified Fresh on Rotten Tomatoes. Toy Story may truly stand alone for having such consistency at this level of greatness.
Toy Story has spanned four films over 25 years and the time between films undoubtedly gave filmmakers time to get things right, but it also could have worked against the movies if the characters fell out of favor or the franchise's storytelling no longer resonated the same way they did in 1995. And sometimes no matter how much time a film has to be perfected, it still can't reach the bar Toy Story consistently hit.
That greatness, though, was not a foregone conclusion, no matter how expected it may have been. Toy Story 4 was not an entirely smooth production. The fourth entry in Pixar's crown jewel franchise endured director changes, script rewrites and delays, as well as a major shakeup behind-the-scenes at Pixar. Any of those factors might have felled another movie, and it's entirely possible that Toy Story could have stumbled in heartbreaking fashion at the finish line, but Toy Story 4 still came out smelling like roses.
If Toy Story 4 is the end, it leaves a legacy of consistent greatness that will not be easily matched and that is truly remarkable.
Toy Story 4 is now playing. Check out what ticket you should buy and take a look at our 2019 Release Schedule to see what's headed your way the rest of the summer.
Your Daily Blend of Entertainment News
Nick grew up in Maryland has degrees in Film Studies and Communications. His life goal is to walk the earth, meet people and get into adventures. He's also still looking for The Adventures of Pete and Pete season 3 on DVD if anyone has a lead.