The Lion King's Box Office Tracking All Over The Place, Will It 'Underperform' Like Toy Story 4?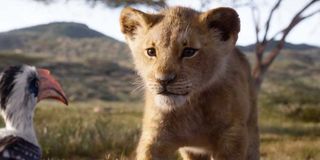 Disney has had a summer of big releases so far with Aladdin and Toy Story 4, but the biggest movie may roar into theaters this July. We're talking about The Lion King, of course, and early tracking for the upcoming movie has been kind of all over the board. However, one thing we should not worry about the live-action Disney movie is whether or not it will make money.
Disney's The Lion King live-action adventure is going to make money. Reportedly produced on a $200 million or more budget, the early tracking for the movie had it making $180-230 million domestically during opening weekend. In the time since, a more recent update at Box Office Pro has the movie making $201 million during its 3-day opening, which is an oddly specific number. Deadline also mentions another tracking system has The Lion King making $150 million domestically opening weekend.
Basically, these numbers are all over the place.
If the actual release follows the trajectory of some of these numbers, The Lion King will have a huge opening. In others, The Lion King will have a fine enough opening, but could end up being lackluster compared to some of the other Disney live-action titles. The difference between a Beauty and the Beast or even a Jungle Book opening is real, although I don't think we need to be worried about a Dumbo-level opening here.
Again, the real problem is the same thing that is plaguing Toy Story 4 and it's one I'd have to assume Disney is hoping to avoid with its next release.
Like Toy Story 4, there have been a lot of headlines related to The Lion King talking about it breaking pre-sales records. In Toy Story 4's case, while the movie had a big opening night and broke pre-sales records, it did not go on to become the biggest Pixar opening of all time.
In Toy Story 4's case, this inflated the box office predictions to $140 million, which made Toy Story 4 look like it hadn't hit the mark during its opening weekend, which ended up bringing in $118 million. Because the animated Pixar flick didn't quite reach the lofty heights of the box office predictions, some people have been writing Toy Story 4 off as being more of a failure than it actually is. It won the weekend people! It's already nearly made $300 million worldwide!
It's not a failure by any measure. Toy Story 4 actually did have the biggest opening domestically for a Toy Story franchise movie and it's going to make plenty of money. It just didn't hit the record people thought it would and I'd guess the surprise led to a negative narrative around the money it did make.
Related: A Full Look At Disney's Upcoming Live-Action Remakes
In The Lion King's case, it looks as if people aren't sure where to place the movie. Some people seem to be taking into consideration pre-sales and bumping up the movie to great box office heights. I'm not sure who is responsible for the lower $150 million number cited, but that definitely gives Disney a little more wiggle room than some of the loftier predictions. If the movie hits that number, great. If it makes more, than it looks like more of a success than it did before.
Plus, there are several live-action movies, including the recent Aladdin, that have only had very good openings (at least in terms of the Mouse House's numbers) and have gone on to make plenty of money and continue crushing over time. It's currently the fourth-highest grossing live-action Disney project. Opening weekend isn't everything.
Honestly, I'm sort of hoping the flick makes exactly $201 million opening weekend, because that's just too specific of a number to not root for. Either way, The Lion King should be making money for Disney over the long haul. No matter the narrative, the movie should do just fine.
Your Daily Blend of Entertainment News
Reality TV fan with a pinch of Disney fairy dust thrown in. Theme park junkie. If you've created a rom-com I've probably watched it.