Could Disney Do Live-Action Remakes Of The Aladdin Sequels?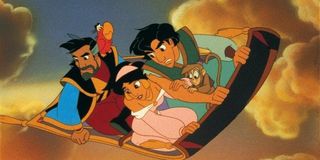 It's official: the live-action Aladdin is a hit. Reviews may be mixed and there was concern from some Disney fans when it came to the prospect of bringing this beloved animated classic back to the silver screen. Yet when push came to shove, moviegoers came out in droves to see Guy Ritchie's live-action remake revamp the 1992 Disney touchstone. In a summer defined by its box office flops more than its major successes, the runaway commercial success of Aladdin (2019) is all-the-more impressive. This raises a lot of questions. Particularly, "What is next for Disney?"
It's no secret Disney loves sequels. Whether those sequels are screened in thousands of theaters around to the world or direct-to-video (or, more likely in the near future, straight-to-streaming), Disney is always looking to capitalize on its past successes and make a quick million or two from its established IP. That means the likelihood of getting a live-action Aladdin sequel is quite high. We're probably only a few years away from Aladdin 2 hitting theaters.
Still, that raises another question: Will the almost-inevitable sequel be a live-action remake of Disney's past DTV sequels, i.e. The Return of Jafar and Aladdin and the King of Thieves, or will it be its own thing entirely? It's hard to say for certain about a movie that hasn't even been announced yet, but let's see if we can break it down and determine what Disney's course-of-action will be. Or, more truthfully, what the studio's course-of-action should be with Aladdin 2.
The Case For Remaking The Return Of Jafar And/Or Aladdin And The King Of Thieves
It's no secret the main reason why people showed up in droves to see Aladdin (2019) is because they passionately love the original animated film. It's one of the key films in the Disney Renaissance, the period of time from the late '80s until the late '90s when Disney was making hit after hit, which brought the studio back to its former glory while establishing a new style and a new edge that separated its work from what we previously saw from the Mouse House. It's a vital film from that period, just like The Lion King, Beauty and the Beast and The Little Mermaid; it also changed animation forever.
Through Robin Williams' iconic performance as the Genie, animation became a playground through which pop culture jokes became more frequent and celebrity voice performances became a regular occurrence. More than that, Aladdin (1992) gave joy to moviegoers everywhere— both young and old — through its timeless story, its memorable songs, its delightful characters, its vibrant animation and its beautifully beating heart. It's hard to bottle that same success. Sure enough, the DTV sequels, The Return Of Jafar and Aladdin and the King of Thieves, never quite reached the same heights as their beloved predecessor, thanks to cheaper animation, fewer remarkable tunes, and less engaging stories.
Suffice to say, it wasn't a whole new world anymore. The first movie was magic in a bottle — or, more accurately, magic in a lamp — and it was hard for the storytellers to return to the same dazzling heights. While there is more of a cartoon element in these sequels, the jokes didn't hit as hard and the lack of Robin Williams in The Return of Jafar was distractingly evident. Even when they brought him back for Aladdin and the King of Thieves, it wasn't quite the same as the first trip on the magic carpet. The stories themselves weren't bad per se, they just did not capture the same fervent imagination.
So, why remake them? Because the promise of a remake would be to hopefully expand upon or improve on the original. While these sequels weren't exactly great, they did have some elements that could be done better if remade well. The Return of Jafar is obviously centered around the return of Jafar, and how his need for revenge is fueled even brighter by the events at the end of the first movie. That's fertile ground if done right, and with a bigger budget and the primary talents involved for another movie, there is a chance to take that premise and turn it into something more extravagant and grand.
The Return of Jafar didn't make its way into theaters, but it was still a colossal hit, making $300 million for the animated studio. Much like Aladdin, it was a trendsetter as well. While this sequel doesn't have the same legacy as its original, it was the first Disney direct-to-video animated film, and it was also the first American DTV film as well. Clearly, it has been seen by a lot of people, and there are a lot of folks who are nostalgic for this sequel. Would that nostalgia be carried over into making this live-action sequel the same hit that the original movie was? It's hard to say for certain, but it's possible.
Additionally, Aladdin and the King of Thieves was also a huge hit for Disney in the home video market, and with Robin Williams returning to the role of the Genie, some solid new songs and a story that was actually inspired by original source material One Thousand And One Nights, it's considered an improvement over the other sequel — though it still didn't match the original's towering impact. Nevertheless, it's a better sequel through which a live action remake could be mined.
Certainly, if given a choice, I'd rather see King of Thieves brought back to life than Return of Jafar. But I'm only one guy.
There's no guarantee that remaking The Return of Jafar or Aladdin and the King of Thieves in live-action form will work in their favor. But if they are eager to make a sequel in the next couple years, it is a template through which they could produce returning business from more nostalgic viewers.
The Case For NOT Remaking The Return Of Jafar And Aladdin And The King Of Thieves
Remakes are tricky business. Just because something worked the first time around doesn't mean it's going to work for a second spin. That has been made abundantly clear from several, several, several misfire remakes in the past — particularly based on classic movies. Alas, Aladdin (2019) wasn't as well-received as its original classic. While it made a whole lot of money, there's no certainty audiences will return to see the sequels — particularly if they're based on inferior movies. And ESPECIALLY after this dire summer movie season.
It's safe to say that The Return of Jafar and Aladdin and the King of Thieves, while certainly liked by many people, aren't anywhere close to being revered in the way that Aladdin (1992) is by millions of people around the world. If you want to make a sequel that will be as big of a hit — if not bigger — than the movie that came before it, you don't want to make something that audiences know is nowhere near as good. You want to impress and dazzle them again, and you want to make sure that they get the most bang for their buck. Or, at least, that's what I hope Disney wants to give moviegoing viewers.
One of the biggest criticisms lodged against Aladdin (2019) is that it veers a little too closely to the original film, in an overly reverent fashion, to the point where it doesn't stand out on its own terms. If you have the chance to make a sequel, this is a perfect opportunity to fix this criticism. With a sequel, Disney has the opportunity to give us a new story with these beloved characters, and they could pave their own ground.
The promise of a good Aladdin sequel is certainly a tantalizing one. It is clear that these characters are widely beloved and constantly acclaimed. If you can give them a new story that's strong and unique and able to bring audiences into the theater with the promise of seeing something extravagant in a whole new world they've seen before, that might be the ticket there.
Plus, one of the improvements made to the original was how it developed the Genie's character and gave him more of a gentler, more human side that wasn't seen in the original movie. It would be intriguing and dramatically promising to provide us with a sequel that expands upon the character of the Genie in a major way, particularly as a free Genie. It would also help immensely to have a sequel where the actor playing the Genie comes back again.
It seems likely that Aladdin 2 could happen. The movie has currently made $876 million worldwide and counting, and it is closer than not to becoming a billion dollar hit for Disney. Money talks, and it wouldn't be surprising to hear an announcement about Aladdin 2 coming from the studio any day now--particularly given the studio has greenlighted sequels for Maleficent and The Jungle Book previously. Perhaps at D23? One can't say for sure. If Disney does make a sequel, the announcement will hopefully be a big event. If I were the head of Disney, I'd have to admit the promise of making a completely original sequel would be the best route to go, despite the reverence some folks hold for The Return of Jafar and Aladdin and the King of Thieves.
We have a chance to go to even more expansive and dazzling places with a sequel, and to know that it's not a carbon copy of the direct-to-video sequels suggests that there's a strong chance that it'll not only be good but something worthy seeing on the big screen. It would certainly be very understandable for Disney to simply redo the two sequels it already has, and it might work out in the studio's favor if it can iron out the flaws and make sequels good films. Why risk the chance of making something subpar when Disney could really hit it out of the park with something totally new and fresh?
Your Daily Blend of Entertainment News
Will is an entertainment writer based in Pittsburgh, PA. His writing can also be found in The Playlist, Cut Print Film, We Got This Covered, The Young Folks, Slate and other outlets. He also co-hosts the weekly film/TV podcast Cinemaholics with Jon Negroni and he likes to think he's a professional Garfield enthusiast.