Why Are So Many Major Franchise Movies Underperforming In 2019?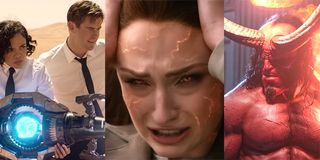 Avengers: Endgame is trying its darndest to top Avatar as the highest-grossing movie of all time, but the 2019 box office is still down from last year. How is that possible, when the first half of the year has been jam-packed with major franchise movies? Is that part of the problem?
It seems like every week we hear about a new sequel, spinoff, or reboot "underperforming," "disappointing," "underwhelming," or just otherwise being ignored by fans.
But you can't just file everything under There Are Too Many Sequels/Remakes - We Want Original Movies, since some franchise movies are doing very well.
The top-grossing movies of 2019 so far are Avengers: Endgame, Captain Marvel, and Aladdin, followed by one original voice in the horror movie Us, and then it's back to franchises with How to Train Your Dragon: The Hidden World and John Wick: Chapter 3. If anything can rival those titles later this year, it is most likely to be more sequels/remakes like Toy Story 4, The Lion King, and Star Wars: The Rise of Skywalker.
So what went wrong with everyone else -- including Dark Phoenix, Men in Black International, Hellboy, Shaft, Godzilla: King of the Monsters, The Secret Life of Pets 2, The LEGO Movie 2: The Second Part, and Dumbo?
It's never just one thing. Let's explore some of the reasons why 2019 is not exactly going the way Hollywood planned.
Franchise Fatigue (aka We Didn't Ask For This)
Who asked for another Men in Black movie, especially one without Will Smith or Tommy Lee Jones? It's strange that Chris Hemsworth has criticized some of his past projects to say they never really landed on the point of the films. Was that not a concern with Men in Black International? His new spinoff with Tessa Thompson brought their Marvel chemistry to the big screen but few fans showed up for it at the box office.
I'd also put The LEGO 2 Movie in this boat, but for different reasons. The LEGO Movie was popular in 2014, but it was followed by both The LEGO Batman Movie and The LEGO Ninjago Movie in 2017 before The LEGO Movie 2: The Second Part in 2019. By the time the new movie showed up in early February -- the same month as the 2014 movie, so I'm not sure I'd blame the release date -- it only made $191 million worldwide, per Box Office Mojo, compared to the $469M worldwide gross of the first movie. Fans needed a break.
You could argue the same for A Dog's Purpose, A Dog's Way Home, and A Dog's Journey, although that's not a huge franchise. But to have all three of those movies open so close together -- especially to have two open within months in 2019 -- was not the best theatrical release plan.
I'd put the live-action Dumbo in this boat too, after so many Disney remakes, but Aladdin is showing there's still a market for some of them. But did anyone want a Dumbo with a CGI elephant minus the magic of the original? I'd put this one in a mix of no one asking for it, and the bad reviews/buzz.
Does Godzilla: King of the Monsters belong in the franchise fatigue group? Do fans just want a break from this franchise after Godzilla and Kong: Skull Island? I'm going to say no and save that one for a later category, but you may argue it most belongs here.
Bad Reviews & Bad Buzz (aka It's Just Bad)
Dark Phoenix and Hellboy rule this category. You can't really argue that no one asked for an exploration of The Dark Phoenix Saga, or even an R-Rated Hellboy. Some fans were initially curious. But the reviews for 2019 Hellboy were abysmal and fans weren't in a rush to disagree. It disappointed just about everyone.
Dark Phoenix combined worrisome buzz on reshoots and delays with bad reviews from critics, resulting in the worst opening of the X-Men franchise. It was the wrong way to close out that series. The only thing in Dark Phoenix's favor was the fan response arguing that it wasn't quite as bad as Apocalypse.
I might also put Shaft in here. The critics that didn't like it really seemed to hate it, but the fans who watched it seemed to love it. Those fans were few and far between, though. Was that from bad marketing? Bad time of year with too much competition? Did no one want this Shaft sequel, or could it just have used a different title so people didn't think it was a reboot?
Too Much Competition (aka Reconsider Your Release Dates)
Spring/summer is usually a big time for movies, but there used to be just a handful of "tentpole" movies across the season, and now we have multiple would-be blockbusters competing within the same month. It's unsustainable.
I'd put The Secret Life of Pets 2 here, since it basically got lost in the shuffle of so much playing across June 2019, with the marketing buzz for kids films dominated by Toy Story 4, which opens two weeks after Pets 2.
Yes, Secret Life of Pets 2 won its June 7 opening weekend over Dark Phoenix, but so could the dirty socks in your hamper. Critics' reviews were mixed, but that doesn't matter as much as the fan response and fans graded Pets 2 high. It actually has a higher audience score than the first movie, which made a lot more money. And it has been three years since the first movie came out, with no other sequels, so I'd argue franchise fatigue wasn't the main issue. It may be one factor, though, since there wasn't exactly a huge call for a follow-up in theaters.
I'd also put Godzilla: King of the Monsters here. It got some negative reviews, but its 40% rating isn't exactly dismal, and fans liked it with an 84% rating. It managed to win its opening weekend but its $47.7 million opening was way down from Godzilla's $93 million. Is that a bad sign for Godzilla vs. Kong, which is still to come next year? I still see a lot of excitement for that, so I'm going with the theory that there was just too much competition for Godzilla to properly shine at the end of May.
The MonsterVerse is also judged by a different metric than, say, the John Wick franchise. John Wick 3 has only made $148.6 million domestic so far, and $127.5M at the foreign markets, but that's far and away the best for the John Wick franchise to date. John Wick will make money from that, unlike so many of these big-budget behemoths. Like Godzilla 2, which has made $93.6 million domestic so far and $245.8 million foreign -- a lousy gross compared to the $529M total for Godzilla and $566.6M worldwide for Kong: Skull Island.
I'll Wait Until It Comes Out On Digital/Netflix/HBO/Redbox/Other
The entire domestic box office is down 6% from this time last year, according to Business Insider, and that's despite the huge number of choices at the theater. People don't seem to be spreading their money out across the many -- too many? -- theatrical options so much as skipping the cinema altogether.
When I posted something on Dark Phoenix's record low X-Men opening, I included a poll asking fans to grade the movie if they'd seen it and -- if not -- asking if they did plan to eventually see it in theaters. One person responded by saying the survey needed a "Waiting for it on Netflix" option. Fair point.
I'm usually in this group myself, if I'm honest. As much as I love the theatrical experience, it takes a strong sell to get me out the door. You need a zeitgeist movie in the realm of what Ron Howard is talking about over here to get me to spend time and money at the cinema.
It doesn't help that I live in a rural area and it takes me at least half an hour to get to a theater. It also doesn't help that I have a lot of streaming and viewing options at home, which makes me lean toward just waiting for a digital release, a Netflix release, watching it on Amazon, or waiting for HBO to pick it up, among other options.
I know I'm not the only one in that same boat, and it may actually be the most common situation. I raced out to see Avengers: Endgame opening weekend, and I'm on the Keanu Reeves John Wick 3/Toy Story 4 buzz train like so many others. But I still haven't seen Godzilla 2 yet. I want to! The trailers looked great. I'm all about a monster showdown. But I just haven't been able to get out and see it and I may miss my chance in the theater.
Toy Story 4 is set to arrive this Friday, June 21 to add itself to the Disney/Marvel movies that have survived the 2019 sequel slump. It will almost certainly not underperform. With 100% fresh rating on Rotten Tomatoes, and a ton of buzz going into the weekend, it only remains to be seen how high it opens, and how much money will be left for the Child's Play reboot opening the same day.
What reasons would you give for so many franchise movies underperforming at the box office in 2019? Keep up with everything still to come with our 2019 movie schedule.
Your Daily Blend of Entertainment News
Gina grew up in Massachusetts and California in her own version of The Parent Trap. She went to three different middle schools, four high schools, and three universities -- including half a year in Perth, Western Australia. She currently lives in a small town in Maine, the kind Stephen King regularly sets terrible things in, so this may be the last you hear from her.