Bond 25 Has Reportedly Cast A Captain Marvel Actress As A Female 007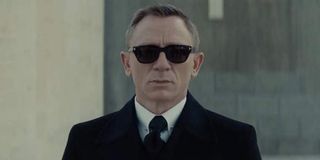 Bond 25 is still currently coming together, although we've known for a while it was planned to be the movie that would say sayonara to Daniel Craig's iteration of the character. Now, it's looking as if the studio is really going to shake and stir up this franchise, adding a new character into the fold. In fact, the news seems to indicate a Captain Marvel actress may be the new 007.
Captain Marvel's scene-stealer Lashana Lynch reportedly has been handed the role of 007, but there's a twist. Reportedly, we'll be meeting Lashana Lynch's version of 007 during the still-untitled Bond 25. While that seems pretty straightforward, it won't be really.
We know the general plot of Bond 25 features a retired James Bond living in Jamaica. While full plot details have not been released yet, given Bond is retired, his 007 number has been handed off, in this case, to an MI6 agent who is allegedly played by Lashana Lynch.
Although Daniel Craig will still be the hero of Bond 25, it's pretty interesting casting if the report holds true. Basically Lynch will be playing what seems to be a Bond girl, but with the 007 moniker. (Or, as they are allegedly calling it on set, "a Bond woman.")
Per the Daily Mail – and possible spoilers – the audience will get a scene featuring M saying 'Come in 007,' and in will walk Lashana Lynch. James Bond will be a little more than friendly with the new 007, but she'll allegedly rebuff his advances.
We've seen women in the Bond universe do field work before. Notably in this version of Bond Moneypenny used to do field work, although a mistake led her back to the office. However, seeing a badass black woman take on the 007 moniker, even if only briefly, should be interesting fantasy casting for some.
If the crew had been able to keep it secret, it probably would have been quite the big moment onscreen. As it stands, if this report holds true, there will likely be some debate as to whether 007 can be a woman and whether or not the race of the character should matter as the franchise moves forward without Daniel Craig.
It's interesting because previously, Idris Elba – who has been a name often bandied about to potentially be the next 007 – has spoken out about how he feels "disheartened" realizing some people don't think he could play James Bond because he's a black man.
An official, longterm replacement for James Bond has not been announced yet. Reportedly signing on the British actress came down the pipeline from Killing Eve's Phoebe Waller-Bridge, who reworked the script for Bond 25. Waller-Bridge has previously said the new movie will "treat women properly."
What is clear about the reported casting is that Lashana Lynch can play a badass onscreen. In Captain Marvel, she plays Carol Danvers' pal Marie Rambeau, a single mother and a fellow female Air Force pilot. Switching from flying planes in a man's world to spying in a man's world shouldn't be too much of a problem for the British actress.
The scene in question should play out when Bond 25 finally hits theaters on April 8, 2020.
Your Daily Blend of Entertainment News
Reality TV fan with a pinch of Disney fairy dust thrown in. Theme park junkie. If you've created a rom-com I've probably watched it.