This Rotten Week: Predicting The Lion King Reviews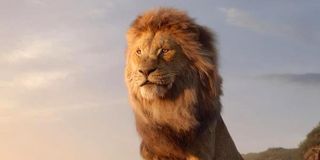 We've only got one movie hitting the silver screen this week, but for all you Disney-philes out there, this one is really going to really hit the mark. (Well, for some of you, anyway.) Simba, Timon, Pumbaa and the rest of the gang are back to watch the dollars roll in anew. Get ready for Jon Favreau's update on The Lion King!
Just remember, I'm not reviewing this movie, but rather predicting where it'll end up on the Tomatometer. Let's take a look at what This Rotten Week has to offer.
25 years ago, the original Lion King inspired generations of parents to proudly lift newborn babies over their heads and scream-sing at the top of their lungs: "Nants ingonyama bagithi baba, Sithi uhm ingonyama!!!" (That's exactly how you sing it, right? Because those are the lyrics.) Now, on the animated Disney classic's silver anniversary, a whole new set of moms and dads have a chance to introduce their kids to the "live-action" version of The Lion King.
The entire Disney catalogue is apparently going in this direction, repurposing the hand-drawn classics with humans and/or a ton of CGI characters in the lead roles, so don't expect the trend to stop anytime soon. We've already gotten Beauty and the Beast, Dumbo and Aladdin in recent years, with The Little Mermaid and presumably a bunch of others down the pike.
Director Jon Favreau already has one of these conversions under his belt with The Jungle Book (95%), which was a universal hit. This latest though is coming with mixed feelings, however. Through 123 reviews, the Tomatometer sits at a mostly unimpressive 59%.
Critics seem to be just generally unimpressed with the lack of uniqueness surrounding the remake, saying it mirrors the original almost too much, leading to a lack of originality. I suppose this is a tough needle to thread when it comes to revamping a film telling such a singular story. It might also be a case argument that not everything needs a modern-day revision.
Recapping last week:
Last week left something to be desired from my predictive talents. One flick was a win, but the other was a major miss. Let's start on the latter first with Alexandre Aja's Crawl (Predicted: 35% Actual: 88%), which ended up knocking it out of the park with critics. Frankly, I'm stunned by this final tally, considering the premise, but I cop to being way, way off with my score. Critics appreciated the plot's silliness and thought it nailed what it was trying to be: a predator movie in a basement during a hurricane, and little else. It's no easy feat to take this kind of flick and turn it into a huge critical win, especially with a real hurricane on the way, but Alexandre Aja did it, and I was more than 50 percentage points off.
Meanwhile, Stuber (Predicted: 39% Actual: 46%) landed in range, though admittedly I had something of a head start with that prediction. Most critics agreed the movie was "dumb," which was the near-universal opinion from everyone, with the movie finishing in the middle. It all depended on whether critics forgave and accepted its dumbness, or if they found it unbearable, which ended up being the theme of most of the reviews. The movie only brought in around $8 million domestic, so it won't be a huge box office win either.
Next time, we've got Quentin Tarantino's Once Upon a Time in Hollywood ready to wow everyone. It's gonna be a Rotten Week!
Doug began writing for CinemaBlend back when Terminator: The Sarah Connor Chronicles actually existed. Since then he's been writing This Rotten Week, predicting RottenTomatoes scores for movies you don't even remember for the better part of a decade. He can be found re-watching The Office for the infinity time.