That Time Avengers: Endgame's Cassie Lang Got In Trouble By Marvel Security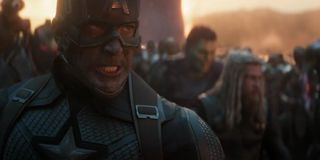 You can't really question the size and scope of the Marvel Cinematic Universe. With 23 films down and countless more to go, the expansive and expensive shared universe has now become one of the biggest film franchises in the world. But with that clout comes the need for secrecy. Fans and journalists alike go nuts when something, anything slips from behind the scenes of a Marvel Studios production.
For those directly involved with the movie, though, there's a responsibility to keep zipped lips and neutral expressions when asked about the films. Emma Fuhrmann, who played Cassie Lang in Avengers: Endgame, found out what happens when anything is given away.
During an interview with Comicbook.com, Emma Fuhrmann related her experience with Marvel's head of security, saying the following when asked if she had a 'pinch me' moment about working on a Marvel movie:
It sounds like even having Marvel's head of security wasn't enough to curb Emma Fuhrmann's excitement when she realized how big Avengers: Endgame was (and still is). I mean, can you really blame her? How would she have known that tagging herself in Atlanta would've earned her a visit from Disney's watchdogs? Still, this is important information to know for future Marvel actors to know: tagging your location during the filming period is a no-no.
To accurately depict Scott Lang's daughter after the five-year period between The Snap/Blip and the majority of Avengers: Endgame (which resulted in The Blip), Marvel needed a new Cassie. Emma Fuhrmann took over for Abby Ryder Fortson, who portrayed a much younger Cassie in the first two Ant-Man movies. That means that if we get an Ant-Man 3, Fortson won't be returning to that role. That's a shame. She absolutely killed the part.
You can catch Emma Fuhrmann in Avengers: Endgame. With the re-release leaving theaters soon, now is as good a time as any to catch her brief appearance in the film. The movie hits Digital HD on July 30, and Blu-ray and DVD on August 13.
Your Daily Blend of Entertainment News
Thank you for signing up to CinemaBlend. You will receive a verification email shortly.
There was a problem. Please refresh the page and try again.