Avengers 4 Casting Rumor Raises A Big Question About When The Story Takes Place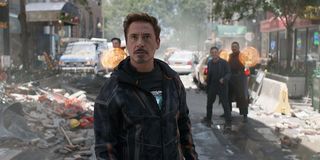 Because Avengers: Infinity War and Avengers 4 are closely connected to each other (they shot back-to-back last year), Marvel has stayed relatively tight-lipped about the latter movie. Aside from learning which actors will appear in Avengers 4, no official information has come out about what's in store for the final installment of the Marvel Cinematic Universe's Phase Three. However, unofficial reports and rumors have started to paint a picture of what we might see in Avengers 4 next year, and a new rumored casting has us wondering if the movie takes place years after Infinity War.
Like his comic book counterpart, Paul Rudd's Scott Lang, a.k.a. the current Ant-Man, has a daughter named Cassie, who was played by Abby Ryder Fortson in the first Ant-Man movie. Fortson is reprising Cassie Lang later this year in Ant-Man and the Wasp, but according to That Hashtag Show, Emma Fuhrmann, whose credits include The Good Guys, The Fandango Sisters and Blended, is playing Cassie for some scenes in Avengers 4. What makes this more interesting than your average recasting is that Fuhrmann is 16 years old, while Fortson is 10 years old. So if Fuhrmann has indeed been cast as Cassie, that means we'll be seeing a teenaged version of her, and thus that Avengers 4 doesn't pick up immediately after Infinity War.
With Avengers: Infinity War a little over a week away, we're still in the dark as to how that movie sets the stage for Avengers 4. Do our heroes stop Thanos from obtaining the Infinity Stones, or does the Mad Titan successfully end up wiping out half the life in the universe? We don't know yet, but certain reports from last year, such as Black Widow fighting Yakuza and Hawkeye taking the Ronin identity, have implied that some MCU characters will go through notable changes. This tends to happen when years pass, so looking through that lens, meeting an older Cassie Lang makes sense. Perhaps this also means that the older Cassie will be a superhero like she is in the comics, going by either Stature or Stinger.
It's worth mentioning, however, that it may not be a simple time jump where Avengers 4 is concerned. Last year, set photos popped up showing major moments from MCU being recreated. That led to speculation that the movie would include time travel, though directors Joe and Anthony Russo later implied that it's actually Tony Stark's B.A.R.F. technology that's responsible for these scenes. However, that still doesn't necessarily remove time travel or any other kind of temporal shenanigans from the table. After all, the Time Stone is certainly capable of transporting someone to the future, so maybe one or several characters in Avengers 4 are tossed forward in time, and seeing how the future turned out, try to go back to the present to change the timeline.
Let's also not forget that like Hawkeye, we don't know anything about Ant-Man's role in both Avengers: Infinity War and Avengers 4, although one of last year's set photos showed Paul Rudd suited up as the shrinking/growing superhero next to a S.H.I.E.L.D. jumpsuit-wearing Tony Stark. If Ant-Man and the Wasp is actually set before Infinity War, perhaps the Ant-Man sequel somehow sees Scott being trapped in the Quantum Realm, and when he finally breaks free at the end of Infinity War or Avengers 4, many years have passed. Eventually he would cross paths with his daughter as a teenager, but like in the previously-mentioned time travel scenario, he has to figure out a way to get back to the present day.
This is all just speculation, of course, so keep checking back with CinemaBlend for more news about Avengers 4, which opens on May 3, 2019. We'll get a better idea of what that movies has to offer once Avengers: Infinity War is released on April 27.
Connoisseur of Marvel, DC, Star Wars, John Wick, MonsterVerse and Doctor Who lore. He's aware he looks like Harry Potter and Clark Kent.
Your Daily Blend of Entertainment News
Thank you for signing up to CinemaBlend. You will receive a verification email shortly.
There was a problem. Please refresh the page and try again.