Deadpool Creator Says The Threequel Will Happen 'Soon'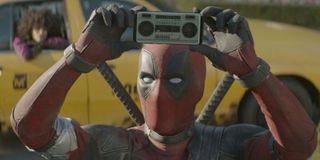 With the Disney/Fox merger most fans have been wondering what it all means for the future of the Marvel Cinematic Universe. Reboots of the X-Men and the Fantastic Four are expected to come along at some point, but what about the one character we don't expect to be rebooted? What exactly is happening with Deadpool?
Following two successful films and an assurance from Disney that the new owners aren't going to mess with the Merc with a Mouth, what exactly does the future hold for for the character? We don't know for sure but Deadpool's co-creator Rob Liefeld says that a third Deadpool movie will be on the way, and it's coming soon.
Rob Liefeld doesn't say anything else on Twitter beyond, "soon" so we have really no idea what that means. It seems pretty obvious that a third Deadpool film was in the cards following the success of the first two, but there was no real movement on the idea by Fox even before things became hazy following the Disney merger.
Part of the reason for that is that the plan, as far as it was understood, was that before we got a Deadpool 3, we were supposed to get an X-Force movie. Although, the last we heard about that, also from Rob Liefeld, was that Disney had killed that idea.
It now sounds like maybe the X-Force project was cancelled in favor of a Deadpool 3 movie, if that is now the movie that we're going to get soon. A few months back Ryan Reynolds revealed that early work on the idea was underway. If a script is currently being actively worked on, then it's certainly possible that something ready to shoot could be ready this year. We could then turn around and see a movie maybe as soon as the summer of 2021.
Here's an interesting thought. What if one of the "Untitled Marvel" projects currently sitting on Disney's release calendar is on hold for Deadpool 3? If that's the case, we could get some indication of the plan as early as this weekend, as Marvel is set to take the stage at San Diego Comic-Con Saturday night.
Of course, it's also possible that, even if a script is being worked on, Disney is in no hurry to move forward with Deadpool right now. It seems clear that the rest of the Fox properties are not going to be rushed into the Marvel Cinematic Universe.
Deadpool might be an exception, it's unclear how much a part of the MCU Deadpool might actually be. He was only ever tangentially related to Fox's X-Men universe to begin with, but if there are any plans to connect him, it could mean Marvel Studios needs to find the right way to work him in.
At the same time Disney probably doesn't want to wait too long. Deadpool is incredibly popular. There's a reason that he's the only character looking to make the Disney transition unchanged, and if you wait too long on Deadpool 3 fans might end up forgetting about him.
If Deadpool 3 is truly happening soon then we will likely get official word of it, one way or another, before too long. One of the highlights of both Deadpool films has been Ryan Reynolds promoting the movies in character, and you can be sure he'll be doing the same with any future third installment, so Disney isn't going to keep this secret any longer than necessary.
CinemaBlend's resident theme park junkie and amateur Disney historian. Armchair Imagineer. Epcot Stan. Future Club 33 Member.
Your Daily Blend of Entertainment News
Thank you for signing up to CinemaBlend. You will receive a verification email shortly.
There was a problem. Please refresh the page and try again.