Kevin Feige Hints Marvel Phase 5 Will Bring In X-Men And Fantastic Four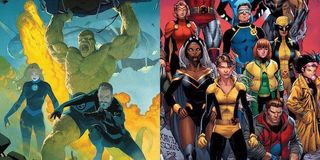 A celebrity producer and powerhouse creative lead, MCU architect Kevin Feige is almost unmatched in his ability to create solid visual stories that awaken us in ways we may feel but not understand. His most recent MCU producing credit, Spider-Man: Far From Home, spoke to the teenage struggle through believable interactions, fun, sometimes intense story arcs, and themes that resonated with our younger selves. It's astounding. Even more impressive, though, is his ability to tease just enough to satisfy. He never gives fans too much or too little and always ensures that when he steps onstage, he makes it worth it. That's what happened at the 2019 San Diego Comic-Con, where Feige not only announced the entirety of Phase 4, but teased what Phase 5 may bring.
Among the titles, footage, and bombshells dropped in the celebrated convention's famous Hall H were the reveals of a Blade reboot, footage from the upcoming Black Widow film, the official title for Thor 4, and, more incredibly, the not-so-subtle name drops for MCU versions of the X-Men and the Fantastic Four. Whoa.
Here's what Kevin Feige said during the Marvel Studios panel, which CinemaBlend was lucky enough to attend:
Acquiring the rights to both properties has been quite the challenge for Disney and Marvel Studios. When the Disney/Fox merger finally did happen, people wondered whether or not it was a matter of one year or five before the studio formally announced anything. While Feige's above comments technically aren't official confirmations, they are still pretty solid indicators of some kind of plan to include both teams in the MCU. He either would have shot down the rumors quickly or not said anything at all if he didn't want fans thinking about his plans. But still, we wait. Patiently (kind of).
And while we wait, we may as well start getting excited for what has been announced. Lookin' at you, Doctor Strange 2. There's certainly plenty to chew on, and Marvel has us exactly where it wants us: kinda clued in but kinda not at the same time. It's a frustrating place to be, but it's served the studio well and allowed Kevin Feige and company to surprise us in fun, spirited ways.
Keep your eyes on our newsfeed for any new developments or updates regarding the MCU, Feige, and what's next for the superhero genre.
Your Daily Blend of Entertainment News
Thank you for signing up to CinemaBlend. You will receive a verification email shortly.
There was a problem. Please refresh the page and try again.