Black Widow Comic-Con Footage Shows Off Amazing Action And Taskmaster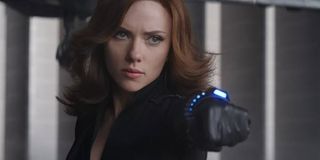 Today was a massive day for Marvel Studios, as they entered Hall H at San Diego Comic-Con to announce a huge portion of their upcoming slate. This this a collection of projects that includes Eternals, Shang-Chi And The Legend Of The Ten Rings, Thor: Love And Thunder, and Doctor Strange And The Multiverse Of Madness… but before any of those films arrive in theaters the company has something special in store for May 2020. Following her Marvel Cinematic Universe debut in 2010's Iron Man 2, Black Widow is getting her own solo feature next year, and Marvel decided to celebrate that fact by delivering some first look footage to the convention crowd.
Black Widow has only been in production for about a month now, but director Cate Shortland and stars Scarlett Johansson, David Harbour, Florence Pugh, O-T Fagbenle, and Rachel Weisz still had something to show off when they took the Hall H stage this afternoon. And while that footage won't be officially released, we have all the details for you here:
The reel began with a quick look back at Black Widow's history in the Marvel Cinematic Universe, featuring a voiceover from the character with lines from past movies, and the montage concluded her last scene in Captain America: Civil War – which you may remember taking place shortly after Natasha helped Captain America and The Winter Soldier escape from Team Iron Man at the Leipzig/Halle Airport. The decision left the former Russian assassin as a Sokovia Accords-breaking fugitive (Tony Stark telling her that "they" will be coming for her), and it looks like the new film will be picking up shortly after that point in the canon timeline.
Cutting to scenes from the actual Black Widow movie, the footage started with a cityscape shot and the word "BUDAPEST" in big letters across the scene (which got a nice reaction from the Hall H crowd thanks to the past mention of the city in The Avengers). We see Natasha walking along the street until she gets to a building, and when she enters she takes the elevator up to a higher floor. She approaches a door with her gun drawn, and as she makes her way into what turns out to be an apartment she starts calling out to the person who lives there. It turns out that the place belongs to Yelena Belova (Florence Pugh), who is very aware of Black Widow's presence, and you can see from the expression on Natasha's face that the Avenger is not exactly excited about a confrontation with her.
The two women have a brief back and forth as Black Widow skulks through the place ("So will we talk like grown-ups?" "Is that what we are?") until they are finally face-to-face – both pointing a gun in the face of the other. The standoff finds them slowly backing into the apartment's kitchen, and in a flash the fight is on. It begins with them each grabbing for the other's gun, which results in them actually trading weapons, but they don't actually get to fire off a single round as things quickly get physical. Natasha and Yelena not only exchange blows, but start throwing each other all around the kitchen, smashing cabinets, flatware, and knick-knacks as they do battle. As they continue they each trade getting the upper-hand. At one point Natasha has her opponent pinned to the sink while forcibly gagging her with a towel, but Yelena manages to escape by smashing a plate over the hero's head.
Exiting the kitchen, the fight then moves into the living room and continues to be totally brutal, with Yelena now attacking with a chef's knife at striking wildly at her sparring partner. They get close to a window and a curtain is pulled from its rod to be utilized by both of them. They both wind up on the floor trying to choke each other out with the same piece of fabric.
The good news for both of them is that things don't stay too intense for too long. We don't get to see how exactly the fight concludes, but the Black Widow scene eventually gets to a point where Yelena is pouring drinks for both of them, Natasha saying, "You just had to come to Budapest, didn't you?"
From there we got to see an impressive montage, with motorcycles and chase sequences. In voice-over, Black Widow explains that she has a very specific skill set, and delivers a line that will be familiar to Avengers fans: "I've got red in my ledger, and I'd like to wipe it out."
Lastly, the footage presented a scene at night outdoors, with Natasha surrounded by fiery destruction as a dark figure approaches. While it's not entirely clear exactly who it is at first, the identity of the character becomes very clear as we see both his sword and metal mask. This is the comic book villain Taskmaster, who has the ability to instantly copy the fighting style of any opponent that he is facing. This is shown in the clip, as Black Widow fights him and mirrors her every move.
Sadly it was not revealed exactly who will be playing Taskmaster, or exactly what it is that Black Widow is doing in Budapest, but even without that information the material shown was definitely impressive. In its brutal, gritty look, the fight choreography is reminiscent of Captain America: The Winter Soldier (which arguably has the best action of all the movies in the Marvel Cinematic Universe so far), and it definitely drove the audience in Hall H wild.
Hopefully it won't be too much longer until the public gets to see this material and more from Black Widow, as it is the title that is set to kick off Phase Four next year when it is released on May 1, 2020. It goes without saying that we will be perpetually keeping an eye out for the next few months, but even beyond that be sure to stay tuned here on CinemaBlend for tons more coverage.
Your Daily Blend of Entertainment News
Assistant Managing Editor
NJ native who calls LA home and lives in a Dreamatorium. A decade-plus CinemaBlend veteran who is endlessly enthusiastic about the career he's dreamt of since seventh grade.
Your Daily Blend of Entertainment News
Thank you for signing up to CinemaBlend. You will receive a verification email shortly.
There was a problem. Please refresh the page and try again.