10 Movies Leonardo DiCaprio Almost Starred In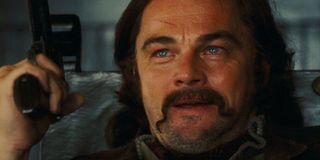 As a former child star-turned-major league superstar, with more than thirty years of professional acting experience under his belt, Leonardo DiCaprio is one of the most prolific working actors in Hollywood, and he provides his newest leading role in Quentin Tarantino's much-anticipated ninth movie, Once Upon A Time In Hollywood. He didn't become an Oscar-winning mega-star overnight; it took a lot of hard-work in high-profile films for him to excel.
Whether it's Titanic, The Wolf of Wall Street, Django Unchained, The Aviator, The Departed, The Revenant, Catch Me If You Can, Blood Diamond, The Great Gatsby, Gangs of New York, Inception or any number of other high-profile roles, Leonardo DiCaprio has continued to establish himself in many different films, and it's all-the-more impressive what he has accomplished when you consider the high volume of roles and films he had to turn down.
For every memorable performance he brought to the screen, there are at least half a dozen roles he turned down — for any variety of reasons. Let's take a look at the most noteworthy films that Leonardo DiCaprio didn't appear in, and the various different explanations for why things didn't work out.
Inglorious Basterds (2009)
While Leonardo DiCapario has established a working relationship with writer/director Quentin Tarantino in recent years, giving one of his best performances to date in Django Unchained and playing one of the lead roles in the filmmaker's new film, Once Upon A Time In Hollywood, there was once a point in time when DiCaprio was sought to play Col. Hans Landa, the main antagonist, in a role that since iconized by Christoph Waltz.
As the Nazi colonel who hunted down our title gang of soldiers in this alternate history take on World War II, Hans Landa would've certainly been a departure for Leonardo DiCaprio, playing a charismatic-yet-deeply-sinister foe for our lead Nazi-hating heroes. But Quentin Tarantino was interested in the actor playing the villainous part before he decided that it would be better for a German actor to play the role. Clearly, this was the right decision. Christoph Waltz's work was unmatchable, and it's hard to imagine anyone else playing the part. Tarantino later noted that Waltz "gave him" his movie.
Spider-Man (2002)
These days, we're used to a number of different actors playing the part of Spider-Man. Whether it's Tom Holland, Andrew Garfield or Tobey Maguire, we have seen many variations of the Web-Slinger on the screen. But what if Leonardo DiCaprio don the tights? It's kind of hard to imagine, but there was once a point in time where Leonardo DiCaprio was in consideration to play Peter Parker himself in one version of Spider-Man.
James Cameron was planning to direct Spider-Man in the '90s, being the first filmmaker to ever bring the Web-Slinger to the big screen. (Can you imagine a time so simple?) Alas, his version of the famous Marvel superhero never came to pass, with Sam Raimi taking the reigns of the project and casting Tobey Maguire in the lead role. But in an interview with Empire, Leonardo DiCaprio claims that his Titanic director was interested in having the young actor star in the film, and he claims there was a screenplay, but little else. DiCaprio ultimately claims that his career "would have changed" if he decided to play Spidey, though one has to wonder if that would be true. Alas, we'll never know for certain.
The Matrix (1999)
Much like Will Smith, there was once a point in time where Leonardo DiCaprio was considered for the lead role of Neo in The Matrix. You have to remember that there were a number of big name stars being considered for this role, including Brad Pitt. With Titanic coming out only a couple years earlier, it makes perfect sense that both Warner Bros. and The Wachowskis would be interested in this young superstar leading their major sci-fi film.
Alas, it wasn't meant to be. According to Elite Daily, Leonardo DiCaprio allegedly had major concerns about the number of visual effects required for the film, perhaps believing that it'd either take away from his performance or become too daunting to ever reach completion. Instead, Keanu Reeves took on this lead role, and it gave the John Wick actor's career a major boost during a pivotal point in his life and career. It all worked out.
Star Wars: Episode II - Attack Of The Clones (2002)
It's rare that you find an actor who is willing to turn down a lead role in a new Star Wars movie, but Leonardo DiCaprio is not your average, ordinary actor. When it came time to bring adult Anakin Skywalker's story to the big screen, there were several actors in consideration for the role. One of them being Leonardo DiCaprio, which makes sense given the actor's ability to portray sorrow, lust, anguish and deep, fiery anger. He might've been a good fit.
But apparently, Leonardo DiCaprio didn't want to do it. While he sat down with George Lucas to discuss the part, he explained in an interview with ShortList magazine that he didn't feel he was "ready to take that dive at that point," and he ultimately passed on the role. Hayden Christensen was the actor who was ultimately chosen to play the future Darth Vader, and when you consider the amount of vitriol he gets on a regular basis, maybe it was the right call for Leo to pass on the part. Though one wonders what Anakin Skywalker would've been like had Leonardo DiCaprio said yes.
American Psycho (2000)
For many moviegoers, American Psycho was their introduction to future Oscar-winning chameleon of an actor, Christian Bale. But if fate wound up differently, Leonardo DiCaprio would've taken on the role of Patrick Bateman in the 2000 film adaptation of Bret Easton Ellis' best-selling novel. As it was reported by The Huffington Post, director and screenwriter Mary Harron was interested in Bale for the lead role, but the studio wanted Leonardo DiCaprio. They temporarily fired the director for the project and hired DiCaprio for the part. Eventually, things did turn back around again.
While Mary Harron was deadset on having Christian Bale in the role, Lionsgate reportedly felt that the British actor wasn't a big enough name, and they wanted Leonardo DiCaprio to bring in a wider audience. The original filmmaker and a producer felt DiCaprio wasn't right for the part, but the studio fetched a number of other directors, including Tim Burton and Oliver Stone. But DiCaprio ultimately disagreed with Stone, and he decided to make Danny Boyle's The Beach instead. This casting change invited Mary Harron to return to the director's chair, and it allowed Bale to play the part.
Batman Forever (1995)
Can you imagine a scenario where Leonardo DiCaprio played Robin in a Batman movie? Apparently it almost happened, depending on who you ask. While there were reports claiming that DiCaprio was being heavily sought out for the part in 1995's Batman Forever, including a screen test, the actor claims in the Shortlist magazine interview that he never got a screen test, but he met with director Joel Schumacher to discuss the hit superhero film.
However, while Leonardo DiCaprio was quick to praise Joel Schumacher as a "very talented director," the actor didn't feel comfortable taking on the role. He claims he had little interest in it to begin with, and while he went to the meeting for pleasantries sake, he felt no strong desire to participate in this film. Ultimately, the role of Robin went to Chris O'Donnell, who would also reprise the role in Schumacher's ill-fate Batman & Robin. Ultimately, it seems that Leonardo DiCaprio made the right call this time. After all, he might not have taken the role in Titanic if he'd been stuck in these movies.
Boogie Nights (1997)
Dirk Diggler is one of Mark Wahlberg's most acclaimed and revered performances, but it was almost Leonardo DiCaprio who starred in the lead role in Paul Thomas Anderson's masterful three-hour, rise-and-fall porn saga epic, Boogie Nights, from 1997. As you would expect, the production would be a big commitment for any actor, let alone Leonardo DiCaprio, and with the production of the movie often on uncertain terms at times, it wasn't to be.
While some might assume that Leonardo DiCaprio turned down the part because the porn elements might possibly go against his teen heartthrob image at the time, it sounds like DiCaprio was interested in the film, but he ultimately decided to make Titanic. While that movie's production wasn't much smoother, it was the movie that DiCaprio felt more inclined to make. And obviously, it worked out in the end. Boogie Nights was a tremendous showcase for Mark Wahlberg's early acting chops, while Titanic remains the biggest hit of DiCaprio's career. And while there were mumblings about a potential feud being born between Wahlberg and DiCaprio due to the casting of this particular film, the record has since been shown that it's all false.
Interview With The Vampire (1994)
After the tragic circumstances surrounding the late River Phoenix's untimely death, the role of Malloy, i.e. The Interviewer, in Neil Jordan's Anne Rice adaptation, Interview with a Vampire, was left open. There were several actors being considered for the role, and reportedly, Leonardo Dicaprio was one of the actors in the running for the part in the major vampire fable. That said, just like a number of other actors, Leonardo DiCaprio didn't get the part.
It was ultimately Christian Slater who was cast to play the part in the film opposite Brad Pitt, Tom Cruise and a young Kirsten Dunst. It's not entirely clear what happened with Leonardo DiCaprio, but it sounds like he declined the part more than he was passed over. In any case, while DiCaprio did not end up appearing in this particular film, the actor did take River Phoenix's one-time role in 1995's drama Total Eclipse, in an odd turn-of-events.
The Talented Mr. Ripley (1999)
The Talented Mr. Ripley, Anthony Minghella's adaptation of Patricia Highsmith's well-acclaimed novel, is often considered one of Matt Damon's best performances. But in another timeline, if the stars had aligned in a different formation, it sounds like Leonardo DiCaprio would've gotten the chance to take on the part of the calculated young title character who takes to extreme measures during a trip to Italy in this cold, compelling character study.
There are always a number of actors considered for any one part, and it sounds like Leonardo DiCaprio was one of many actors who were in contention to play the role. Ultimately, the actor declined to take on the title role, leaving the invitation open to Matt Damon. It seems like some people have the luxury to turn down a work trip to Italy. If one we were all so lucky to have such luxuries in our life. But Leo certainly isn't a mere somebody. It should also be noted that Leonardo DiCaprio was also in contention for another Anthony Minghella movie, Cold Mountain, for the role Jude Law took.
Hocus Pocus (1993)
While Disney's Hocus Pocus might be more of a fan favorite than a critical darling, there is no denying that there are a ton of people who love this bewitching movie. And there's a good chance that they would love it even more than they do already if Leonardo DiCaprio took on one major role.
The young child star auditioned for the role of Max, and he reportedly left a big impression on director Kenny Ortega. However, the actor was too busy with a number of other movies to take on this role, and it ultimately went to Omri Katz. But if the producers had their way, it might've gone to Leo.
These are only a few of the movies Leonardo DiCaprio almost starred in, and there's a good chance he passed on the opportunity to appear in countless more movies. But if you do want to see Leo in his newest movie, check out Once Upon A Time In Hollywood, which opens in theaters tonight.
Your Daily Blend of Entertainment News
Will is an entertainment writer based in Pittsburgh, PA. His writing can also be found in The Playlist, Cut Print Film, We Got This Covered, The Young Folks, Slate and other outlets. He also co-hosts the weekly film/TV podcast Cinemaholics with Jon Negroni and he likes to think he's a professional Garfield enthusiast.