14 Massive Movies Brad Pitt Almost Starred In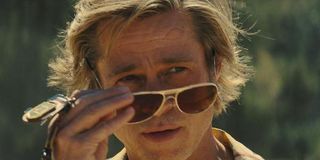 Brad Pitt could have been passed off as another one of Hollywood's pretty faces. Yet, he's crafted a thoughtful 30-year career that has roamed through all kinds of different projects, including the dramatic, hilarious, thought-provoking, action-packed and whimsical. Even still, the actor has had his share of roles he was looked at and ultimately rejected for and has also passed on a breadth of noteworthy movies over the years.
Oh, what could have been! Brad Pitt had the opportunity to star in a number of popular action franchises, cult classics, big-budget blockbusters and Best Picture winners, but they just weren't meant to be for the always-busy actor. Check them out!
The Bourne Identity
Just one year after starring alongside Pitt in the first of three Ocean films, Matt Damon took on his now-iconic role as Jason Bourne. The spy-thriller is based on the novel series by Robert Ludlum followed a mysterious man suffering from amnesia who starts to piece together his past connected to a covert CIA operation. The action flick spun five films over 14 years that grossed $1.6 billion at the worldwide box office.
After initially signing on to the film, Brad Pitt had to drop out due to scheduling conflicts with his film Spy Game with the now-possibly retired Robert Redford. Who knows? He might have preferred a one-and-done spy movie. Tom Cruise, Sylvester Stallone, Arnold Schwarzenegger and Russell Crowe were also among those considered for Jason Bourne, so he was in good company.
Almost Famous
Cameron Crowe's classic 2000 film based on his own teenage years as a writer for Rolling Stone magazine going on tour with rock bands in the '70s was originally supposed to include Brad Pitt alongside its impressive list of stars including Kate Hudson, Frances McDormand, Zooey Deschanel, Philip Seymour Hoffman and Jimmy Fallon. The actor was to play the role of Russell Hammond, who Billy Crudup ended up nabbing in the final version of Almost Famous.
Cameron Crowe reportedly wrote the guitarist likely inspired by Gregg Allman of the Allman Brothers specifically with Brad Pitt in mind and they worked together for months on crafting the character before Pitt said he just didn't "get it enough to do it" and dropped out of the project.
Heathers
In 1988, Winona Ryder and Christian Slater starred in a peculiar dark comedy about a teen who teams up with a sociopath to plot the death of the cool kids destroying her good reputation in her high school. It would have been Brad Pitt's first feature film if he'd been given the role of J.D. he did a table-read early in the film's development.
One of the film's producers, Denise Di Novi said she "didn't find anything extraordinary about him at all" of her initial impression of him but he has since grown into his talents. Other reports noted that they found Pitt to be "too sweet" for the dark character Slater ended up playing. The movie wasn't a box office hit, but has become a cult favorite and inspired a rock musical and a controversial TV series.
About A Boy
One of Hugh Grant's most endearing roles to date also almost was played by Brad Pitt. The actor apparently turned down 2002's About a Boy because he felt the movie's premise of an attractive man pretending to be a single father to pick up women was far-fetched. The actor still kind of made it into the movie as his face appears on the cover of an Esquire issue his almost-to-be role of Will Freeman reads in one scene.
The Oscar-nominated movie was more in the wheelhouse of Hugh Grant anyway. At the time, the British actor was on a roll, starring in successful rom-coms such as Notting Hill, Bridget Jones's Diary and Four Weddings and a Funeral. Pitt never really took on the genre despite its prominence during his rise to fame.
Kick-Ass
Besides a quick cameo in Deadpool 2 as the Vanisher, Brad Pitt never took on a superhero adaptation, but he was close to playing Big Daddy in 2010's Kick-Ass. The action-comedy poked fun at Batman with Nicolas Cage's hilarious role, alongside a young comic book fan who decides to become a superhero despite not having powers. The film also starred both Aaron Taylor-Johnson and Evan Peters, who went on to play Quicksilver in the MCU and X-Men movies.
Brad Pitt was a producer on Kick-Ass, with his good friend Matthew Vaughn (who directed, co-wrote and produced the movie) and was considered for Big Daddy. However, he decided to work with Quentin Tarantino on Inglourious Basterds instead.
Backdraft
Ron Howard's drama starring Kurt Russell and William Baldwin as firemen brothers with a problematic relationship may have marked a prior collaboration between Russell and Pitt, before their up-and-coming roles in Once Upon a Time in Hollywood but it wasn't to be! Pitt, Keanu Reeves and Robert Downey Jr. were all reportedly considered to play Brian McCaffrey, but Baldwin won out because he looked most convincingly like a relative to Russell.
The film was recognized for its use of special effects and successful in its 1991 box office numbers. The story revolves around the brothers being forced to face their problematic relationship whilst a dangerous arsonist terrorizes Chicago. It also starred Robert De Niro, Donald Sutherland and Jennifer Jason Leigh.
The Matrix
That's right! In some alternative reality, we'd associate Brad Pitt with the name Neo instead of Keanu Reeves. This is a strange one to imagine, Reeves helped make The Matrix iconic and propelled his career into the current Keanuissance we're living in today. Johnny Deep was reportedly the first choice for the Wachowskis, but Warner Bros. pushed for Val Kilmer or Pitt. When they both turned down the role, the studio placed young Reeves into the mix and he nabbed the gig over Depp thanks to his deep interest in the film's concept.
The film that follows a computer hacker finds out he's living in a simulated reality of a dystopian future, The Matrix is revered as one of the greatest sci-fi films of all time and it was a box office and cultural phenomenon when it came out in 1999.
Apollo 13
Brad Pitt was also considered for another one of Ron Howard's hits, 1995's Apollo 13. The docudrama based on the famous NASA mission of the same name and follows the astronauts on it played by Tom Hanks, Bill Paxton, Kevin Bacon and Gary Sinise. Over 20 years later, it's a space-set classic.
Brad Pitt was in the running to be on the mission but decided to turn it down to star in Se7en with Morgan Freeman and director David Fincher. Considering it's still one of his most iconic roles and it likely paved the way to work with Fincher again for Fight Club, this decision fared well for the actor. Pitt will get his turn in space in the upcoming film Ad Astra.
Sleepy Hollow
Surprisingly enough, Brad Pitt has circled a few more roles with Johnny Depp, including Tim Burton's 1999 adaptation of Sleepy Hollow. Burton and Depp are frequent collaborators, so much so that the actor has been in nearly half of the filmmaker's movies. Depp was Burton's first choice for the role and marked their third collaboration together.
At the insistence of Paramount, a few other talents were considered for the role of Ichabod Crane including Liam Neeson, Daniel Day-Lewis and of course Pitt. Seeing as Pitt's potential involvement would have been bending Burton's arm for creative freedom, I'm happy the fantasy adaptation turned out how it did.
Charlie and the Chocolate Factory
Brad Pitt could have played Willy Wonka too! Tim Burton's remake of Roald Dahl's beloved story went through tons of actor before the director once again went for his trusty partner, Johnny Depp. Nicolas Cage, Jim Carrey, Robert De Niro, Dwayne Johnson, Adam Sandler, Michael Keaton, Will Smith and Patrick Stewart were among those thought up for the mysterious candy man previously played by Gene Wilder.
However, the actor is still affiliated with the film since it was the last project under his and Jennifer Aniston's production company Plan B Entertainment before they filed for divorce. Charlie and the Chocolate Factory was only their second project and Plan B has gone on to produce a ton of other films, most recently with Vice and If Beale Street Could Talk.
American Psycho
Christian Bale's early work is defined by his unforgettable role as Patrick Bateman in 2000's American Psycho. Before the Batman actor carried the axe, Pitt was attached to an earlier version of the project with David Cronenberg as director and the author of the original novel penning the script. However, it never got off the ground.
Even before that, Johnny Depp (noticing a trend here?) was also set to star when Stuart Gordon was going to direct. Mary Harron ended up co-writing the script with Guinevere Turner and helming the chilling film about a banking executive who hides his psychopathic ego from his friends and co-workers.
The Shawshank Redemption
Though it wasn't a major box office success, The Shawshank Redemption is one of the highest regarded films of all time … and Brad Pitt could have had the key role of Tommy Williams back in 1994. The film based on one of Stephen King's stories follows the heartwarming tale of two imprisoned men who bond over the years in jail. Though the film was originally a box office disappointment, it was nominated for seven Oscars.
The role of Tommy was apparently originally "intended" for Brad Pitt, but he went on to do Interview with a Vampire that year instead. He got his chance to work with Morgan Freeman a year later in Se7en and gave Gil Bellows his most memorable role to date.
The Departed
Originally, Brad Pitt and Tom Cruise were supposed to co-star as Colin Sullivan and Billy Costigan in Martin Scorsese's 2006 crime drama about Boston cops. However, both ended up dropping out and Matt Damon took Pitt's role and Leonardo DiCaprio nabbedCruise's.
It marks yet another role Damon took over for Pitt as he moved to work with another auteur director, Alejandro G. Iñárritu for Babel, which earned him one of five of his Golden Globe nominations. DiCaprio's involvement also continued an ongoing collaboration with Scorsese. He'd just starred in The Aviator and would later work with him for two more projects and counting.
Titanic
Lastly, Brad Pitt could have starred in one of the highest-grossing and praised films of all time, James Cameron's Titanic. He along with Tom Cruise, Macaulay Culkin, Ethan Hawke and Matthew McConaughey were considered for the role of Jack, but ended up losing out to Leonardo DiCaprio who is now-iconic for the role.
James Cameron has said that when Leo came in for an interview, he noticed every woman in the building had come to the meeting, including the accountant and female guard. That's how he knew it had to be DiCaprio as the heartthrob involved in one of the most heartbreaking projects in cinema.
There are so many Brad Pitt movies that didn't pan out! Even still and without these roles, the actor has built an illustrious career. Which of these roles would you have liked to see Brad Pitt take on? Let us know in the comments below!