8 Movies Tom Cruise Almost Starred In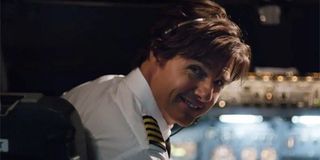 It's safe to say that Tom Cruise is one of the few genuine movie stars left working in Hollywood. In an age when that personal distinction is becoming an obsolete concept, replaced by reliances on pop franchises and recognized IPs, Tom Cruise is one of the few stars left in the business who can sell a project based solely on his involvement. There's a good reason why Cruise earned that clout throughout nearly four decades of acting experience: he's as hard-working as they come.
It's difficult to think of many actors who are as committed and dedicated to Hollywood's insanity as Tom Cruise. The A-list actor thrives on wild productions, giving audiences death-defying stunts, a multitude of thrills and a variety of dramatic moments throughout an eclectic variety of movies. But as dedicated as Cruise is to his craft, both as an actor and producer, there are a similar number of films — certainly more so — that he's turned down over the years for any number of reasons.
Tom Cruise may be a hard-working actor, the likes of which are often unparalleled in Hollywood (especially when it comes to practical stunts in a CG-invested cinematic landscape), he can't do everything. There are always going to be movies that have to get turned down, and some the films Cruise didn't make will probably surprise you, though maybe they shouldn't. Because we're talking about Tom Cruise here, ladies and gentlemen, one of Hollywood's last genuine stars. Now let's go over some of the roles that Cruise backed out of.
Iron Man (2008)
It's hard to imagine many actors other than Robert Downey Jr. at the forefront of Iron Man, Jon Favreau's trendsetter of a superhero movie that would pave the way for what we now know to be the Marvel Cinematic Universe, i.e. the MCU. The actor was cocky, witty, animated and willing to dig into his emotions, in a way that made the role a natural fit for the formally-troubled A-lister. The narrative arguably worked so well because it mirrored the road to redemption taken by its hard-wrought actor, and it's one of the many reasons why it wouldn't be the same if RDJ wasn't inside the suit.
But in 2008, Robert Downey Jr. was far from a guarantee when it came to being a potential box office draw. The working actor was still plagued by his reputation, and the studios were trying to explore different options for who could be a good fit for the part. Naturally, Tom Cruise's name came up. Here's how he explained it in 2005 to IGN, three years before the film's release.
The actor wasn't quite at the height of his box office powers in 2008, but he was still a big name. But alas, while Cruise was interested in starring and also producing an Iron Man movie, things didn't work out for the superstar.
The Shawshank Redemption (1994)
According to some folks, especially on Internet forums like IMDb, The Shawshank Redemption is not only one of the best movies ever made, but it might possibly be the best movie ever. It's a hard distinction to make, but there are a lot of people willing to take that stance for this particular film. It's a moving, sweeping character study with great performances, terrific direction and much more to celebrate.
But would it be the same highly praised film if Tom Cruise had taken on one of the lead roles? It's hard to know for sure, but there was indeed once a point in time when Cruise was considered.
As it was reported by the director of the film himself, Frank Darabont, there was a time shortly after A Few Good Men when Rob Reiner wanted to return to set with Tom Cruise. And he believed Shawshank Redemption would benefit both of their talents. He was willing to pay Darabont a "shitload of dough," as he claimed to Vanity Fair, in order to turn over the directing reigns to him. And while Frank Darabont was tempted, he ultimately declined, thinking the opportunity was too good to pass up.
Frank Darabont then cast Tim Robbins in the role of Andy Dufresne, the film's imprisoned protagonist, and it certainly worked out for the first-time director. The film received seven Oscar nominations, including one for Darabont himself, and as it was noted before, the movie is quite widely considered one of the best movies ever. There's a good chance that Rob Reiner's version might've worked, especially considering how some of his best movies were other adaptations of Stephen King's work, though it's hard to imagine Reiner's Shawshank Redemption being quite as well-regarded (and constantly on TNT) as this version.
Edward Scissorhands (1990)
One of Tim Burton's seminal films, Edward Scissorhands is arguably among the prolific director's top-tier masterpieces, and it benefitted enormously from the wonderfully sullen performance by young Johnny Depp. The role fostered a long-standing (and often joked about) working relationship between the filmmaker and the future A-list actor. But there was one point in time where Tom Cruise was considered for the emotionally stunted title character.
Since Edward Scissorhands was an early effort in Tim Burton's career, he still had to listen to the studio's whims and notes. Producers were interested in Tom Cruise playing the lead role, and so Tim Burton met with the actor. While Cruise was "interesting" for the part, Burton felt that it wasn't the best fit.
The reason? He thought Tom Cruise asked too many questions about the role of Edward Scissorhands, and Burton felt "you either do it or you don't do it." And because of his rabid curiosity, Cruise didn't do it.
Footloose (1984)
Tom Cruise memorably cut a rug in his tighty-whities for Risky Business, but there was one point in time when the A-list performer was sought to lose his blues on the dance (or grain mill) floor in the beloved teen movie Footloose. In fact, it was Cruise's work in that aforementioned coming-of-age drama Risky Business that made the producers of 1984's Footloose believe that he could play the lead teenager that convinces the "no dancing" town of Bomont, Utah to strut its stuff once more.
Regardless of whether or not Tom Cruise was genuinely interested in playing the part, it doesn't sound like it was going to be a possibility for the popular talent. At the time, Cruise was in production on Michael Chapman's sports drama All The Right Moves, which was yet another movie centered around a high school student. The actor's contract ultimately didn't allow him to make another movie at this time. In fact, you could probably say that they didn't let Cruise, ahem, cut loose.
Ultimately, however, the lead role of Ren went to up-and-coming star Kevin Bacon, and there are many folks out there who consider it among the most pivotal roles in the actor's career. If we didn't have Bacon in Footloose, would we be able to figure out how many degrees Tom Cruise is from other actors? I don't believe so. It'd break the connection.
Ghost (1990)
Among the late actor Patrick Swayze's most iconic roles was playing Sam Wheat, the deceased husband of Demi Moore's Molly Jensen, in Jerry Zucker's 1990 hit Ghost. But according to Swayze's autobiography, he was far from the first choice for the romantically charged role. In fact, the director's response to Swayze's potentially being cast in the romantic drama was the memorably blunt, "Over my dead body!" Whether or not that joke was intentional or not was a bit unclear.
In response to his dismay over Patrick Swayze being in this romantic role, a variety of other actors were being considered, including Kevin Bacon, Harrison Ford, Tom Hanks, Alec Baldwin and, you guessed it, Tom Cruise. The actor was coming off of Barry Levinson's Oscar magnet Rain Man, and had already filmed Oliver Stone's Born on the Fourth of July, which was released months after Ghost went into production.
Alas, for reasons that are left unclear, Tom Cruise and all of the other hopefuls were all passed over. It took a lot of pushback, but director Jerry Zucker eventually agreed to let Patrick Swayze audition for the role, and that audition evidently must have gone over well. Still, just picture Cruise in Ghost's iconic pottery wheel scene and try not to giggle.
A Beautiful Mind (2001)
In the early '00s, Russell Crowe almost won his second Oscar in a row for his leading role of the troubled real-life Nobel Prize-winning mathematician John Nash in Ron Howard's A Beautiful Mind. While it is one of Crowe's most well-regarded performances, this part of a highly troubled genius nearly went to Tom Cruise.
Indeed, before Ron Howard jumped into the director's chair, another actor-turned director, Robert Redford, was set to helm the film with Tom Cruise in the lead role. Ultimately, Cruise passed on this opportunity to reunite with his Jerry Maguire director Cameron Crowe and make the critically divisive film Vanilla Sky instead.
A short time later, Ron Howard became A Beautiful Mind's director, Russell Crowe became the star, and then the rest became history, as they often note. Though Crowe didn't win his Academy Award, Ron Howard won for Best Director, Akiva Goldsman won for Best Adapted Screenplay, and the film won for Best Picture. Vanilla Sky, meanwhile, got a Best Original Song nomination for Paul McCartney's titular track.
Donnie Brasco (1997)
Believe it or not, there was another noteworthy Johnny Depp character which almost went to Tom Cruise instead: the title role of Donnie Brasco. (On the opposite end of the spectrum from Edward Scissorhands, right?) At one point, Mike Newell's 1997 biopic was going to be helmed by Stephen Frears instead, and he was interested in having Tom Cruise play the role of the FBI agent who infiltrated the Mafia Bannano crime family by befriending a hitman played by Al Pacino.
While it seems that Tom Cruise was interested in the project, the pre-production process for Donnie Brasco was simply taking too long for Tom Cruise. He inevitably ended up dropping out of the drama that was loosely based on a true story, thus depriving the world of a potentially meaty Cruise-Pacino pairing.
Instead of making Donnie Brasco, which brought Johnny Depp in, Tom Cruise perhaps understandably opted to work on Stanley Kubrick's final film, Eyes Wide Shut. The fact that Eyes Wide Shut's 15-month production earned a Guinness World Record should be lost on no one. Whether this decision is for the better or for the worse in the long run. depends on how you feel about both Donnie Brasco and Eyes Wide Shut. (Personally, I love Eyes Wide Shut, but I know that's not a common opinion, especially against the broadness of Kubrick's oeuvre.)
Once Upon A Time... In Hollywood (2019)
In the 2019 release Once Upon A Time... In Hollywood, Brad Pitt reunites with director Quentin Tarantino ten years after their first collaboration, the war dramedy Inglorious Basterds. But there was one point when Pitt's character, stuntmen Cliff Booth, was possibly going to be portrayed by Tom Cruise, according to Tarantino himself. On a recent appearance on the podcast Happy Sad Confused, the director explained that there was a point where he reached out to Cruise.
Quentin Tarantino didn't make it explicitly clear why Tom Cruise wasn't able to star in the movie, though it quite possibly had something to do with his scheduling commitments for Top Gun: Maverick. In any case, Brad Pitt is currently garnering great reviews for his newest acting work in this new film, and Tarantino seems to be keeping an open mind about working with Cruise in the future.
Actors are extremely busy people, and when one is as big a star as Tom Cruise (which is admittedly rare), it's important to be selective when choosing career paths. It is clear that Cruise has been asked to play a multitude of roles in his career, and he has been seriously considered for more than a handful of big parts. Ultimately, these are some of the roles that could have been played by Tom Cruise in an alt-reality. If you know of any others that didn't get mentioned here, jot them down in the comments.
Your Daily Blend of Entertainment News
Will is an entertainment writer based in Pittsburgh, PA. His writing can also be found in The Playlist, Cut Print Film, We Got This Covered, The Young Folks, Slate and other outlets. He also co-hosts the weekly film/TV podcast Cinemaholics with Jon Negroni and he likes to think he's a professional Garfield enthusiast.