Once Upon A Time In Hollywood's Bruce Lee Actor Responds To Character Backlash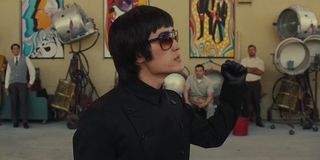 Warning: SPOILERS for Once Upon a Time in Hollywood are ahead!
Quentin Tarantino's Once Upon a Time in Hollywood may have collected a lot of positive reviews and be making a healthy amount of money at the box office (whether it breaks even is another matter), but as is typical for the filmmaker's work, it hasn't escaped controversy. One of the criticisms directed towards the movie is about its use of Bruce Lee, as last week, Lee's daughter, Sharon Lee, felt that her father came across as an "arrogant asshole" in Once Upon a Time in Hollywood.
Since then, there's also been backlash against how Bruce Lee loses a fight to Brad Pitt's character, Cliff Booth, but Mike Moh, who played Bruce in Once Upon a Time in Hollywood, felt that the scene did a good job of making him look more relatable. In Moh's words:
As a refresher, Bruce Lee appears in Once Upon a Time in Hollywood when Cliff Booth reminisces about the time he was a stuntman on The Green Hornet, the TV series that starred Lee as Kato. Bruce is bragging about how his hands are registered as lethal weapons, and Cliff is unimpressed with the martial arts legend's boasts. The two of them then agree to spar each other: Lee wins the first round by knocking Cliff to the ground with a kick to the chest, Cliff wins the second round by catching Bruce and slamming him into the side of the car, and the third round is interrupted by the understandably mad casting director.
As Mike Moh said earlier in his interview with Birth.Movies.Death, he felt conflicted when he read how the scene played out in the original Once Upon a Time in Hollywood script. But then he realized two thing: one, it's a Quentin Tarantino movie, so audiences need to expect the unexpected, and two, Tarantino is a huge Bruce Lee fan.
So looking at Once Upon a Time in Hollywood's Bruce Lee with all that on his mind, plus given how this was a match, meaning that Bruce and Cliff were tied, Mike Moh felt more comfortable with the material. Mike Moh also mentioned that in real life, Bruce "didn't always have the most affection for stuntmen," so it would make sense for someone like Cliff, who is also a talented fighter, to catch Bruce by surprise.
Although Bruce Lee does pop up briefly later on in Once Upon a Time in Hollywood training Sharon Tate for The Wrecking Crew, naturally it's this scene where he leaves the biggest impact, which is why it's been critiqued so much since the movie came out a little over a week ago. It should be noted that Sharon Lee's particular issues with her father's depiction in the movie didn't really involve the fight itself, as she understood that Quentin Tarantino wanted to act out a "rage fantasy" that made Cliff Booth look "super badass."
Whatever your feelings may be about how Bruce Lee was portrayed in Once Upon a Time in Hollywood, if this movie's anything like Quentin Tarantino's past works, people will continue debating the story for years to come, including how the famed martial artist was used. It's also worth mentioning that conversely, Adam West's daughter, Nina Tooley, enjoyed Tarantino's references to the Batman actor, which included a radio commercial he and Burt Ward did back in the day.
If you haven't already, be sure to read CinemaBlend's review of Once Upon a Time in Hollywood. Don't forget to look through our 2019 release schedule to learn what else is coming to the silver screen for the rest of the year.
Your Daily Blend of Entertainment News
Connoisseur of Marvel, DC, Star Wars, John Wick, MonsterVerse and Doctor Who lore. He's aware he looks like Harry Potter and Clark Kent.